PROFILE: Backed by Bernie, an Egyptian-origin governor's rise to political fame
"Who here believes in democracy over corporate domination?" It's the starting line of a campaign stump speech, and if it's reminding you of former democratic presidential candidate Bernie Sanders, well, you aren't far off.
His name is Abdul El-Sayed, however, and he's less than half of Sanders' age. At 33, this Muslim Egyptian American is running for Democratic nomination for governor of Michigan. If this underdog wins his primary on August 7th he will most probably win the race in November, making him the first Muslim American governor ever and the youngest governor since Bill Clinton won Arkansas in 1978.
Abdul Sayed is part of a blue wave of young, democratic activists running in this election cycle who are unapologetically progressive. New York Magazine described him as "more polished than Bernie Sanders and more radical than Barack Obama". His name is frequently mentioned alongside Alexandria Ocasio-Cortez, a Latina who beat one of the longest serving democratic congressman during a surprise primary fight in New York city. Cortez was a volunteer on Sanders' campaign and she has campaigned with Sayed. They believe in healthcare for all, a higher minimum wage, cheap collage tuition and less corporate influence in politics.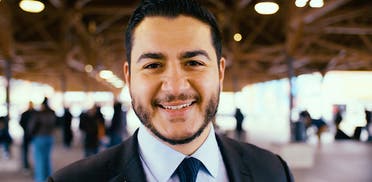 "He is picking up where Bernie left off" says Abed Ayoub, a volunteer on Sayed's campaign.
Sayed was born in Michigan to immigrant parents from Egypt, though his parents divorced and his father remarried a white protestant women soon thereafter. He is a doctor, a Rhodes scholar and a former director of the Health Department of the city of Detroit, the youngest to hold the position.
He is a father and is married to another doctor, Sarah Jukaku, an Indian American Muslim. His supporters told Al Arabiya English that what they like about him is his agenda.
"Abdul has been able to inspire an entire community" says Hussien Dabajeh, a volunteer on the campaign since even before Sayed announced he was running about a year and a half ago. His prime issue is healthcare for all, a position that is very popular with progressives in a state where over 600,000 people are uninsured. He calls it "Michicare". His other is clean water, which surprisingly is a big issue in Michigan, a state surrounded by large bodies of freshwater lakes. The Flint water crisis of 2014, where 100,000 people were exposed to toxic lead in their drinking water, has become a rallying cry for liberals.
His Democratic opponents in the primary include a state senator who has the backing of party officials and the main labor unions, and a businessman who is new to politics.
But even if he beats them, in order to win in November, Sayed will have to convince more than just liberals to vote for him. In 2016, Michigan, for the first time since 1992 voted for a Republican for president: Donald Trump. The state has also had a Republican governor for the last eight years.
In a magazine interview Sayed said he doesn't believe that Michigan voted for Trump because of "racist backlash" from the white working class, but that Democrats failed to offer their base a reason to go to the polls "I saw the success that Bernie had and I knew that if we were able to take and build on what he had done, there there would be a real opportunity there". He said in the interview.
This Sunday Bernie Sanders campaigned with Sayed in two boisterous rallies in the state, trying to convince the attendees that his progressive ideals are mainstream American ideas "not fringe ideas" and to rally the crowds to vote for Sayed, who is still behind in the polls "On the day before the presidential primaries here in Michigan, the polls had me 27 points behind…That was pretty good, because the poll the day before had me 36 points behind." Sanders said.
"Well, we won that election, and by the way, so will Abdul!"