Arwi, the Arabic-influenced dialect of Tamil, struggles for survival in India
Apart from harboring 780 languages, India is also home to a large number of scripts which have been lost while some are on the brink of extinction.
One of the many almost forgotten ones is called Arabu-Tamil, also Arwi, the link language that was born by integrating Tamil and Arabic scripts used by Tamil Muslims when Islam entered south India.
Evolved as a result of the interactions between Arabs and Tamils in medieval times, Arwi or Arabu-Tamil is an Arabic influenced dialect of Tamil written with an extension of the Arabic alphabet with extensive lexical and phonetic influences from Arabic.
A call to revive the language is getting vocal. Dr. K.M.A. Ahamed Zubair, assistant professor of Arabic, the New College, Chennai, who has done research on Tamil Muslims, their societies, cultures and development, is one of those calling for the revival of Arabu-Tamil.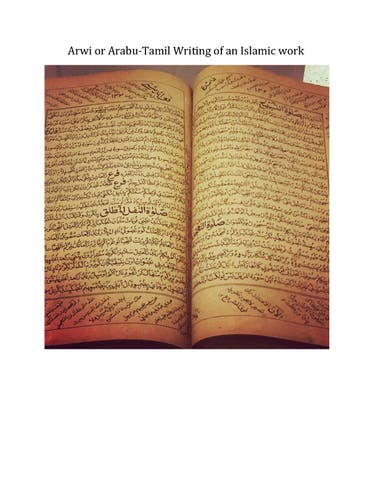 Advent of globalization
Talking to Al Arabiya English, Zubair, who has also penned 16 books and edits two journals, says, "With the advent of globalization, languages like Arabu-Tamil have become endangered. In order to contain their further decline we need to take several measures."
Listing out the suggestions for reviving Arabu-Tamil, Zubair said that language is significant for determining one's culture.
"All the Arabu-Tamil language books available should be collected and re-printed. Unpublished manuscripts should also be collected and printed. Besides, the Arabu-Tamil language should be made compulsory in all the Madrasas of Tamil Nadu and also Sri Lanka where the language was extensively used in the bygone days," he says.
According to him, Arabu-Tamil books must be taught to children attending schools as part of school curriculum. "The Arabu-Tamil community must be encouraged to use it in their daily lives. Periodicals and magazines using this language should be re-introduced," he said.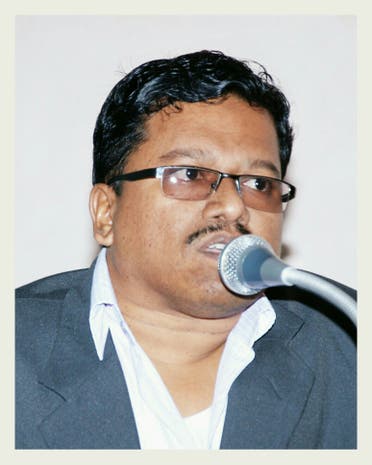 A cultural synthesis
Describing the evolution of the language, Ahamed Zubair stated, in a paper published some years ago, "The visiting Arab Muslim Traders and the native Tamil converts to Islam in Tamil Nadu state of India and Sri Lanka came into closer contact as a result of their commercial activities. They were bound by a common religion, but separated by two different languages".
Zubair said that they felt the need for a link-language and Arabu-Tamil served as a medium of transformation of the Muslim Tamil society of Tamil Nadu and Sri Lanka in their daily lives to write many religious, literary and poetry texts for communication.
"The Arabu-Tamil script represents the Tamil language (having left-to-right script) using an Arabic style of script (having right-to-left script). The Arwi or Arabu-Tamil script was widely used by the Muslim Tamils of Asia for their day-to-day communication," he said.
The paper further states that from 8th to the 19th century, this language enjoyed its popularity among Tamil speaking Muslims of Tamil Nadu and Ceylon (old name for Sri Lanka).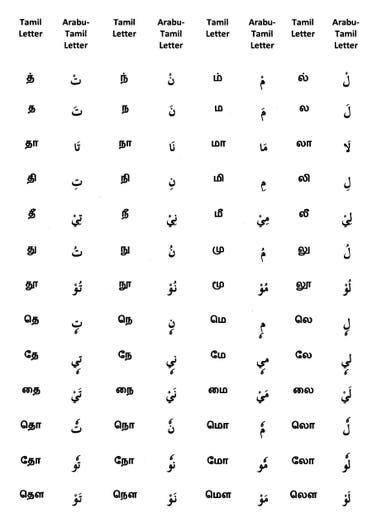 Muslims of Ceylon
"It continues to enjoy the same popularity with the Muslims of Ceylon even today. The Tamil speaking Muslims of Ceylon consider this Arabu-Tamil literature as their most beloved literature," it says.
However, after the 19th century, the language began to lose its popularity primarily because of its old style and colloquial expression. "As a spoken language it is now about to be extinct, though a few Madrasas still teach the basics of the language as part of their curricula," the paper says.
It is said that the origin of Arabu-Tamil literature may be traced to Kayalpatnam, Melapalayam and other important towns of Tirunelveli district in Tamil Nadu. According to Zubair, the Arabu-Tamil language and literature provided a kind of platform to learn Islamic teachings.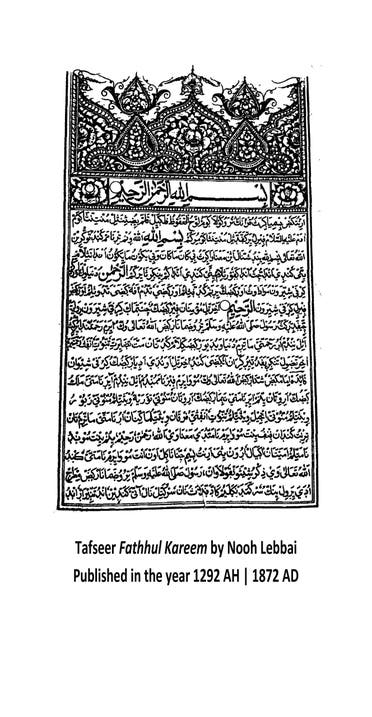 Ghazzali translations
Works of noted Islamic scholars such as al-Ghazzali were translated into Arabu-Tamil by Sayyid Muhammed Alim Pulavar apart from a number of translations of Friday sermons in Arwi. A commentary of Holy Quran by a Tamil scholar Shaykh Mustafa Wali (1836-1887) was written in Arabu-Tamil language.
At present, there are more than 40 universities in India where Arabic is being taught, in addition to colleges. These Arabic departments can do further research on the Arabu-Tamil language. The extinct of Arabu-Tamil language, which once safeguarded the interest of the community, is a big loss to the Tamil Muslim community as this was their religious language.
"With measures which I have listed we may again witness the period of renaissance in Arabu-Tamil language and literature in the years to come. Its revival and renaissance is badly required," says Zubair.