Did Boris Johnson's 'suicide vest' comment make or mar his leadership chances?
Boris Johnson, Britain's former foreign secretary and would-be prime minister has put his foot in his mouth again.
By describing Prime Minister Theresa May's plan to leave the European Union as a "suicide bomber's vest", Johnson has unleashed a torrent of criticism from within his own Conservative Party and outside.
Senior Tory leaders have furiously denounced Johnson after he accused May of having "wrapped a suicide vest" around Britain, setting off divisions in the Conservative Party.
The UK's senior most Muslim politician, Home Secretary Sajid Javid rebuked his former cabinet colleague arguing his language was "uncalled for". "I think there are much better ways to articulate your differences" said Javid and believed the public wanted politicians to use "measured language".
Johnson was in the forefront of the campaign to leave the EU, better known as Brexit, and expected to take over as prime minister when David Cameron resigned after the country shockingly voted to "Leave".
His chances were scuttled by his own friend and co-conspirator in the Brexit campaign, Michael Gove, and surprisingly May took over from Cameron. However, Johnson has never accepted his new position and has been waiting in the wings to mount a leadership challenge to May.
ALSO READ: How Boris Johnson's 'letterbox' gaffe has impacted UK women in niqabs
With the deadline for Brexit drawing near – end of March 2019 – May has been under pressure to get an exit policy in place. In July this year, May held an all-day meeting of her deeply divided Cabinet at the prime minister's official country residence, Chequers, where she hammered out a compromise formula.
However within 24 hours of the meet, Johnson resigned from his post as foreign secretary claiming that he could not "in all conscience champion these proposals". Most analysts saw this as Johnson clarion call that he will challenging May for the leadership of the Conservative Party this autumn when the annual Party Conference takes place.
Ever since July, Johnson has been repeatedly criticizing May's Chequers plan in the weekly column he has resumed in The Daily Telegraph newspaper, but the latest comment has virtually created a civil war within the Tory ranks.
Alan Duncan, a foreign minister who worked in Johnson's team for two years, said this marked the end of his political career. "For Boris to say the PM's view is like that of a suicide bomber is too much. This marks one of the most disgusting moments in modern British politics. I'm sorry, but this is the political end of Boris Johnson. If it isn't now, I will make sure it is later," tweeted Duncan.
Another leadership rival to Johnson, Tom Tugendhat hit out at the former foreign secretary telling him to "grow up" when using such analogies.
Recalling how he had encountered a suicide bomber in Afghanistan Tugendhat said: "A suicide bomber murdered many in the courtyard of my office in Helmand. The carnage was disgusting, limbs and flesh hanging from trees and bushes. Brave men who stopped him killing me and others died in horrific pain," said Tugendhat, who chairs the Commons foreign affairs committee.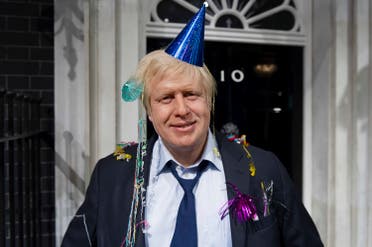 Agreeing with sentiments
However there were other Tories who came out in Johnson's defense agreeing with his sentiments. Senior Conservative Brexiteer Jacob Rees-Mogg said he felt that Johnson's "suicide belt" accusation was little more than "a characteristically colorful catchphrase".
Johnson has projected an image of himself as a bit of a bumbling, maverick politician who says things without thinking them through. A few weeks ago, he had compared Muslim women wearing a niqab to "letter boxes" and "bank robbers", yet again igniting a controversy about rampant Islamophobia in the Conservative Party.
Some Tory backbenchers believe that Johnson's language is "entirely in character: crude but, for some, entertaining populist polemic" and the "buffoon" image is cultivated to test out how far he can go. Conservative MPs like Sarah Wollaston have said they would most likely leave the party if Johnson took over.
ALSO READ: Is Theresa May 'prime minister in office but not in power'?
Immediately after his "suicide vest" comment, Johnson's personal life also took a dive with his wife of 25 years finally filing for divorce after his latest indiscretion. Marina Wheeler, whose mother is a Sikh from India and father an English veteran journalist who was posted on the sub-continent, is Johnson's second wife and they have four children.
While many believe that the divorce could devastate Johnson's chances for leadership as Tory women voters would empathize with his wife's plight others maintain that the announcement was timed so that it became old news and could not be used by rivals at the height of the leadership contest.
With the Conservative Party Conference only days away it will be interesting to see how many more calculated "faux pas" Johnson makes in the run-up.