PROFILE: Facts about the leader of the Muslim Brotherhood Yusuf al-Qaradawi
Although Yusuf al-Qaradawi has chosen not to be the supreme chief of the Muslim Brotherhood, he is nevertheless its undisputed leader, taking Qatar as a starting point for controlling minds and coordinating positions among the branches of the organization in different countries.
For decades, Qaradawi had a presence in libraries and forums which he supported with a television appearance through his program, "Sharia and Life", on Al Jazeera. According to Matthew Levitt, a former counterterrorism official at the FBI, Qaradawi is "one of the most popular figures in the extremist wing of the Muslim Brotherhood".
In 2003, Qaradawi issued a fatwa saying that "Islam will return to Europe".
Quiet days in Doha
Regardless of his brief stay in Egypt during the events at Tahrir Square in 2011 and the arrival of Mohammed Mursi to power as president, Qaradawi has remained in Qatar since 1961. He was protected by the Al Thani princes, who gave him a diplomatic passport.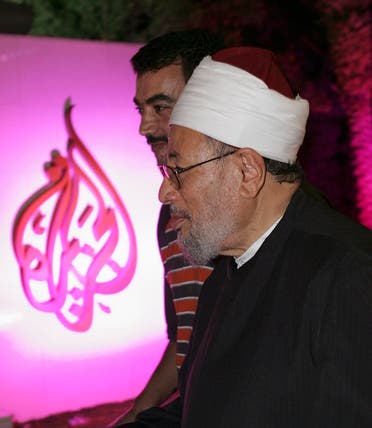 Cables published by WikiLeaks have revealed the huge proprieties of Qaradawi: "(C) Dr. Yousef al-Qaradawi, 79, comes from the Muslim Brotherhood movement in Egypt. At odds with Gamal Abdel Nasser's regime, he came to Doha in 1962. He developed strong ties with Qatari leadership that continue to today. He was granted Qatari citizenship in 1968 by Sheikh Khalifa bin Hamad Al Thani who was then Heir Apparent (at the time). Qaradawi has been granted other privileges by the Qatari government; in particular, he was given substantial properties including villas, which he rents, and the building which houses the Ruling Family Council, an organization of the Al Thani family. We have no figures on Qaradawi's income, but it is substantial. Arabic TV
Incitement to terrorism
Qaradawi's speeches have always been inflammatory and called for armed jihad. He declared on many occasions that: "Suicide bombings are a must." In early 2005, al-Qaradawi issued a fatwa calling on women to become suicide bombers.
He has controversial opinions about women and others considered as anti-Semitic:
Qaradawi accused many of the women who had been assaulted claiming that they had "got what they deserved", under the pretext that they were responsible for assaults against them because of their morality and the way they dress.
In 2009, Qaradawi said on the Jews: "Kill them all, until the last one".
On the blacklist of many Arab and European countries and the United States:
For all the reasons mentioned above, Qaradawi was banned from entering many countries. France expelled him, but it was the United States that was the first to prevent him from entering US territory since 1999. He was also declared undesirable in Austria, the UK, but also in Tunisia and Algeria at some time, Syria, Iraq, Egypt and the UAE United Arab Emirates and Saudi Arabia
International network:
The Muslim Brotherhood has knit their network throughout Europe. Qaradawi can rely on a large and coordinated network to convey his message. The European Council for Fatwa and Research (CEFR), based in Dublin, can be seen as the backbone of many affiliated groups based in Europe. The European Council for Fatwa and Research has been used to establish the Muslim Brotherhood doctrine that has been adopted since Qaradawi's fatwa in 2003: "Islam will return to Europe."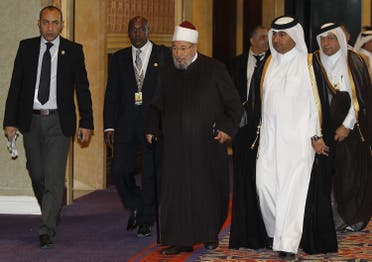 A US intelligence document warned of the role played by Yusuf al-Qaradawi in the ranks of the organization, noting that "he has great impact despite his departure of Egypt and living in Doha for decades."
The document stated: "Qaradawi has many roles, in addition to being a teacher; he works as a consultant to an Islamic bank, as well as managing an Islamic institute in Qatar. The document highlighted that he needs to be put under the scope for any future activities".