Following a messy election, Sadrists in Iraq have ripped down portraits of Iran's Supreme Leader Ayatollah Ali Khamenei enhancing prospects of Shiite-on-Shiite civil war, a report in the Economist has revealed.
According to the report, political tensions are turning violent and spilling out of the Green Zone and even though American and Iranian commanders battled in tandem against ISIS, they are now at loggerheads.
Following the general election in May, Iran wants a "Shiite house" comprising more than 200 of the parliament's 329 members drawn from a range of Shiite parties.
ALSO READ: Muqtada al-Sadr and me: US foreign policy goals and Iraq's future
The report says that General Suleimani's rival bloc, known as al-Bina ("Reconstruction"), has 109 members and neither side has the majority to choose a president and prime minister.
According to the report, Iran is dangerously flexing its muscle in Basra, which is close to the Iranian border, and Iraqis who see Iran as their chief ally are fuming.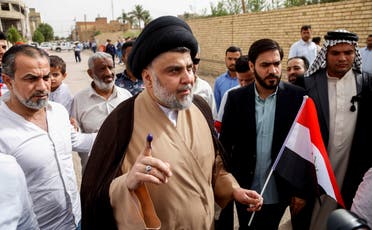 Dearth of pilgrims
On one hand, hoteliers in Iraqi cities hosting Shiite shrines bemoan the recent dearth of Iranian pilgrims while, on the other hand, Iraq's nationalist camp is feverish.
"Iran bara, bara!" ("Out, out, Iran!"), chant supporters of Shiite cleric Muqtada al-Sadr whose bloc won the most seats in the election. Massing for Friday prayers in Baghdad's Sadr City, they castigate pro-Iranian militia leaders, whom they once cheered for repelling ISIS, saying they are worse than Saddam Hussein.
ALSO READ: Iraq parliament delays vote for country's president
The report says that in the past, Iraq's senior Shiite clergy in Najaf, such as Grand Ayatollah Ali al-Sistani, would have mediated to end crises. But their authority has waned and the non-aligned Kurds have also watched from the sidelines.
"Few influential voices urge compromise. Militiamen and politicians alike predict a return to assassinations and a Shiite-on-Shiite civil war. And after months of merciful calm, the thud of car-bombs can be heard again on highways out of Baghdad," says the report.