The deportation of seven Rohingya Muslims to Myanmar by the Indian Government has outraged the United Nations and human rights activists who are accusing New Delhi of deliberately pushing the refugees into the jaws of death.
A last ditch attempt by prominent lawyer Prashant Bhushan to save the seven Rohingyas failed in the Supreme Court where newly-appointed Chief Justice Ranjan Gogoi upheld Prime Minister Narendra Modi's government's contention that the "repatriation" is "as per law" as "they are illegal immigrants and the country of origin has accepted them".
Even as Gogoi's order on his second day in office rattled India's civil society, E. Tendayi Achiumi, United Nation Special Rapporteur on racism, slammed New Delhi for violating the principle of "non-refoulment" which forbids "forcibly deporting people to a place where they could be persecuted".
India's ruling Hindu nationalist Bharatiya Janata Party (BJP) is opposed to any inflow of Muslims who it paints as "grave security threat" to consolidate its right-wing vote-bank ahead of assembly polls in five states and next year's general elections. The sectarian BJP government is bent upon somehow throwing out 40,000 Rohinyas who have escaped to India over the years.
ALSO READ: Deadliest for pedestrians: Road accidents kill more Indians than terrorism
India's External Affairs Ministry insists that the seven Rohingya "repatriated" on Thursday were imprisoned in Assam since 2012 – implying that they are not victims of last year's ethnic cleansing in Rakhine state which the whole world is exercised over – had gone back to Myanmar "voluntarily" after "the Myanmar government issued them documents to return to their country".
Echoing the sentiments of liberals, The Indian Express newspaper said in an editorial: "All the window dressing by the Ministry of External Affairs, that the men were 'repatriated', does not conceal the fact the fact that Myanmar does not consider Rohinya as citizens.
Indeed, only citizens can be repatriated or even deported. The national verification card, which is what the Myanmar government is prepared to give the Rohingya, is not a grant of citizenship."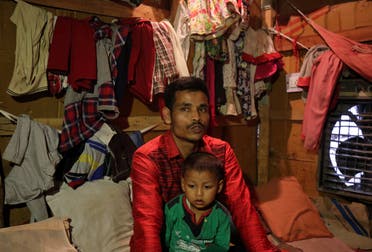 Forcibly held
"The seven men were detained immediately after they were pushed back into Myanmar, and even if released, they will likely be interred in one of the several camps in which more than 1,00,000 Rohingya displaced during the 2012 violence are still being forcibly held."
"Whichever way you cut this, describing these men, who were fleeing ethnic and communal violence, as 'illegal immigrants', and pushing them back into the same unsafe cauldron, simply does not square with the values of Vasudhaiva Kutumbkam, which means the entire world is one family, which Narendra Modi likes to espouse at international gatherings like the World Economic Forum in Davos."
New Delhi brands all Rohingya as terrorists and wants to deport them to appease the BJP's Hindutva, or hardline politicized Hindu constituency. It also wants to be in the good books of Myanmar where it is competing with China for influence, and doesn't want Myanmar to offer sanctuaries to India's north-eastern rebel groups fighting for independence from Indian rule.
ALSO READ: Why are more Indian paramilitary soldiers killing themselves than getting killed
But poorer and smaller Bangladesh, India's most dependable strategic ally in South Asia, is hosting nearly a million Rohingya refugees stretching its meager resources to breaking point.
India's policy of welcoming only Hindu refugees outrages many in Bangladesh, including probably Prime Minister Sheikh Hasina who has stood by displaced Rohingya and speaks up for them at international forums without mincing her words.
While Hasina has refrained from speaking against the Modi regime, others like Syed Munir Khasru, Chairman of Dhaka's Institute for Policy, Advocacy, and Governance (IPAG), have criticized India's stand.
"India's nonchalant attitude toward the humanitarian plight of the Rohingya reflects inadequate moral leadership. One of the reasons why India fails to generate confidence in the region, including with friends such as Bangladesh, is that its complex geopolitics is based more on political opportunism and economic interests as opposed to principles and values", Khasru recently wrote.