From Bollywood to media industry and now to politics, India's #MeToo movement has gained momentum since October 2.
This was when former actress and Miss India winner Tanushree Datta accused veteran actor Nana Patekar of sexual harassment on the sets of film shooting in 2008, with the complicity of director Vivek Agnihotri and choreographer Ganesh Acharya.
Since then big names have been tumbling down with each passing day – the latest being India's Minister of State for External Affairs, M.J. Akbar, who has been accused of sexual misbehavior by six women journalists while he was editor of prominent newspapers in India.
Former Mint Lounge editor, Priya Ramani, was the first to accuse Akbar of sexual harassment. On Tuesday, October 9, another journalist, Prem Panicker, also added another account of M.J. Akbar harassing a young woman in 1994 while he was recruiting for The Asian Age.
Meanwhile Modi government has remained tight-lipped over the incident. External Affairs Minister Sushma Swaraj on Tuesday ducked the question on M.J. Akbar.
Unfolding events
The #MeToo movement started in October 2017 as a hashtag used on social media when Hollywood actresses accused famous producer Harvey Weinstein of sexual misconduct during theirs shoots.
It got momentum in India only on October 2 this year when former actress Tanushree Datta came out repeating her allegations against veteran actor Nana Patekar on the sets of a film they were shooting in 2008.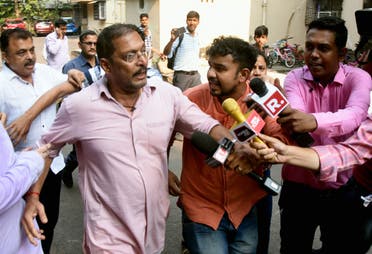 All the predators
Since October 2, many big names have cropped up in various fields. On October 4, a Twitter user Mahima Kukreja tweeted against YouTuber and comedian Utsav Chakraborty, accusing him of sending her unsolicited pictures of his genitalia.
A comedy group that often features Chakraborty delisted all his videos from their YouTube channel.
On October 6, a former employee of Phantom Films – a production house set up by directors Vikas Bahl, Anurag Kashyap, Vikramaditya Motwane and producer Madhu Mantena – accused Vikas Bahl of sexual misconduct against her back in 2015.
The survivor claimed that Bahl misbehaved with her in her hotel room when the team was on tour for promoting a movie.
National award winning actress, Kangana Renaut, who has worked with Bahl on the movie Queen – which was about women's empowerment – also accused Bahl of misconduct against herself in 2014.
Phantom Films has been disbanded after the allegations.
Bestselling author
India's bestselling author and columnist Chetan Bhagat, too, issued what appeared to be an apology on Facebook, after a woman journalist's WhatsApp screenshots of him insistently trying to "woo" her made the rounds on social media platforms.
Confirming the authenticity of the screenshots Bhagat said that he had "felt a strong connection" with the woman in question and "misread the friendliness". He also stated his apology to wife Anusha Bhagat.
Several female journalists have also accused Business Standard newspaper reporter, Mayank Jain, of making unwanted sexual advances. Mayank resigned from the organization Yesterday.
Meanwhile India's largest newspaper, Times of India, too has sent its Resident Editor, K.R. Sreenivas, on forced administrative leave after female journalists accused him of sexual harassment.
Ex-lawyer and former Hindustan Times correspondent Avantika Mehta accused the newspaper's national political editor Prashant Jha of making her uncomfortable with his sexual advances sent through text messages.
Hindustan Times took away all managerial responsibilities of Prashant Jha and forced him to resign as newspaper's National Political Editor and Bureau Chief.
Accusations of sexual harassment from many female colleagues of several other journalists have also surfaced during this time. This includes, Quint's senior journalist Meghnad Bos and The Millenium Post's executive editor Arya Rudra etc.
'Wrong practice'
Prime Minister Narendra Modi's ruling party may have largely remained silent on the issue but one of its members of parliament, Udit Raj, termed the MeToo movement in India "wrong practice". Raj questioned the relevance of making sexual harassment allegations against anybody after 10 years.
"#MeToo movement is important but what is the relevance of making sexual harassment allegations against anybody 10 years later? How will the truth in these allegations be established after so long? The person on whom the allegations will be levelled, how much it will tarnish his image is worth giving a thought. A wrong practice is being initiated," he tweeted in Hindi.