New Delhi's sudden cancellation of a scheduled meeting between the Foreign Ministers of India and Pakistan on the sidelines of the UN General Assembly in New York is still an unsolved mystery intriguing diplomats and analysts alike.
Last month India's External Affairs Ministry spokesperson, Raveesh Kumar, announced with a flourish that External Affairs Minister Sushma Swaraj would hold talks with her Pakistani counterpart, Makhdoom Shah Mahmood Qureshi, in New York "next week", but within 24 hours India called off the bilateral meeting without a valid explanation for the change of heart.
The buzz in India is that US President Donald Trump exerted pressure on Prime Minister Narendra Modi to agree to a Pakistani proposal to resume talks resulting in the announcement. But Mohan Bhagwat, chief of Rashtriya Swayamsevak Sangh (RSS) – the mother of all Hindu right-wing bodies including the ruling Bharatiya Janata Party – ordered Modi to cancel the talks.
ALSO READ: Deadliest for pedestrians: Road accidents kill more Indians than terrorism
Apparently, Bhagwat conveyed to Modi – who is himself an RSS member like his cabinet colleagues – that resumption of peace dialogue with Pakistan at this juncture wouldn't go down well with the BJP's core constituency ahead of crucial assembly elections in Rajasthan, Madhya Pradesh and Chattisgarh, not to speak of the 2019 general elections. And Modi fell in line.
If the talks had not been cancelled, it would have been the first face-to-face meeting between the Foreign Ministers of India and Pakistan since December 2015.
Official explanation
Diplomats and commentators refuse to buy New Delhi's official explanation that the talks were cancelled because of the killing of an Indian security personnel and a Pakistani stamp honoring separatist Burhan Wani as both the "deeply disturbing developments" took place before the talks were announced.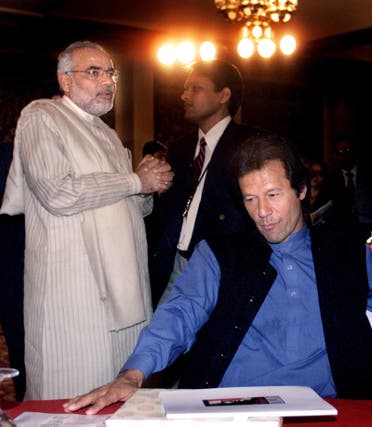 The harsh language of the Ministry of External Affairs statement, replete with inaccuracies, while calling off the meeting – "the evil agenda of Pakistan stands exposed" and the "true face" of Imran Khan has been "revealed to the world" – also raised eyebrows.
The statement claimed that Khan had been in office "for a few months" when in fact it had only been a month. Sharat Sabharwal, India's former High Commissioner in Pakistan, virtually said that MEA run by Indian Foreign Service (IFS) had been completely bypassed in the announcement and cancellation of talks between the two foreign ministers.
Election-oriented statements
"IFS does not draft such election-oriented statements or take such hasty flip flop decisions. Seems like the handiwork of 'muscular' thinking. More 'brawn' than 'brain'!", said an outspoken Sabharwal.
Sabharwal seemed to hint that Ajit Doval, National Security Advisor, known for his hawkish views on Pakistan, had drafted the statement released by MEA announcing cancellation of talks instead of career diplomats who are more circumspect.
ALSO READ: New book says India's Modi gunning for Pakistan but subservient to China, the US
India's "muscular" statement gave Khan an opportunity to attack Modi personally. Said Khan: "All my life I have come across small men occupying big offices who do not have the vision to see the larger picture", while Pakistani commentator Zarrar Khurho said that the "language used in the Indian cancellation is nothing short of a Bollywood script or a Star Plus drama".
Jyoti Malhotra, Editor National Affairs & Strategic Affairs of The Print website in New Delhi, told Al Arabiya English that the cancellation of talks by India "demonstrated insecurity".
"The Indian government put out several reasons for the confirmation and cancellation of talks with Pakistan within a span of 24 hours. But the truth is that it demonstrates a certain insecurity for a country that wants to project itself as a regional power. And the tragedy is that ordinary people of the two countries will suffer from the lack of contact," she said.