According to a statement issued by the Public Investment Fund, Saudi Arabia is neither cancelling nor postponing a major investment conference scheduled for later this month, commonly known as 'Davos in the Desert'.
Although representatives of some companies and entities have already pulled out of the conference, eminent dignitaries have confirmed their participation, including US treasury secretary Steve Mnuchin and IMF Managing Director Christine Lagarde.
Among those who have pulled out of the conference, only representatives of Uber and Virgin have attributed their move to the Khashoggi issue, with the latter suspending its business with the Kingdom.
False pretext
Although the withdrawals from 'Davos in the Desert' may be taken as a stance against the Kingdom, Axios' Business Editor Dan Primack has observed: "It is easier to bail on a conference that it is to unwind complex and lucrative business relationships".

Among representatives to have withdrawn without divulging the cause are private equity and real estate giant Blackstone, the world's largest asset manager Blackrock and investment bankers JP Morgan. All three have vested interests in Saudi success.
Blackstone has benefitted from $20 billion Saudi investment, which may rise to $40 billion. Led by Trump's economic advisor Steve Schwarzmann, Saudi investment is necessary for Blackstone's attempts to improve America's crumbling infrastructure and by extension, Trump's hopes for the upcoming midterm elections.
Blackrock's CEO has evinced interest in expanding into Saudi Arabia, while JP Morgan was selected to manage Aramco's initial public offering.

Uber, which benefits from Saudi funding directly (via the Public Investment Fund) and indirectly (via the Softbank Vision Fund Vehicle of which Saudis are major investors), may have its own reasons other than publicly attributing the 'Davos in the Desert' boycott to the Khashoggi issue.
Uber was facing boycott calls on the social media, most notably from Emirati businessman Khalaf al-Habtoor and Bahraini Foreign Minister Khalid al-Khalifa.

But Uber is no stranger to social media campaigns that promote their rivals (Lyft in the US, Careem in the Gulf) as retribution for taking unfavourable political stances. In 2017, the #DeleteUber campaign came in the wake of accusations that Uber tried to profit from an anti-Trump protest. This was one of many public relations crises blamed for Uber's $4.5 billion losses that year.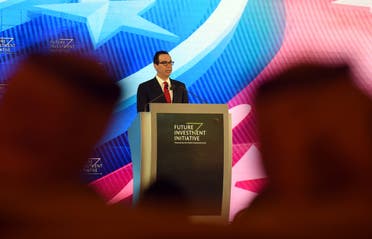 It could be argued that boycotting 'Davos in the Desert' and blaming it on the Khashoggi issue (despite the shaky foundations of the unsubstantiated claims) is Uber's attempt at balancing out its reputational damage on going against public opinion. Thus, this could be a calculated risk for Uber.
Meanwhile, Nike's recent controversial Kaepernick advertisement was judged successful for generating support from the global population for Black Lives Matter, at the expense of outrage expressed by some American patriots.
Nonetheless, the Uber CEO's stance has drawn criticism. The disapproving tech investor Mark Tluszcz, CEO of Mangrove and Chairman of Wix tweeted in this regard: "I doubt personal opinions are in the best interest of all stakeholders".
Decisions in haste
Virgin's Sir Richard Branson has taken the extreme measure of suspending business activity with the Kingdom over the Khashoggi issue. Questions must be asked about how this would affect Virgin's image whose decision has been made on the basis of evidence that is sketchy at best?
Turkish media has now revealed that the alleged hitman was from among a group of Saudi tourists, with the image of the alleged forensic expert found to be from 2013!

The suspension of investment from Red Sea tourism – a strategic location that links three continents, of which Saudi Arabia possesses the largest port and captures 80 percent of maritime flows – can be a missed opportunity for Virgin, which might lead stakeholders worried about competitors taking advantage.
Considering Saudi Arabia's global clout and financial might – it could be hard for Virgin Galactic to access alternative public investment funds. Some of the world's largest deals are predicated on the trust in Crown Prince Mohammed bin Salman as a reformer.
Vision 2030 has delivered on its promise of social and economic reforms – with Saudi Arabia's business environment and investment incentives speaking for themselves.
Lowest corporate tax
The Kingdom has the lowest corporate tax rate within the G20, and the World Bank ranks it the second best reformer among them. The budget deficit has fallen by 7 percent.
The Kingdom boasts a young, skilled and educated population, with the government accelerating their predecessor's reforms to enable women's entry into the workforce. These achievements plus more encouraging signs have been achieved without political reform.

Making rash decisions based on hearsay and rumours over the Khashoggi issue would have adverse implications. Boycotting 'Davos in the Desert' is obviously a knee-jerk reaction.
The fear of reputational damage from doing business with the Kingdom should be offset by starker, long-term concerns: a bad reputation with the Kingdom's many allies, creating an impression of taking decisions on the basis of conjecture and ruining one's reputation among stakeholders by missing out on great opportunities.