Trump snubs Modi by turning down invitation to India's Republic Day celebrations
"India will soon find out", US President Donald Trump had ominously announced in the second week of October, setting off alarm bells in Prime Minister Narendra Modi's government ahead of next year's general elections.
And now India has found out! Trump has turned down New Delhi's invitation to be the chief guest at the Republic Day Parade on January 26 in what is being largely seen as a personal snub to Hindu nationalist Modi who badly wanted to have the world's most powerful man by his side on the red letter day to underline his importance before countrymen in an election year.
Some analysts believe that Trump's curt 'No' stems from recent Indian moves to reassert its strategic autonomy and re-balance its ties with Washington manifested in Modi's parleys with Russia's Vladimir Putin and China's Xi Jinping and New Delhi's decision to sign the S-400 defense deal with Moscow and refusal to reduce Iranian crude imports to zero ignoring repeated American warnings.
ALSO READ: Trump joke about "setting up" India's Modi brings up story of his estranged wife
According to former ambassador K.C. Singh: "Trump is a high-risk visitor. He is capable of making statements, which can embarrass his host. So a Trump visit might have proved very costly for Modi on the eve of parliamentary polls. And if Trump isn't coming because India has become more mindful of its national interest, so be it."
Hindu nationalists wear their admiration for the US on their sleeves. Rich, upper caste Hindus, who are among the ruling Bharatiya Janata Party's (BJP) staunchest supporters, want India to align totally with America so that they can easily migrate to the US or do business with American companies. Trump is the ultimate role model for Modi's right wing constituency.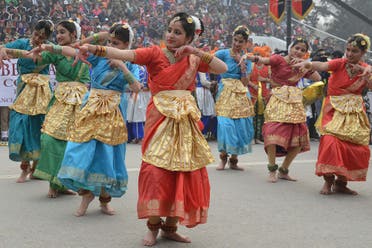 Wooing Washington
Modi himself has been wooing Washington ever since he became the prime minister despite America denying him a visa earlier because of the massacre of Muslims in Gujarat when he was the chief minister.
Unlike Trump, Barack Obama obliged Modi twice. He graced the Republic Day celebrations in 2015 and also paid a subsequent visit pushing Modi's stocks, although he also berated Modi.
In July, word leaked out that India had invited Trump to be the chief guest at the 2019 Republic Day parade. Unsure of Trump's response, New Delhi clarified that it was merely trying to find out a window for Trump's visit. But White House let the cat out of the bag announcing that India had indeed invited Trump to Republic Day celebrations and the invite was being processed.
Months passed as the Indian government waited with bated breath. Now that Trump has formally declined the invitation citing domestic engagements, some see it as a big loss of face for Modi who went about hugging and embracing Trump whenever they met.
ALSO READ: India looks to balance US strategic ties with 'cheap' Iranian oil
Although Modi evidently tried hard, he couldn't befriend Trump. According to Anand Bazar Patrika, a leading Bengali daily, Modi unsuccessfully tried to wrangle an invitation to Trump's Mar-a-Lago club in Palm Beach, Florida, where he entertains select heads of state.
In the recently released Staggering Forward: Narendra Modi and India's Global Ambition, Strategic affairs specialist Bharat Karnad quoted a New York Times report revealing how President Donald Trump "makes fun of Modi by frequently mimicking his accent in internal White House discussions."
Against such a backdrop, coupled with Washington's disquiet over India courting Russia and China along with its refusal to cut off business and strategic ties with Iran, Trump declining Modi's visit is hardly surprising.