The world's largest diamond industry in India has sunk into depression, thanks to successive multiple blows of rupee volatility, liquidity crunch, global recession and slowdown in domestic sales with hardly any ease of doing business.
The Rs 1-lakh-crore, glittering trade clustered in Prime Minister Narendra Modi's homeland of Gujarat has almost lost its luster after last month's steep hike in import duty on cut and polished diamonds, triggering layoffs and suicides which have cast an ominous shadow over the industrial state's 4,500-odd processing units in Surat, Ahmedabad, Bhavnagar, Amreli and Navsari.
In a desperate attempt to absorb the widening current account deficit and tackle the rupee crash ahead of the general elections, the Modi regime jacked up the import duty on cut and polished gems from 5 percent to 7.5 percent on September 26, adding to the woes of the industry which had just recovered from the double whammy of demonetization and back-breaking goods and services tax.
Harsh measure
The harsh measure could turn out to be the last straw on the camel's back for the trade that fetches precious foreign revenues and offers livelihood to some 500,000 dexterous artisans churning out sparklers of matchless quality, sparking bitter memories of the 2008 crisis in the industry.

If Colin Shah, vice-chairman, Gem & Jewelry Export Promotion Council (GJEPC), is to be believed, the diamond city of Surat alone could potentially lose 100,000 jobs in the next six months what with global business traders who preferred India for re-cutting and redesigning their gemstones now shipping their upscale allotropes to China and Thailand.
As Ahmedabad-based diamond worker Uttam Kella pointed out, a diamond baron of Surat last week gifted cars to his 600 employees ahead of Diwali not because he has a bleeding heart but he wanted to boost the flagging spirits of his despondent staff as revealed by the fact that at least ten low-paid polishers and other skilled hands of Surat committed suicide in October, and scores of frustrated expert cutters have been hitting the bottle to drown their sorrows.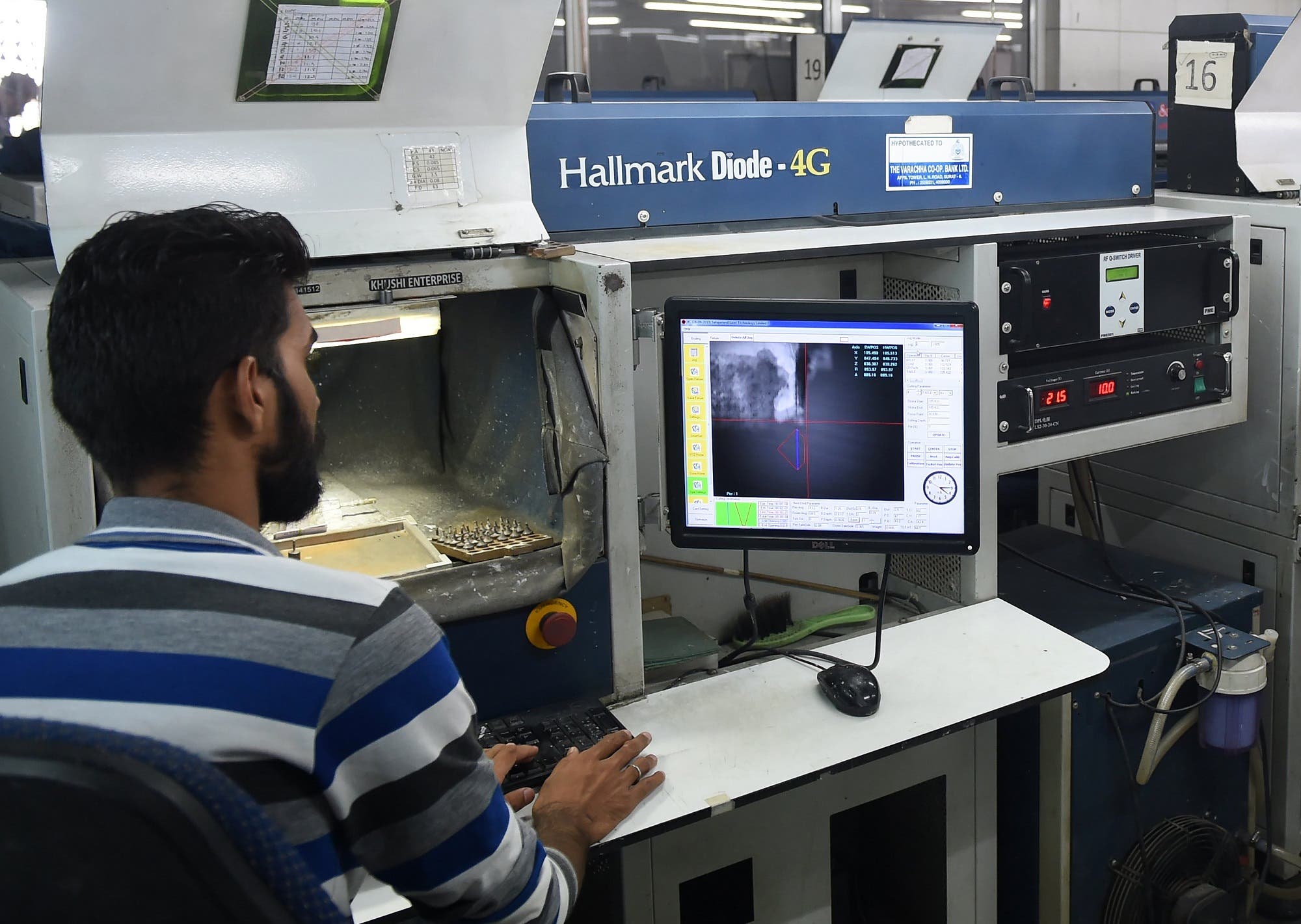 Labor laws
According to Gujarat Diamond Workers' Union president, Ranmal Jhijatiya, who has dashed off a letter to the Gujarat chief minister demanding strict implementation of labor laws, out of the 4,500 units, only 70 large units with an annual turnover above Rs 5 billion pay Diwali bonus and only 26 percent of employees receive provident fund benefits.

Also, several cutting and polishing factories units have already advanced their Diwali vacation by a fortnight to maintain profitability as the industry just does not have adequate finances to sustain the business. To make matters worse, floods in Kerala, fewer marriages this year and overall muted market sentiments have also hit domestic sales with the result that many units have downed shutters or are working only four days a week.
Indeed, after billionaire jewelry tycoon Nirav Modi allegedly defrauded Punjab National Bank of Rs 11.5 billion, banks and other credit providers have become too cautious and tightened their rules, demanding higher collateral security against loans, thus slowing down the lending process for the diamond sector.
Govt intervention
While one GJEPC official described the situation as a 'crisis of sorts' and sought government intervention for giving some relief to the ailing industry, another said that bank finance was the lifeline of the diamond industry and any shrinkage would see a decline in gems and jewelry exports as was proved by 8.84 percent fall in the last quarter of the year not to mention the fact that imports of cut and polished diamonds had crashed to Rs 5,290 crore in the first quarter, 32 percent less than in the previous year.

What's more, the price of rough diamonds has gone up in international markets while there is an oversupply of cut and polished diamonds, and this has squeezed margins for scores of cutting and polishing units in India, the world's biggest diamond exporter with $21 billion worth of stones being shipped overseas every year.

Unfortunately for the Indian diamond industry, the Chinese market is seeing a recession following the trade war with the US, and the latter, despite being the biggest market for Indian diamonds, has already removed differentiation between natural and man-made stones, adding to exporters' woes.

All said and done, India still remains the world's low-cost diamond manufacturing hub compared to other centers like China, Israel and Belgium, and hence, the government would do well to restore the sparkle to the country's prized industry lest it faced a lackluster future.