Indian curries – a hot favorite of British diners for decades – have taken a hit with the conviction of two British Bangladeshis for manslaughter for serving a meal, which caused the death of a 15-year-old girl.
The owner, Mohammed Abdul Kuddus and manager Harun Rashid of the Royal Spice restaurant have been convicted of delivering food containing peanuts to young Megan Lee who suffered from a nut allergy.
Megan fell ill immediately after eating the meal from Royal Spice in Oswaldtwistle, Lancashire in northeast England on 30 December 2016, suffered irreversible brain damage from an asthma attack and died at the Royal Blackburn hospital two days later on New Year's Day 2017.
ALSO READ: Can this Muslim woman become the face on Britain's new pound sterling note?
Kuddus, 40, and Rashid, 38, were found guilty of manslaughter by gross negligence by a jury at Manchester Crown Court a few days ago. Megan and her friend ordered a meal of Onion Bhaji, Seekh Kebab and a Peshawari Naan through the Just Eat website, which enables diners to receive home delivery from restaurants and take away joints.
The schoolgirl's friend wrote "prawns, nuts" in the comments and notes section to alert restaurant staff of allergies. The girls ate the meal and Megan immediately reacted and was rushed to the hospital, but could not be saved. Tests carried out on the food later found "widespread presence" of peanut protein.
Curry houses
There are around 12,000 curry houses in the UK mostly run by Bangladeshis, Pakistanis and Indians and the anglicized recipes are so popular that chicken tikka masala has become the national dish. It is a GBP 4.5 billion industry today that employs more than a 100,000 people.
Britain like Europe has very stringent food safety regulations and fatal allergies to various foods are more prevalent today. The regulations demand that ingredients of packaged foods must be clearly stated on labels and those which have contain allergens must write those ingredients in bold.
When it comes to pre-packaged products sold in cafes and eateries, which are made off shop premises again the guidelines stipulate 14 allergens, including nuts, which have to be listed on the packaging.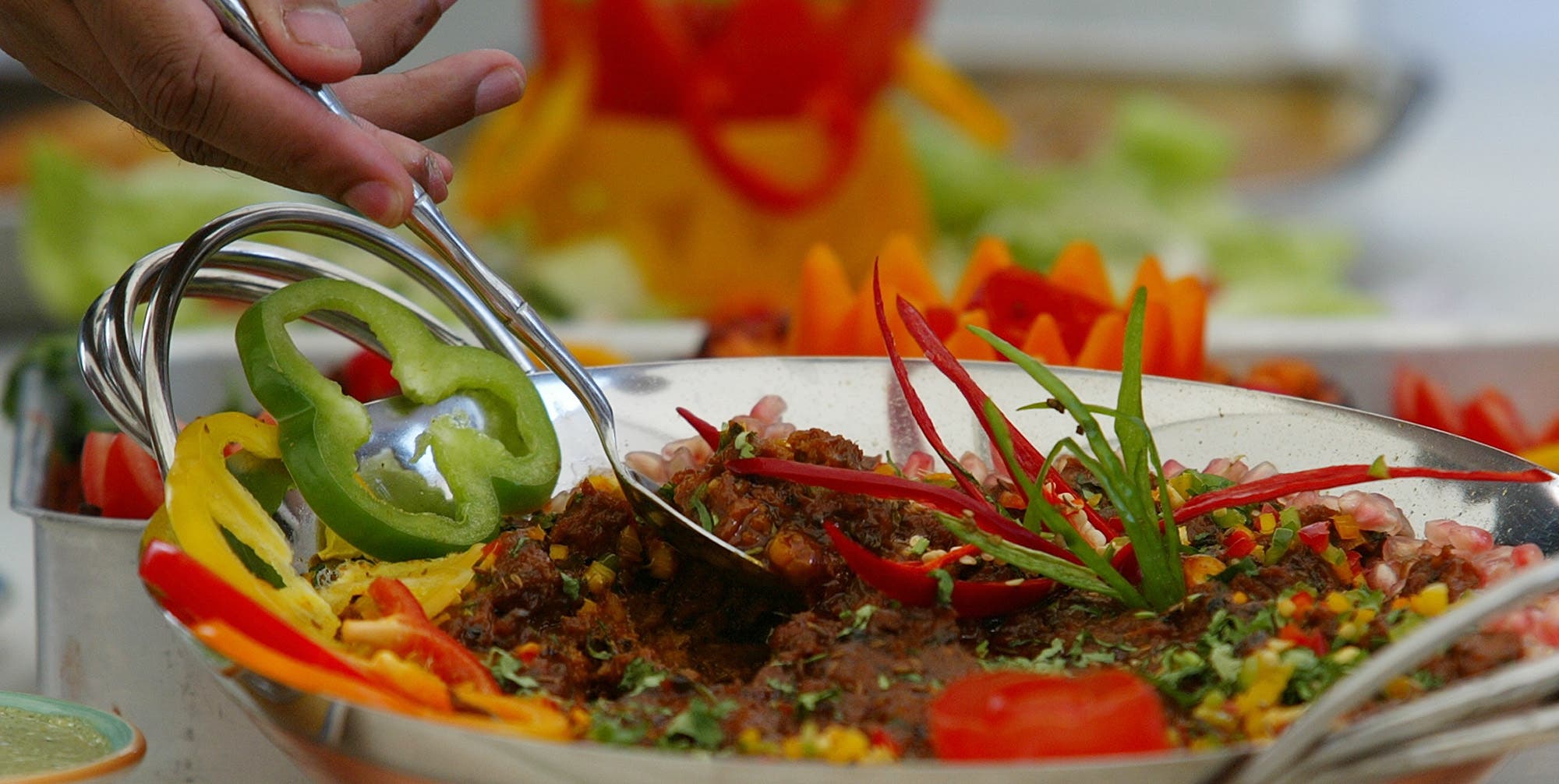 Food cooked and served at restaurants or takeaways do not come in packaging but the dish descriptions on menus stipulate the ingredients particularly allergens for the ease of patrons.
Eateries where they are told of the customers allergies are expected to take note and ensure that they are not included in the food. Rashid was convicted of manslaughter, failing to discharge a general duty of employers under the Health and Safety at Work Act and breaching European Union food safety regulations.
Though he was the manager of the Royal Spice, Rashid had claimed he was merely a delivery driver at the restaurant at the time. Kuddus was also convicted of manslaughter, having already pleaded guilty to two other charges on behalf of himself and the Royal Spice Takeaway Ltd.
Environmental hygiene
Following Megan's death the restaurant was closed by Trading Standards and environmental hygiene officers. It has since reopened under new ownership. This is not the first instance of curry house being held responsible for the death of one of their patrons.
In January 2014, Paul Wilson, 38, suffered a severe anaphylactic shock and died after eating a curry containing peanuts from the Indian Garden restaurant in Easingwold, North Yorkshire. Wilson had ordered a chicken tikka masala specifying "no nuts".
The instruction was written on his order and on the lid of the takeaway he got at home, but the restaurant had added a cheap ground nut mix, which contained peanuts to the dish, without worrying about the effects it could have on the customer.
ALSO READ: How new UK suicide prevention minister's old joke returned to haunt her
Mohammed Zaman, 52, the owner of the Indian Garden was found guilty of manslaughter in a landmark trial at the Teesside Crown Court in 2016. He was jailed for six years.
Even in the current case, the judge has warned Kuddus and Rashid that they face going to jail. "The fact that I am granting bail shouldn't be taken as any indication there should be a non-custodial sentence," said Mrs Justice Yip. She will be announcing the sentence on 7 November.
Megan's father Adam Lee after the conviction urged all food businesses to improve their standards in food safety and take allergies seriously. "Do not guess, do not play ignorant, do not play Russian roulette with precious lives," said the tearful Lee.