ANALYSIS: With unending protests, will these sanctions be toughest ever on Iran?
With hours to go before the Iran sanctions deadline painful sanctions on Iran's oil industry will impose, which the Trump administration says are the toughest penalties ever to be placed on the country. At least that's per what Treasury Secretary Steven Mnuchin and Secretary of State Mike Pompeo told reporters on Friday:
"The US will add 700 individuals and companies to a list of blocked entities, 400 of which were not originally sanctioned before the Iran nuclear deal," the said adding that the main targets include individuals, aircraft, vessels, and organizations tied to the energy sector.
Yet, Iranian leaders are continuing their malign behavior, huge Iranian treasure is being directed away from the Iranian people and toward fueling the country's regional ambitions, human rights abuses and destabilizing activity in Syria.
This week Danish authorities accused Iran of trying to assassinate an Arab leader opposed to the regime living in Denmark. Reports from inside Iran show that the country's economy is unraveling at great speed ahead of November US sanctions.
According to state-run media, companies are going bankrupt one after another while their workers are not being paid or are being laid off as a result of fluctuations in the foreign exchange market. More than 500 factories face crises.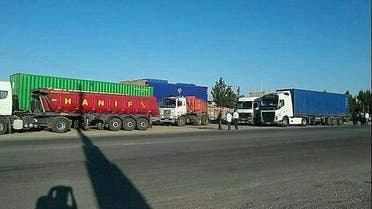 Unending protests
In the meantime, from November 1, the fourth round of strike of heavy truck drivers started and covered vast sections of the country. On Friday, truck drivers across Iran showed their continued determination through the third day of strikes in cities across the country.
According to reports, truckers and farmers in cities across Iran launched a new round of strikes, calling for redressal of their demands and seeking the release of their arrested colleagues. The truckers are continuing their protests at a time when the regime is resorting to various measures to prevent such protests from taking place, especially in such an organized manner.
A significant portion of the steel production line in Mobarakeh of Isfahan Province in central Iran has closed down as a result of the truckers' strike.
All this is happening after a decade when, according to the UN's Food and Agriculture Organization, Iran faced the most prolonged and severe drought in over 30 years.
Drivers had earlier gone on strike in June, August, and October to protest dire living conditions and low freight rates, expensive spare parts, tough insurance conditions, and so on.
Their third round of strike lasted 21 days. Strikers, in addition to previous demands, are calling for the release of drivers who were arrested in the third round of the strike.
A number of drivers have been summoned to their local judiciary offices, reports indicate. Whether this escalates further, worsening the conditions imposed due to US sanctions, will become clear in the days to follow.
___________________________
Hassan Mahmoudi is a human rights advocate, specializing in political and economic issues relating to Iran and the Middle East. Mahmoudi tweets @hassan_mahmou1.