Despite weeklong claims of US President Donald Trump caving in to pressure, Washington has unleashed the full measure of US sanctions against Iran's regime. Secretary of State Mike Pompeo informed reporters Friday that, come 12 a.m. ET Monday, all sanctions will return to pre-2015 Iran nuclear deal levers.
This is "aimed at depriving the regime of the revenues that it uses to spread death and destruction around the world," Pompeo explained. "Our ultimate aim is to compel Iran to permanently abandon its well-documented outlaw activities and behave as a normal country."
While a long shot, this policy has potential of reining in Iran's regime, especially coupled with a highly explosive population and a society described as a powder keg.
Sweeping measures
Since pulling out of the nuclear deal back in May, the US administration has specifically voiced intentions to sanction the regime until Tehran ends its malign activities.
"The Treasury Department will add more than 700 names to our list of blocked entities," said Treasury Secretary Steve Mnuchin, alongside Pompeo during Friday's conference call with reporters. "This includes hundreds of targets previously granted sanctions relief under the JCPOA, as well as more than 300 new designations. This is substantially more than we ever have previously done."
On the highly controversial issue of oil sanctions waivers, the Trump administration has intentions to grant temporary exemptions to eight "jurisdictions," which Pompeo says will receive six-month waivers from US penalties on the condition that they significantly "wind down" oil imports from Iran.
What specifically is going into effect?
As a result of the 2015 nuclear deal, the Obama administration lifted a slate of sanctions severely curbing the Iranian regime's economy. The move, considered a major step in appeasing the regime, provided Iran access to crucial markets in Europe and Asia, and the regime gained access to $150 billion in previously frozen oversees assets.
When Trump's administration recalled the first major round of sanctions in May, Tehran was slapped with barriers regarding on Iranian metals, alongside its automotive and airline industries. In this round of crippling sanctions, the regime's oil and banking sectors will receive major blows – exactly the areas Trump wants targeted.
Crosshairs are on major oil exporters, shipping companies and major Iranian banks — including the country's Central Bank and other financial institutions, according to the White House. The administration will also "target those who attempt to violate or circumvent [the sanctions]."
"One hundred percent of the revenue that Iran receives from the sale of crude oil will be held in foreign accounts and can be used by Iran only for humanitarian trade or bilateral trade in non-sanctioned goods and services," Pompeo explained Friday, adding insult to injury for Tehran.
The additional penalties are blueprinted to "cut off revenues the regime uses to bankroll terrorist groups, foment global instability, fund nuclear and ballistic missile programs, and enrich its leaders."
The White House, however, has plans permitting the sales of humanitarian goods —including food, medicine and raw agriculture products — to Iran.
Why waivers for certain countries?
Washington's ultimate goal is to have all trading partners zero oil purchases from Iran. Of course, this objective needs time and two of the eight "jurisdictions" receiving exemptions have reportedly agreed to seek other sources "within weeks" and the remaining six have been provided a maximum six-month period to do the same.
These jurisdictions "have demonstrated significant reductions in their crude oil and cooperation on many other fronts, and have made important moves toward getting to zero crude oil importation," Pompeo said Friday.
While refusing to identify the eight jurisdictions, Pompeo did clarify that the full European Union would not be one of them. The list will release Monday when sanctions are re-implemented, Pompeo added.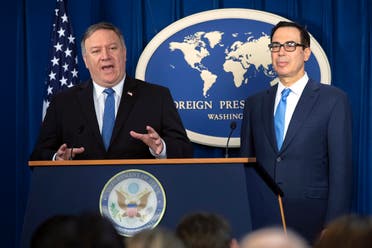 The main objective
The US administration is seeking to keep the Iranian regime from getting cash. This "maximum-pressure" campaign intends to guarantee Tehran does not have the funds to support terror groups checkered across the Middle East, including the Lebanese Hezbollah, Yemen's Houthis, Shiite militias in Iraq and Syrian dictator Bashar Assad.
The White House says the sanctions buildup has already deprived Iran of some $2 billion over the past several months, plunging the regime's economy into a crisis. And despite claims by a slate of Iranian regime apologists and lobbyists in the West, Washington's actions "are targeted at the regime, not the people of Iran," as Pompeo explained.
Iran's reactions
On Friday, the Iranian Foreign Ministry sought to save face after the sanctions onslaught. "America will not be able to carry out any measure against our great and brave nation," Foreign Ministry spokesman Bahram Qasemi said to state media. "We have the knowledge and the capability to manage the country's economic affairs."
On the same day, Alam Alhoda, Friday prayer imam and the representative of Iranian Supreme Leader Ali Khamenei in Mashhad, resorted to blatant threats of terror attacks across the Gulf region.
"If we reach a point that our oil is not exported, the Strait of Hormuz will be mined. Saudi oil tankers will be seized and regional countries will be leveled with Iranian missiles," he said.
Furthermore, in a sign of Iran's regime becoming extremely concerned about the upcoming sanctions, Tabatabaie-Nezhad, the Friday prayer imam of Isfahan said, "The US will be implementing the second round of sanctions on November 4th. This is the work of the Mojahedin!" referring to the Iranian opposition People's Mojahedin Organization of Iran (PMOI/MEK).
And in what is considered a significant turn of events, Iran's Guardian Council – comprised of six clerics directly appointed by Khamenei and six others appointed indirectly – vetoed the Financial Actions Task Force CFT (countering the financing of terrorism) convention on Sunday.
The FATF CFT adoption was the main condition raised by the EU, Russia, China & India for maintaining financial relations with Tehran. The future of these ties have become all the more controversial.
Final thoughts
The new US sanctions will make it far more difficult for Iran to obtain money at such desperate times. Despite the European Union's initial disapproval of Washington's new measures, a newly foiled terrorist plot by the Iranian regime in Denmark has made matters all the more difficult.
Danish officials are seeking EU action after arresting a Norwegian of Iranian descent on charges of actions aimed at assassinating an Iranian dissident on their soil. European leaders are opening the door to sanctions against the Iranian regime in response to terror plots in Albania, France and now Denmark.
Despite the need to calm relations with the West, Tehran's regime understands desperate times call for desperate measures. This is especially true when new US sanctions are destined to suffocate the regime's economy.
Disclaimer - This author is writing under a pseudonym to protect his identity.