India's 30m job-hunters seethe with anger as unemployment scene turns tinderbox
India's 30-million-odd frustrated job-hunters are fretting and fuming over the federal government's failure to provide employment even as opposition Congress Party held nationwide protests on November 8, the second anniversary of demonetization that left the unorganized sector bruised and battered.
Studies revealed that the unemployment rate in the country had risen to 6.9 percent, the highest in two years, and the count of the jobless men and women actively looking for job almost doubled to 29.5 million last month from a low of 14 million in July last year.
According to the Centre for Monitoring Indian Economy, the labor participation rate – a measure of the proportion of adults willing to work – fell to 42.4 percent, the lowest since January 2016 but Prime Minister Narendra Modi kept shouting from rooftops about the "fourth industrial revolution", saying it will change the nature of jobs and provide more opportunities.
Government data
After taking up the reins of the country, the Modi administration had promised 20 million new jobs every year, meaning 90 million jobs by now after four and a half years, but the data released by his government shows that only 600,000 new jobs have been created.
The plight of on-the-breadline job-seekers could be gauged from the fact that as many as 992 PhD scholars, 23,000 M. Phil holders, 2,50,000 post-graduates and 800,000 graduates were among the two million applicants for exams conducted earlier this year by the Tamil Nadu Public Service Commission to fill 9,500 posts of typists, village administrative officers and stenographers, not to forget the 28 millions who applied for 90,000 jobs in the Indian Railways not long ago.
No wonder, 10,000 angry, educated members of Democratic Youth Federation of India from different states marched to Parliament last week to express their anxiety about their future and disappointment with the betrayal of promises made by the prime minister in 2014.
Educated youth
Indeed, an Azim Premji University study found that the unemployment rate among the highly educated youth in India is as high as 16 percent, and after demonetization and goods and services tax (GST), the small and medium industries in the country had collapsed with an estimated job loss of 2.4 million, with export rates falling by 24 percent.
DYFI Vice President Preethy Shekhar claimed that the Modi government in its slew of tall promises had launched ambitious projects in the name of youth but these had fallen flat on their face, adding that projects like Skill India and Make-in-India had failed to produce even half the amount of targeted jobs shattering especially women job-seekers' dreams.
In Modi's own home state of Gujarat, six million people are running from pillar to post for decent jobs and some 3,000 youths have committed suicide in the past 17 years, including the 13-year Modi rule, after they lost their job or were sacked from their cash-strapped workplaces.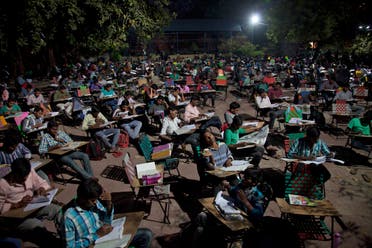 Hollow claims
While former president of the Gujarat Chamber of Commerce and Industry Bipin Patel said that sectors like textile and diamond were crippling, and even retaining existing employees was becoming tough, Gujarat Congress spokesman Manish Doshi said the state government was making hollows claims about employment and blasted its fixed-wage policy.
With the government not stirring a finger to rehabilitate them in the Valley, even Kashmiri Pandits leading an exiled life for the past 29 years are seething with anger after 250 of their marchers demanding the promised 6,000 jobs for displaced youths were beaten black and blue and hauled up by the police in Udhampur district last fortnight.
Failure of programs
If out-of-work youngsters in Odisha have been demonstrating in front of government offices and accusing ministers of swindling huge money in the name of organizing job fairs, the government of Modi's Bharatiya Janata Party (BJP) in Rajasthan, which boasts a huge 53 percent youth population, is also under fire for failure of its ambitious skill development programs and for providing jobs to only 12,854 youths out of the 860,000 available-for-hire citizens registered in employment exchanges.
All said and done, India may be the world's fastest-growing major economy but the link between growth and job creation is fast weakening what with the current growth rate of 7 percent leading to only 1 percent improvement in employment. If the federal government fails to create opportunities for the young workforce hunting for decent jobs, Modi's re-election dream will be smashed to smithereens and the economy's current pace of expansion will be stonewalled for sure.