India's Modi slammed for 'stealing' ex-PM's trademark jacket to impress peers
Prime Minister Narendra Modi who is often seen in colorful waistcoats, has drawn up an elaborate plan: to gift world leaders bespoke "Modi jackets" especially stitched for them in India.
The first recipient is Moon Jae-in, President of South Korea, who New Delhi is evidently keen to befriend as a strategic and business partner. Recently he uploaded a picture clad in a "Modi jacket" and tweeted that the "gorgeous garment sent by Modi can be worn easily in Korea and fits perfectly".
The bespectacled Moon is all smiles in a tailor-made maroon "Modi jacket". He also posted a photo of jackets in four colors prominently displaying the label "MODI jacket".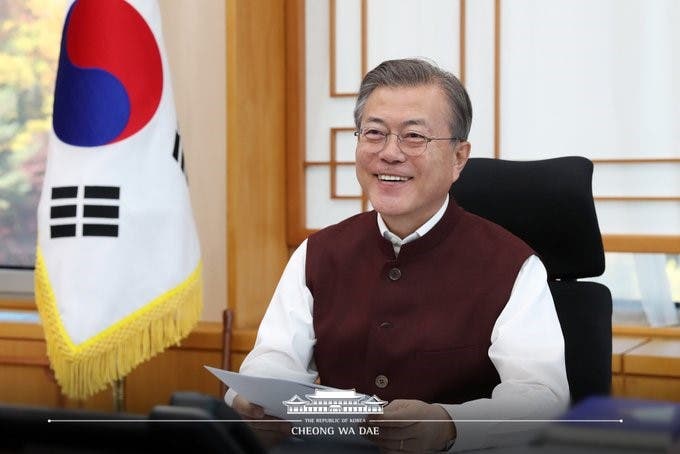 Apparently touched by Moon's words of appreciation, Modi wrote he was glad that his friend liked the present and expressed the hope that Moon would keep the gift from India close to his heart!
Neither the External Affairs Ministry nor the Prime Minister's Office has revealed the names of presidents and prime ministers Modi intends to send waist-coats named after him. But it has been reliably learnt that Modi has entrusted the job to the Ahmedabad-based Jadeblue Lifestyle India Ltd which markets "Modi jackets" and "Modi kurtas" through 22 stores – including some at airports – in 18 cities across India.
Jadeblue managing director, Bipin Chauhan, admits sending the "Modi jacket" to Moon on behalf of the Indian PM but refuses to divulge details. Inexplicably enough, the names of other world leaders about to receive "Modi jackets" is being kept under wraps.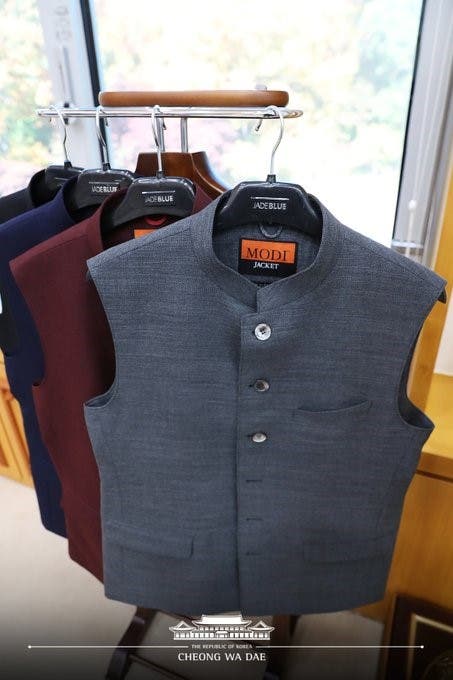 Moon's social media post accompanied by photos and Modi's response has however unleashed a storm on twitter with many accusing Modi of trying to pass off "Nehru jackets" worn by India's first prime minster Jawaharlal Nehru as "Modi jackets".
Congress Party stalwart Nehru is an iconic figure for the role he played in the independence movement and subsequently as free India's first prime minister. He was the premier for 17 long years; his name is usually mentioned in the same breath as Mahatma Gandhi's who brought down the curtains on British rule through non-violence.
Omar Abdullah, former chief minister of Jammu & Kashmir, tweeted: "It's really nice of our PM to send these (jackets) but could he not have sent them without changing the name? All my life I have known these jackets as Nehru jackets and now I find they have been labelled 'Modi jacket'. Clearly nothing existed in India before 2014."
Congress Party spokesman Manish Tiwari too tore into Modi. "The BJP prime minister is notorious for stealing what belongs to others and pass it off as his own. Many projects launched by the Congress government are being portrayed as his brainchild. Modi stole Mahatma Gandhi's spectacles. And now it is Nehru's jacket's turn."
Jadeblue's Chavan, who has been designing Modi's clothes since his days as Gujarat chief minister, concedes that the jackets under the spotlight were originally worn by Nehru but insists that Modi has popularized them after becoming PM in 2014.
"Nehru started wearing them. Other leaders like Sardar Patel also wore them. But the jackets came to be associated with Nehru. During Nehru's time, only the elite wore them", Chavan told Indian Express.
"But Modi has popularized it and taken it to the masses…Modi brought in color and a new design, making it a statement even among corporates. The ones we sell are Modi jackets. It's a bit longer and more comfortable than Nehru jackets."