Bahrain will field a record number of women candidates in the upcoming parliamentary and municipality elections to be held on November 24, although two of the three incumbent female MPs have decided to opt out of this year's race.
While two women legislators, Dr. Jameela Al Sammak and Fatima Al Asfoor, have chosen not to seek re-election, at least 41 women candidates are contesting in parliamentary elections, while eight women have filed their candidacy in municipality elections.
Women candidates taking part in elections include eminent professionals and celebrities in the island kingdom, including lawyers and even an Olympian and Asian Games gold medalist.
Growing confidence
Among those candidates running for parliament is Fawzia Zainal, who is contesting elections for a third time, after having coming close to winning a seat in 2014. Zainal, who first ran for elections in East Riffa district, fell short of a mere 288 votes in a run-off round against her male opponent in 2014.
"In 2006, I ran against four men and came in second with 1,764 votes. In 2006, the experience was still new for both myself and the voters where we were just practicing getting familiar with elections and practicing the right to vote. I received a lot of questions about my gender and people were still getting to know who to pick the right candidate for their districts," Zainal told Al Arabiya English.
Four years later, electoral districts were re-drawn. Zainal's district was re-assigned to the Southern governorate (5th district). She had to wait until 2014 when voters no longer viewed gender as an issue for selecting candidates.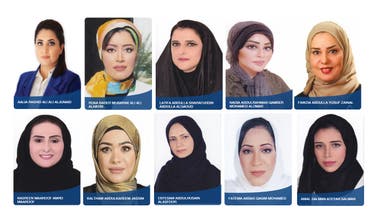 "It was a much closer race four years ago and I entered a run-off vote against my male opponent. But this difference in votes was very small this time around," she said. The difference between her and Khalifa al-Ghanem was just 288 votes.
"I received 3,217 in the last elections. How could I deny the voters the trust they placed in me and not try again. Many of them have been telling me that third time's a charm, I hope they are right," she told Al Arabiya English.
Unlike other countries in the region, Bahrain has no quota for female representation in parliament and many Bahrainis view such a system to be in contravention of Bahrain's constitution and the National Action Charter, a document passed in 2001 that set in motion a wide range of political, social and economic reforms in the kingdom, which gained the approval of 98.4 per cent of the people in a national referendum at the time.
Shy candidates
Many say it has been a difficult road for women candidates as Bahrain's previous parliaments were dominated by Islamist parties from both the Sunni and Shiite sects, which opted not to include women on their lists. In the first elections of 2002, all 31 women candidates lost in the elections. In 2006, a total of 18 women candidates took part but only one candidate, Lateefa al-Gaood, won a seat by default after her two male opponents dropped out of the race before election day. She became the first woman in the Gulf Arab region to be elected to parliament and was able to retain her seat four years later after running unopposed once again.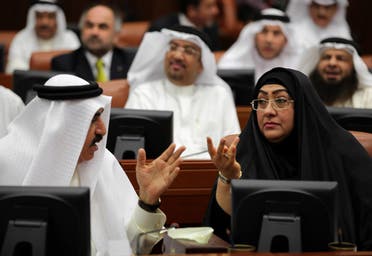 Eventually, three women won their seats by vote when Fatima Al Asfoor, Roua Al Hayki and Jameela Al Sammak got elected in the Northern Governorate, an area of Bahrain that has traditionally been among the most conservative in the country. In the last election of 2014, 22 women contested and that number has doubled this year to 41.
"Many women candidates stand in elections, but we don't hear anything from them to make us want to vote for them. This is partly because we are in a society where men shout the loudest," Mohammed Al Sayed, spokesperson for Citizens for Bahrain – a group that monitors and analyzes elections as an independent volunteer group, told Al Arabiya English.
"We need strong female candidates who are confident campaigners and have a lot of active supporters campaigning on their behalf. We hope we see some strong women deputies this year who set the example for the role Bahraini women can play in the decision-making process – like some of the excellent women we have in the Shura Council," he added.
The glass ceiling
Although many believe women would fare better this year, the path to victory may not be so easy. Unknown vandals have defaced and torn up billboards of Zainal plastered on the walls in the Southern fifth district while other candidates have complained of receiving online threats.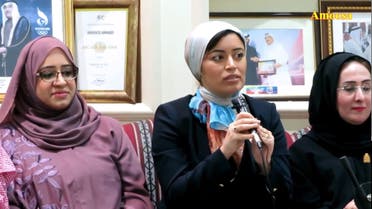 Adding to the drama, incumbent Roua Al Hayki is pitted against two other women candidates – Latifa Al Gaoud (a close relative of the senior al-Gaoud of the same name) and Aalia Rashid Al Junaid. It is feared these women candidates may split the female vote against their five male opponents.
Despite the challenges, independent candidates including women are touted to succeed as Bahraini analysts predict constituents will vote out incumbents. "Although public opinion is difficult to gauge in Bahrain, the outgoing parliament is said to be perceived as ineffective. Unlike previous parliaments, this one has failed to question any cabinet ministers in an open session, exercise any meaningful influence over government policy, or even hold the government to account over the delivery of its program," Hasan Alhasan, a PhD researcher at King's College London, told Al Arabiya English.
Although it may seem like an uphill battle for some, Zainal says its high time women shine this time around. "There are 47 of us running in both elections. We're hoping to increase our numbers and reflect proportionately the population of Bahraini women. Hopefully, we can make it more than half this time around," she said laughing nervously.