Gaza residents have apparently started "branding Hamas with slurs", accusing the group of "selling out" the enclave in return for aid from Qatar and more collaboration with Israel, a newspaper column published this week suggests.
Muhammad Shehada, a writer and activist from the Gaza Strip who writes for Haaretz, published a column this week that suggested Gazans were angry at Hamas after the group reached a "limited set of understandings" with Israel earlier this month.
"'They sold us out!' Gazans began to whisper," according to the columnist. The deal with Israel included keeping Palestinian protesters hundreds of meters away from the separation fence with Israel. The site is where demonstrators weekly protested by tire-burning and firing incendiary kite-flying at Israeli farms and assets -- an act Hamas has previously defended the Palestinian right in doing so.
On social media, Gazans used Arabic hashtags equivalents to #sell-outs, at which they wrote messages like: "[Suddenly] burning tires have become 'unhealthy' and [approaching] the electronic fence is suicide! #sell-outs."
In return for this calm, the writer notes that Israel restored the status quo ante, as well as other "limited" "benefits."
This included the expansion of the Gaza fishing zone for a few a months, bringing back the heavily-restricted entry of relief and commercial vessels into the enclave, following a full-on closure. And a tentative supply of Qatari fuel and cash to pay Hamas' government employees.
"Basically, a return to square one" the writer said. Gazans unleashed some of their anger during a visit by Qatari ambassador earlier in November. Not only his convoy was hurled with stones, but also he was met with angry cries such as "collaborator."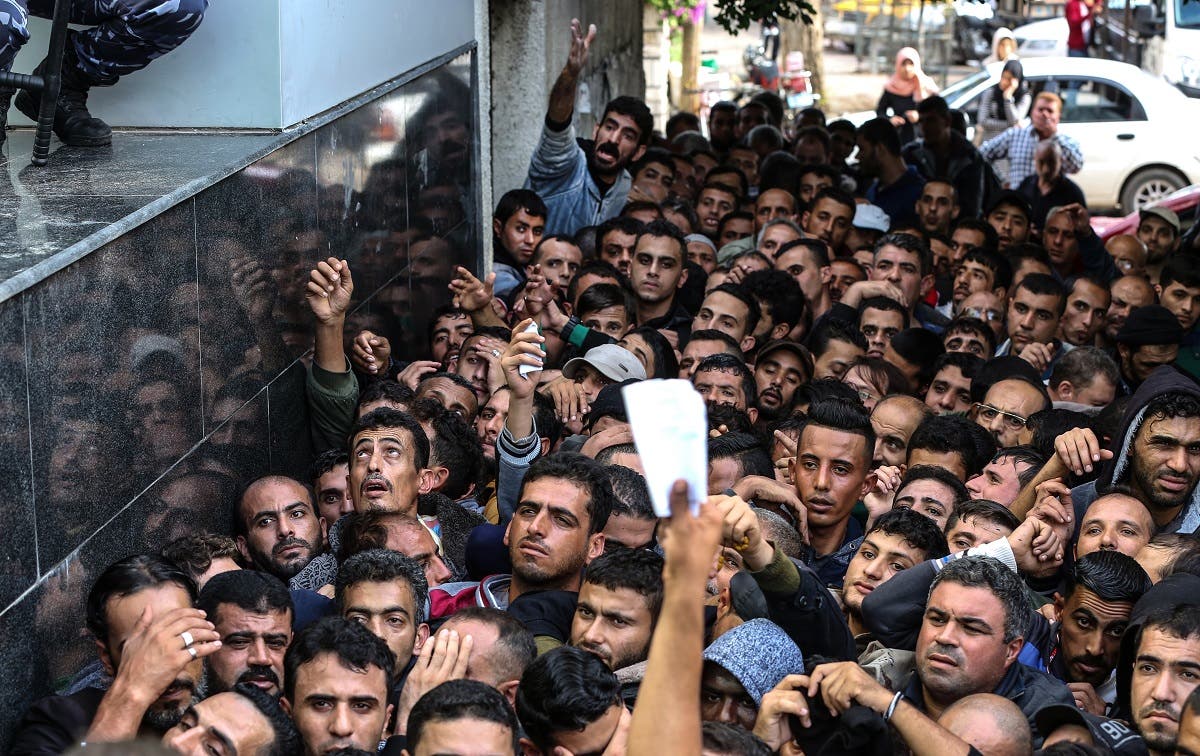 Public outrage was also evident during a small protest by young Gazans in Khan Younis where this "sell-out" hashtag became a shouted slogan, accusing Hamas of "betrayal."
But a botched Israeli operation thwarted by Hamas military wing, al-Qassam Brigade, has given the group some relief, the writer suggests.
Days after this last escalation -- which left an IDF officer dead and led to a barrage of rocket fire from Gaza towards Israel -- Hamas leaders celebrated the "heroic engagement" against Israel, silencing critics by showing it still is the "armed resistance" protecting Gaza.
Their campaign, Shehada writes, has been effective in delegitimizing further criticism of Hamas' political and administrative conduct in Gaza once again.
"Criticism of Hamas became equivalent to undermining the overall Palestinian national struggle for liberation.
"Unsurprisingly that silenced the popular outrage about Hamas' initial agreement of trading Gaza's sacrifices over the last seven months for a meager supply of aid and money."
It was time for Hamas to return to business, the writer says. The group continues to sell Gazans "the delusion that their decade of endurance is finally bearing fruit and soon, more prosperity, employment and hope will trickle down to the masses."
What has been achieved so far "are temporary and symbolic painkillers, not an actual end to Gaza's pain", Shehada writes.
Hamas has agreed to give a small share of the Qatari money to 50,000 needy Gazan families; $100 for each household.
The group also created a temporary employment programs for 5,000 young university graduates with the aspirational title of Tomoh ("Ambition"). Hamas also promised to "keep up the fight until Gaza is no longer unlivable," and "pledged with their honor" to continue the Gaza Great Return March until the protests' main goal was achieved -- ending the blockade.
But the writer questions whether such protests would be of any significance when they are hundreds of meters away from the Israeli fence.
"At what price is Hamas doing this? And for what purpose?"
"If the price of Gaza's sacrifices is solely to maintain Hamas' rule, and the motive of working to alleviate pressure on Gaza is to consolidate its authority, then every Gazan has been sold out, and in broad daylight."