Educated Rohingya Muslims living in Europe are standing by their long-suffering brethren – aptly labeled by the United Nations as the world's most persecuted community - as they wage a grim battle for survival in Myanmar and neighboring Bangladesh which is sheltering over a million Rohingyas driven out virtually at gun-point.

The diaspora's support is critical for molding international public opinion as two nuclear-armed powers who dominate the region - China and India – are backing the Myanmar government, turning a blind eye to the genocide and rape of Rohingya Muslims sanctioned by the military junta in the Buddhist-majority nation which has led to their exodus.

Beijing's and New Delhi's absolute backing is emboldening the generals to brazenly deny citizenship to Rohingyas and block their return from Bangladesh to their ancestral home in Rakhine state, despite the United States and European Union taking up cudgels on behalf of beleaguered refugees counting their days in Cox's Bazar camps.

In this bleak scenario, many Rohingyas who fled Myanmar or camps in Bangladesh to start life afresh from a scratch either in Western countries or Malaysia, are doing everything they can for their compatriots in distress.
Highlighting rights violations
The United Kingdom-based British Rohingya Community Charity and Burmese Rohingya Organisation, Denmark-based European Rohingya Council, Germany-based Free Rohingya Coalition and Rohingya Women Development Network in Malaysia (which has one of the largest overseas Rohingya communities), are highlighting human rights violations and campaigning for a permanent solution instead of just repatriation.

Ambia Perveen, vice-chairperson of the European Rohingya Council and a successful doctor now living in Schleswig, Germany, left Myanmar when she was barely five years old. Racism and discrimination forced her parents to carve out a new life abroad. Now she is bravely standing up for those left behind.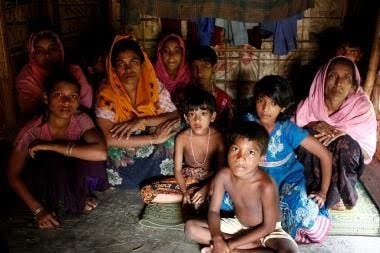 Perveen, 40, told The Telegraph newspaper that she is lobbying with the European Council to take "a clear and unequivocal stand" and officially recognize the atrocities on Rohingyas as genocide.

She is also urging the European Union "to slap a trade embargo and freeze all EU projects in Myanmar until the Aung San Suu Kyi government accepts Rohingyas as citizens".

"We want to empower our youth so that the next generation is not lost in transition camps," she adds.

Nizam Uddin Mohammad lives in Bradford, United Kingdom, where he arrived in 2008 from a refugee camp in Bangladesh. The 36 year old drives a taxi and works part-time for National Health Service. But importantly, he heads the British Rohingya Community Charity.

"Nothing matters more to me than advocacy of my suffering brothers and sisters thousands of miles away. After me, I hope my children too will fight to free the Rohingya people", says Mohammad.
Campaign for self-sufficiency
Sharifah Shakirah is the founder of the Rohingya Women Development Network in Kuala Lumpur, capital of Malaysia, where an estimated 75,000 Rohingyas have escaped to from Myanmar and Bangladesh.

Shakirah, 25, is empowering Rohingya women through education so that they can stand on their own feet. Her campaign to make women self-sufficient is angering Rohingya men but she knows that her community cannot win the battle the battle against racism and discrimination without the participation of women.

The common refrain of all these activists is that they are morally bound to come to the aid of their distressed community as they had the good fortune of fleeing Myanmar and establishing themselves overseas.