The distance Europe is going, aiming to preserve the 2015 Iran nuclear deal, can be described as shameless. While disturbing to admit, it is a stark reminder of how British Prime Minister Neville Chamberlain fell to Hitler's knees in the late 1930s, only to pave the path for World War II.
One would think the Green Continent would have learned its lesson, especially after the death of over 60 million people. Unfortunately, Europe's policy vis-à-vis the Iranian regime is mirroring the shame witnessed 80 years ago.
Appeasement and short-term economic interests are blinding Europe to the extent that senior officials are neglecting the very dangerous security terrorist threats posed by Iran's regime, being the number one state sponsor of terrorism.
Denying reality
While the United States re-imposed crippling oil/banking/shipping sanctions against Iran on November 5, and considering the exodus of international firms pulling out of Iran, the Europeans are relentlessly preserving a highly flawed nuclear deal crafted by the pro-appeasement Obama administration.
The main initiative floats around a so-called special purpose vehicle through which companies would avoid the US financial system and prolong business relations with Tehran. It has been weeks now that European governments are playing "hot potato," refusing to host the circumventing apparatus. Austria and Luxembourg – and Belgium, according to some reports – have rejected the burden.
After failing to convince any smaller European partner to do their dirty work, France and Germany feel compelled to take on the burden, mainly to save face and avoid humiliation in the case of complete failure. Keep in mind the threat of damning US penalties hangs over their heads.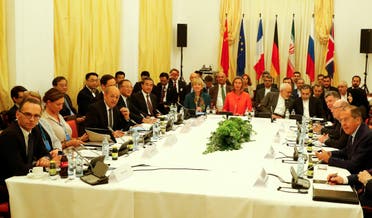 Consequences
It actually remains unknown if the Europeans have seriously weighed the national security threats resulting from their ongoing efforts. The SPV would provide the Iranian regime another channel to garner revenue for the malign purposes of funding terrorists and militaristic objectives across the Middle East.
The cash Iran received under the 2015 nuclear deal can most certainly be presumed to have ended up in the pockets of the Assad regime in Syria, Houthi militias in Yemen, Shiite extremist groups in Iraq, the Lebanese Hezbollah, and Hamas and Islamic Jihad in Palestine, to name a few. Iran's notorious Revolutionary Guards (IRGC) plays a leading role in this campaign.
Furthermore, it is interesting how Europe is neglecting the threats on its own soil. Newly provided revenue, thanks to the hard efforts of EU foreign policy chief Federica Mogherini and company, will most likely fund Iran's future terror plots even in their own backyard.
In 2018 alone, European authorities have been busy foiling numerous plots. The first in March, targeting members of the Iranian opposition People's Mojahedin Organization of Iran (PMOI/MEK) in Albania; a highly dangerous bomb plot in June targeting an opposition rally near Paris; and an October assassination plot in Denmark.
All this was in parallel to similar schemes in Turkey and the Netherlands, as Iran's spies also sought "capture and kill" initiatives targeting Iranian opposition figures in the US.
Interesting is how the Europeans are falling over themselves to preserve economic benefits for a regime that continues such measures across the continent and has showed no sign of slowing down its malign activities. This was demonstrated vividly in the most recent ballistic missile test by Iran made known to the world by US Secretary of State Mike Pompeo.
The Iranian regime has just test-fired a medium range ballistic missile that's capable of carrying multiple warheads. This test violates UNSCR 2231. Iran's missile testing & missile proliferation is growing. We condemn this act and call upon Iran to cease these activities.

— Secretary Pompeo (@SecPompeo) December 1, 2018
Correct course
It has become quite embarrassing to witness European policymakers be so utterly determined to literally fund the clerics ruling Iran. All the while, the Iranian people are braving all odds in voicing their abhorrence of this regime.
The mentality of allowing the Iranian regime profit from international trade with the hope of turning it away from its menacing nature has proven to be wishful thinking.
In fact, the Obama-era showed how the Iranian regime took full advantage of this foolish fantasy and wreaked havoc across the region, never stopping their proliferation of menace after the Obama-blessed nuclear deal.
Europe must learn from the mid-20th century and modern history, and finally bring an end to its humiliating indulging of Iran's terror-fueling regime. Tehran's malign activities must not go ignored, including human rights violations, the proliferation of ballistic missiles and a very suspicious nuclear program while sitting on an ocean of crude oil and natural gas.
Iran's regime will soon be obligated to set aside its bellicosity or face dire consequences, especially as a restive nation continues to chip away at its foundation.
Europe should decide to stand on the right side of history and prevent a 21st century Chamberlain catastrophe.
Disclaimer - This author is writing under a pseudonym to protect his identity.