Christians in Gaza celebrated Christmas in the Church of Saint Porphyrius this year, one of the oldest and biggest churches in Gaza.
The church's archeological features show on its walls, which were built from ancient limestone, giving it warmth in the winter and coolness in the summer.
Saint Porphyrius holds a special place in Christians' hearts, especially Palestinian ones, since he was the fighter of polytheistic religions that had followers all over Gaza and the Levant.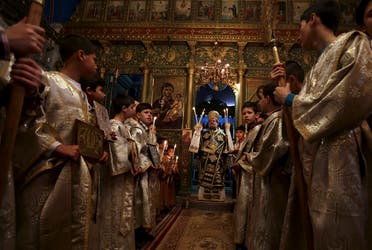 The finely educated saint was afflicted with a serious malady of the legs, which drove him to leave his meditation spot in the Jordanian wilderness to go to Jerusalem and pray for healing.
Christmas cheer at Jesus's traditional birthplace of Bethlehem
During his time in Jerusalem, it is said that he went into trance, where he saw Jesus Christ and came out of trance to find himself healed.
Following the death of Gaza's bishop in year 395, priest Porphyrius was summoned to take the role to protect Christians there from pagan harassment.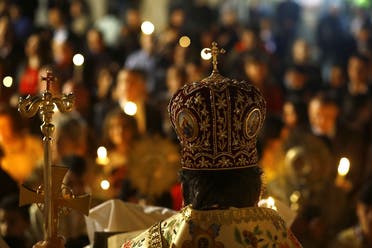 In Gaza there were only three Christian churches, but there were a great many pagan temples and idols. However, with Saint Porphyrius' presence, the city saw the baptism of 237 men, 35 women, and 14 children.
Through good relations with the Roman Emperor and Empress, Saint Porphyrius was granted an edict in 401 ordering the destruction of pagan temples in Gaza and the restoration of privileges to Christians.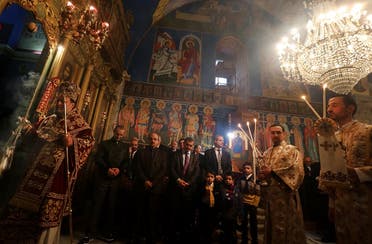 The emperor also gave the saints money for the contruction of a new church in Gaza, to be built on the site of the chief pagan temple; This church is what is known today to be The Church of Saint Porphyrius.