Priyanka Gandhi's upcoming book drives rumors of her plunge in Indian politics
One of India's most beloved yet mysterious personalities – Priyanka Gandhi – is writing a book which might prove to be a political bombshell in the run-up to next year's general election when a resurgent Congress Party takes on Prime Minister Narendra Modi's Bharatiya Janata Party headlong.
Priyanka is Congress Party president Rahul Gandhi's younger sister. Although Priyanka, 46, has remained in 48-year-old Rahul's shadow, she is known to be his closest political advisor. The siblings along with their mother Sonia Gandhi, widow of former Prime Minister Rajiv Gandhi, represent the Nehru-Gandhi dynasty millions of Indians still swear by.
Tentatively titled Against Outrage, the book running into 300 pages will be released in March ahead of the April-May 2019. According to reports, the mother-of-two is furiously penning 75,000 words after receiving an advance of 10 million Rupees – arguably a national record - from Penguin Random House India.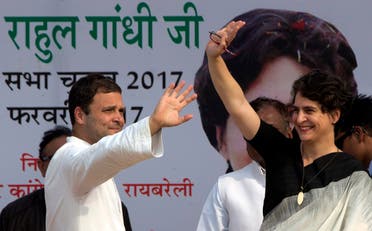 The English book will be translated into every major Indian language so that it is read across the length and breadth of the nation.
Rasheed Kidwai, independent journalist and author of four books - including two on the Congress Party – told Al Arabiya English that he will buy a copy of Priyanka's book as soon as it hits the stands.
"Any documentation by a top politician privy to privileged information about governance and matters of state is welcome. There is great demand for insights into why certain decisions were taken or not taken. Such books often put the record straight on contentious issues which excite or trouble us", said Kidwai, 51.
"The nation would like to know from Priyanka the actual reason for Sonia Gandhi's refusal to become the Prime Minister in 2004, why she hasn't entered politics despite being very political, her exact role in Congress decision-making that we keep hearing about and, last but not the least, her analysis of the BJP's and Modi's rise."
Kidwai said that he really enjoyed reading Priyanka's first book, Ranthambore: The Tiger's Realm co-authored with Anjali and Jaisal Singh. "She has a way with words and an arresting style of writing. When you read her stuff, it seems as if she is talking to you. Her writing style is direct and simple and not at al tiring."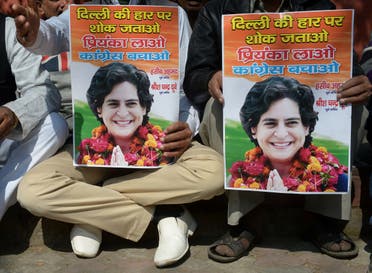 Jawaharlal Nehru, India's first Prime Minister and Priyanka's great-grandfather, was a prolific writer. His daughter Indira Gandhi – who also became PM – was no patch on her father, although she penned My Truth and a couple of other books.
Sonia Gandhi paid a pictorial tribute to her late husband, former PM Rajiv Gandhi, titled Rajiv, published by Penguin. Menaka Gandhi too penned a coffee table book on her late husband, Sanjay Gandhi, soon after his death in 1980. Neither Rajiv nor Sanjay penned books.
Interestingly, Varun Gandhi – Menaka and Sanjay Gandhi's son and Priyanka's cousin – fancies himself as a poet and writer. He is a columnist for English dailies. His 825-page book, A Rural Manifesto – Realising India's Future Through Her Villages, has just been released.
Priyanka bears a striking resemblance to her grandmother, Indira Gandhi, who is remembered as India 's Iron Lady. But she has so far confined her politics to counseling her mother and brother, besides campaigning for them in Amethi and Rae Bareli. There were rumors that she would take on Modi in Varanasi in 2014 but she didn't.
Some believe that Priyanka's book will be her launching pad in national politics. Many Congressmen have been ceaselessly lobbying for a greater role for her to revive the party's fortunes.