Indian Prime Minister Narendra Modi's government's decision to rename one of the Andaman and Nicobar islands in the Indian Ocean after Subhash Chandra Bose has turned the spotlight on an independence icon whose disappearance remains an unsolved mystery even today.

Modi will travel to the strategically-located archipelago on Sunday to rechristen Ross Island after Bose, the independence hero who suddenly vanished in 1945, two years before India became a free nation.
Significantly, repeated attempts by Modi to bask in Bose's glory is ironical. And Bose's connection with Andaman and Nicobar islands – which the renaming celebrates and commemorates – is no less problematic!
Bose, venerated as Netaji, or The Leader by countless Indians, is one of the big guns of the freedom movement. But unlike Mahatma Gandhi – the tallest independence leader - Bose wanted to take the British militarily. He had serious reservations about the Gandhi-led Congress Party's belief in non-violence and quietly plotted an armed uprising, despite becoming the Congress president in 1938.

Escaping from house arrest in Calcutta in January 1941, Bose slipped out of India to meet Adolf Hitler in Germany to seek his help to free India from British rule. When the Nazi leader declined, he turned to the Japanese.
ALSO READ: Priyanka Gandhi's upcoming book drives rumors of her plunge in Indian politics
Travelling in submarines, he arrived in Singapore via Tokyo, where with Japanese help, he raised the Indian National Army (INA) comprising mainly Indian soldiers of the British army who were captured by the Japanese in Singapore.
The INA advanced to north-eastern India but the British ultimately crushed the ill-equipped, ragtag INA without much ado. The defeated troops were driven back into Burma, thousands dying of dysentery, malnutrition or malaria on the way.
Bose himself was reportedly killed on August 18, 1945 aboard a Japanese bomber which crashed seconds after take-off from a military air base at Taipei en route to Moscow.
But even today, 73 years after Bose vanished, All India Forward Bloc, the political party founded by Bose, and millions of ordinary Indians, particularly in West Bengal, refuse to believe that he perished in the crash and demand an explanation from the government.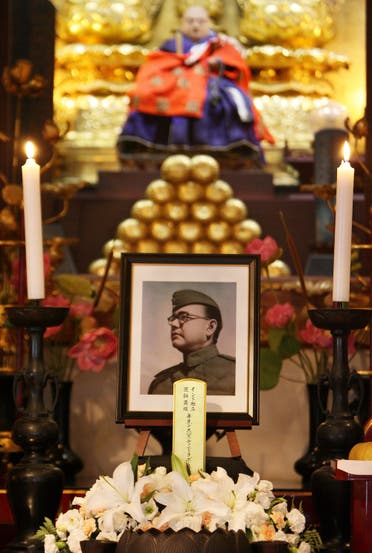 Allies hunt
Some believe that after losing the war, the Japanese probably faked the air crash so that their ally, Bose, could disappear without the Allies hunting him.
According to that version, Bose tried to make his way back to India via Russia. But he was caught and thrown into a Russian jail. And by the time Moscow realized that Bose was in their custody, Russians were not willing to admit their "blunder" and left him to die in jail.
Bose's stature was no less than Nehru's – India's first prime minister. If he had not clashed with Gandhi and left India in 1941 to seek foreign help to evict the British, he would have been a key player in post- independence India. With millions waiting for him to resurface, Bose's popularity rivaled Gandhi's and Nehru's.
Attempts by Indian government to bring back Bose's ashes from Tokyo and build a memorial were persistently thwarted by FB. The government set up two inquiry commissions in 1954 and 1970 to unravel the mystery of Bose's death. Even a third inquiry commission failed to resolve the mystery once and for all.
ALSO READ: Why are more Indian paramilitary soldiers killing themselves than getting killed
The irony of rechristening Ross Island after Bose lies in the fact that unlike the rest of India, Bose was far from popular in Andaman and Nicobar islands. The Japanese had captured it during the Second World War and handed it over to Bose's INA. But the INA had very little say in the administration.
The Japanese occupation forces unleashed a reign of terror in Andaman and Nicobar islands giving the INA a bad name. Oppressed and suppressed Indians in the archipelago hated Bose for collaborating with the Japanese. They heaved a big sigh of relief when the Allied forces ultimately drove out the INA and Japanese.
The other irony is that Modi is trying to capitalize on Bose's legacy whereas his ideology was radically different from Modi's and the Bharatiya Janata Party's. Unlike the PM and his party, Bose was secular to the core; he valued Muslims and their contribution to the nationalist cause.
As a champion of secularism, Bose vehemently opposed the partition of the country along religious lines. He wanted Hindus and Muslims to share power equitably in an undivided post-colonial nation.
According to the historian-turned-parliamentarian Sugato Bose, who also happens to be Bose's grandnephew, Bose wanted the Congress Party to be so generous to Muslims that they would stop demanding a homeland for themselves. The historian believes that if Bose had not gone into exile and remained in the political mainstream, partition would have been definitely averted.