Angry farmers in India are locking up cows in government-owned buildings like schools and hospitals to save their standing crops from being eaten or destroyed by hordes of cattle invading agricultural fields, especially in Uttar Pradesh Pradesh, Rajasthan and Haryana.
The population of cows is exploding and becoming unmanageable because of a clampdown on beef consumption and slaughter-houses by Prime Minister Narendra Modi's Hindu-centric Bhartiya Janata Party (BJP) for political gains. And now its cow fixation has come home to roost.
The situation is so volatile in Uttar Pradesh that the state's preacher-turned-Chief Minister, Yogi Adityanath, has ordered police stations to feed cows and provide them shelter in a bid to placate farmers. Television footage of men in uniform chaperoning bovines instead of nabbing criminals sum up the current state of the country.
ALSO READ: Muslim man beaten to death in India on suspicion of smuggling cows
BJP lawmakers themselves are raising in Parliament the alarming situation in villages across north India, especially BJP-ruled Uttar Pradesh, and urging the government to act to save the standing crops. Bhairon Prasad Mishra, BJP MP from Banda, called the stray cattle menace a "bikral samasya", or dreadful problem, to underline the gravity of the situation.
"As the government is always talking about doubling the income of farmers, it must urgently deal with the stray cattle menace farmers are grappling with", Mishra said flagging the issue.
He added that villagers are locking up cows (which raid their fields and destroy their crop) in government buildings, leading to the death of many animals due to extreme cold and lack of food or water in captivity.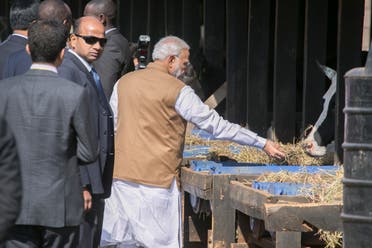 Cow welfare cess
Adityanath plans to impose what is being called a "cow welfare cess" on profit-making public sector firms to finance new cow shelters. The proposal hasn't gone down well with the opposition Samajwadi Party and Bahujan Samaj Party which accuse the BJP government of taxing the common man to fund its religious agenda violating India's secular constitution.
The bizarre situation is the product of the BJP's cow obsession, which has turned India's rural economy on its head. And its obsession knows no limits.
Since time immemorial, India's dairy farmers sold the cows to butchers and slaughterhouses once they stopped giving milk and used the returns to buy milk giving animals.
As there are few buyers these days thanks to the BJP's virtual ban on cow slaughter and lynching by vigilantes, they are letting loose the unproductive cows on the streets instead of feeding them for the rest of their lives as Modi and Adityanath would like them to.
ALSO READ: Modi minister garlands convicts: Lack of judgment or vote bank politics?
The BJP's no-holds-barred beef politics – exploiting the religious belief of Hindus who account for 84 percent of the population – is responsible for the mess India has landed itself in.
Before the BJP came to power, India was the world's largest exporter of beef – and there was no question of cows and bulls invading agricultural fields.
The solution doesn't lie in knee-jerk measures like entrusting stray cows to policemen or imposing a cow cess but in finding a middle ground between religious beliefs and the demands of the economy.
The BJP, however, seems eager to milk cows for votes regardless of the consequences like alienating or infuriating farmers before the do-or-die elections of 2019.