A high-ranking Yemeni intelligence official died on Sunday from his injuries sustained during a Houthi drone attack on the country's largest air base in Lahij.
Intelligence Brigadier General Saleh Tamah was wounded on Thursday during a strike on a military parade on the Al-Anad airbase in government-held Lahij province some 60 kilometers (40 miles) north of the Yemeni city of Aden.
Sources told AFP that Tamah underwent several surgeries in a hospital in Aden but died on Sunday morning.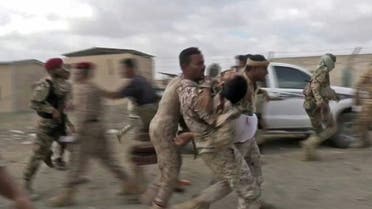 At least seven loyalists -- including Tamah -- were killed and 11 injured in Thursday's incident, which threatens to hamper United Nations-led peace efforts.
Tamah's death 'represents a blow' to unifying Yemeni army
Tamah was a senior military officer who took part in protests in 2007 against former Yemeni president Ali Abdullah Saleh as part of the southern movement, according to Yemeni human rights activist Baraa Shiban.
"His main demand at the time was for the return of the southerners who were removed from the military service after 1994. He was also one of the senior officials from Lahij. He received some form of recognition after 2011 after President Hadi came to power and started to include the southerners to be part of the Yemeni military," Shiban told Al Arabiya English.
Tamah would go on to become the military commander of the al-Anad airbase after 2011 and would remain in that position until the Houthis took over Sanaa and made movements toward the south of the country, according to Shiban.
General Mohammed Saleh Tamah - head of the Military Intelligence Unit - passed away today morning due to his injuries.
General Tamah was deeply injured after the Houthis used a detonator explosive drone on a Military parade in Al-Anad airbase#Yemen pic.twitter.com/YvA6WQoFe5

— Baraa Shiban براء شيبان (@BShtwtr) January 13, 2019
"Tamah is one of those who came from the heart of the military institution. He was finally promoted to the head of the military intelligence unit in 2018 and had plans of restructuring the entire military. He had plans for a more scientific, and proper military based strategic vision," Shiban added.
According to the activist, Tamah's death represents a blow to the Yemeni military and efforts of the government to have a united structure in fighting the Houthis. "Tamah represented the example of someone who could be part of the military while tied to the southern movement where he could fill the gap of those who say that the army could not represent the southern identity."
(Al Arabiya English's Ismaeel Naar contributed to this report)