"I've had enough fear in Syria, and now it's all coming back to me. I just can't be sent back," Hadi, a Syrian refugee in Turkey, told Al Arabiya English in a shaky voice.
Hadi, whose real name will remain anonymous due to security reasons, entered Turkey legally through the airport with a three-month visa. He was aiming to be smuggled into Europe to run away from his "miserable" life in Syria, as he described it.
Too scared of the fatal trip that killed thousands, he could not leave, and also could not legalize his stay in Turkey due to exit and reentry requirements.
"I got stuck here. They had stopped issuing IDs for newcomers," Hadi said.
Turkish President Recep Tayyip Erdogan announced on July 13 that his government will take "new steps" toward Syrians in Turkey, which include "encouraging their return, deporting criminals, and adding taxes on their medical services," causing a wave of fear among refugees.
Erdogan was quoted in the Turkish newspaper Hurriyet as saying: "We had to open our doors to Syrians, we couldn't ignore what was happening and we opened our doors. Imagine if the same thing happened to us, who would help us?"
However, the president added that there would now be tighter measures against Syrians. "We will do the necessary to encourage their return, deport whoever committed crimes, and demand taxes from the medical treatment they receive," he said.
The 'kimlik'
When Syrians like Hadi started flocking into Turkey as a result of the war in their country, they were registered in the government and given a local ID or "kimlik" from the city they resided in.
However, in 2017, Turkish authorities in Istanbul and nine other provinces stopped registering Syrian asylum seekers, who were then illegally deported, forced to go back to Syria, or refused healthcare and education, according to Human Rights Watch.
As a result, Syrians who had already established an "unregistered" life in a certain province dealt with brokers and paid around $350 to get an ID from a different province, and came back to live where they originally were.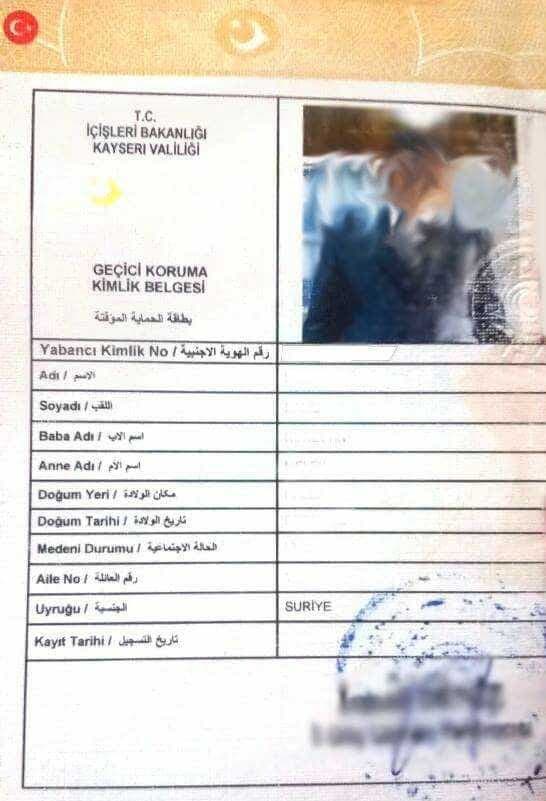 As part of the new measures, recently announced by Turkish Interior Minister Suleyman Soylu, anyone who has an ID from a province different than the one they reside in will be deported back to that province.
In a meeting with Syrian journalists and activists, Soylu explained that anyone without an ID will be deported outside Turkish borders, according to one of the attending journalists, Adnan Hussein.
'I did not want to participate in this war'
Hadi had postponed his college graduation in Syria to avoid mandatory military service, after which he immediately left for Turkey.
"I was forced to fail some courses to postpone my graduation and leave Syria during that year. I was exhausted of the bombs and the panicking, and I did not, in any way, want to participate in this war," he told Al Arabiya English.
Now, if he gets deported from Turkey into Syria, he will immediately be recruited by the Syrian regime to join the military.
"I don't break any laws, but now I have no other choice but to resort to the brokers who are destroying us with their prices, to get an ID anywhere else in Turkey," Hadi said.
Turkey's responsibility toward Syrians
There are 3,605,615 Syrians in Turkey, according to data from the Turkish immigration department issued this year.
Syrian refugees were a major talking point in the mayoral elections in Istanbul last month, which saw Ekrem Imamoglu of the secularist Republican People's Party (CHP), the main rival of Erdogan's Justice and Development Party (AKP), emerge the winner.
Each of the two candidates promised to take measures against Syrian refugees, including the deportation of illegal residents back to war-torn Syria.
However, in March 2016, Turkey signed a deal with the EU to handle the "refugee crisis," in which migrants who arrive in Greece are sent back to Turkey if they do not apply for asylum or their claim is rejected.
In return for taking the refugees back, Turkey received a total of six billion euros ($6.7 billion) in aid and political concession, according to the deal.
Amnesty International reported in 2017 that Turkish authorities had failed to provide returned refugees and asylum seekers with basic needs and to ensure they were "able to live in dignity."
Uncertain future
Syrian journalist Hussam al-Zeer, who lives in the southern Turkish city of Gaziantep, is shaken by the near hysteria Hadi and hundreds of thousands of other Syrians are experiencing.
"There are many rumors about Syrians being deported back because they didn't have IDs, but we have not documented any case yet. We still don't know how true it is," al-Zeer said.
"If no forceful deportation is happening, I call on the Turkish authorities to assure Syrians of that. It's been horrible seeing how scared everyone is," he added.