On the eleventh day of widespread protests in Lebanon, the movement remains decentralized and leaderless. But the beginnings of organization are starting to emerge.
At the outset of the nationwide demonstrations, many expected existing civil society politicians to emerge as leaders of the movement. While most of these politicians have been active in the protests, this leadership role has not materialized.
Roger Naoufal, a 26-year-old consulting trainee who flew back to Beirut from France specifically for the protest, said, "The fight is going to be hard, and as long as we don't have a voice to defend us — one unique voice, a head to the revolution — we won't get anywhere, in my opinion."
But others see this lack of leadership as beneficial. "People are going down there spontaneously," said Mohammad Serhan, a 29-year-old Beiruti political activist and organizer. "There is no one leading the protests, and this is the good thing about it. This is how you can keep its momentum, because the politicians that we have lost faith in have no one to point at or discredit."
Joumana Haddad, a prominent Civil Society candidate in the last election, endorsed this position, telling Al Arabiya, "Each and every Lebanese that is on the street is [the movement's] leader! The roadmap is clear to everyone, and we will get there once we topple the corrupt people in power and hold them accountable."
Hezbollah chief Hassan Nasrallah called Friday for leaders to emerge, so that they could be negotiated with. However, he also demanded for his supporters to refrain from joining the protest and so is unlikely to be able to steer the direction of the main movement.
An array of activist groups, including Serhan's National Bloc, are organizing independently for turnout, media appearances and field movement. The groups are working together on issues such as protection for the protesters, but there is no overall coordination.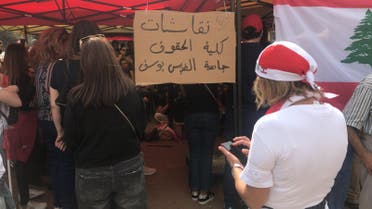 "You know two million Lebanese cannot coordinate!" said 27-year-old feminist activist Dona Maria Nammour, in the northern city of Tripoli.
Separately, committees have been forming in cities around the country to discuss the vexed issues of alternative political representation and a specific list of demands.
Several lists have been appearing online, either anonymously or published by NGOs such as the Lebanese Transparency Association, but it unclear how united protesters would be in supporting them.
Discussion groups have sprouted organically in different protest locations nationwide, as well as online, in order to talk through these issues. Sitting down with a group of friends in the heart of Beirut's demonstrations, Serhan said, "We started a small discussion about what's going on. We started with 10 people, then another six or eight joined us. We had people from Tripoli, from the mountains, from the South, and from Beirut as well."
Meeting the next day, the committee had grown to 55, with notaries and the collection of phone numbers. By training moderators, Serhan added, "We can help the revolution get more structured and organized. Maybe later on, each group can pick someone to represent them in a bigger committee, and a bigger committee."
In Tripoli, Nammour explained, there are at least four such committees, representing different social and political groups. "We are talking together. But it is not easy, because this is when the differences start to show. The leader of each committee wants to impose his own convictions. Even if coordination in the same city were easy, on a national scale it is not. That's why it's taking time."
Many protesters, particularly in Beirut and around the country's central coastline, have called for a small cabinet of technocrats to implement economic and electoral reforms, and to establish a judicial committee to prosecute "thief" politicians.
However, others see a different future. In the province of Akkar, where between 15 percent and 20 percent of the population serves in the army, many are open to the idea of a military takeover, according to Nammour. In Rafic Hariri's birthplace of Saida, the Prime Minister (his son) is still viewed with some sympathy, although the devastating collapse of family businesses such as Saudi Oger has affected his credibility.
A prominent Shia politician told Al Arabiya that protesters in the South would prefer the reforms to take place under the current government, in which the Shia organizations Iranian-backed Hezbollah and Amal play an essential role.
But this was strenuously denied by Nammour, who herself hails from the region. "They respect Hezbollah as a party fighting Israel. But they are aware that these parties are corrupt and part of the system," she said.
"We share the same pain and the same reality," she continued. "We have the same living conditions everywhere. And we agree that this corrupted system must go down, no matter the cost."