US politicians criticize Erdogan's visit, call for sanctions over Russian S-400s
US congressmen and senators have criticized the recent state visit of Turkish President Recep Tayyip Erdogan to Washington, with some calling on him to release Turkish political prisoners and journalists.

"What Mr. Erdogan has done, President Erdogan has done, is turn Turkey into a despotic, dictatorial and unfree nation," Texas Congresswoman Sheila Jackson Lee told Al Arabiya.

"It saddens me, and I believe his presence here and the invitation only seeks to give the world the idea that this democratic nation — America — is affirming the behavior that he has exhibited," the congresswoman added.
US President Donald Trump on Wednesday told Turkish President Erdogan that Ankara's purchase of a Russian missile defense system was a "very serious challenge" for the United States but that he hoped the NATO allies would be able to resolve that dispute, according to Reuters.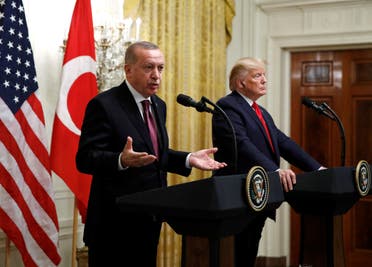 After a meeting at the White House to address a crisis in relations, Trump said he was "a great fan" of the Turkish leader and that they had a "wonderful and productive" encounter. They did not, however, reveal any breakthrough on mounting differences, from Syria to the Russian system known as S-400, Reuters reported.

Ruben Gallego, a Democratic congressman representing the seventh district of Arizona, told Al Arabiya that the United States should be sanctioning Turkey for multiple reasons, not just over Ankara's purchase of Russia missile systems.

"They have, you know, been acting as a very bad actor for someone that claims to be a trusted NATO partner. They're starting to, I think in my opinion, pull away so it's not just the missile systems. It's, I think, how their actions towards Kurds, how they've been actually dealing with it like in general in the Middle East, has actually called into question whether or not we should be putting sanctions on them," Gallego said.

Five Republican senators held a meeting on Wednesday where they questioned Erdogan's motives for buying Russian weapons.

"Senators made it clear to Erdogan that while they want to remain an ally of Turkey, Ankara cannot just purchase these Russian missile systems and expect nothing to happen as a consequence," said a congressional source who was briefed on the meeting," a congressional source who was briefed on the meeting told the Reuters news agency.

(With inputs from Reuters)