A Yemeni student was arrested in the US late last week after a three-year investigation by the FBI's Joint Terrorism Task Force uncovered his alleged ties with the Iran-backed Houthi militia, a court document seen by Al Arabiya English shows.
Gafaar Mohammed Ibrahim al-Wazer, 25, was arrested in Altoona, Pennsylvania, on November 7 and has been charged with making false statements to the US Department of Homeland Security during his applications for a student visa.
According to a 35-page criminal complaint document filed by the FBI and seen by Al Arabiya English, US authorities began investigating al-Wazer in 2016 after Drexel University alerted them to several Facebook photos and posts allegedly showing the Yemeni student's involvement and training with the Houthi militia in Yemen.
The court document states that al-Wazer claimed during his application for a student visa in 2014, and again when applying for temporary protected status in 2015, that he was not involved with the Houthi militia and had never fired a weapon nor ever received militia training.
Investigators argue that al-Wazer's Facebook posts show these statements were false – despite al-Wazer swearing on them under penalty of perjury.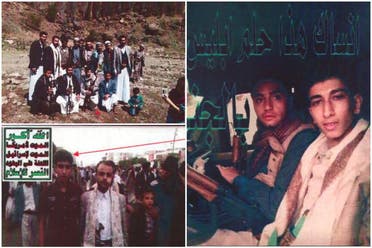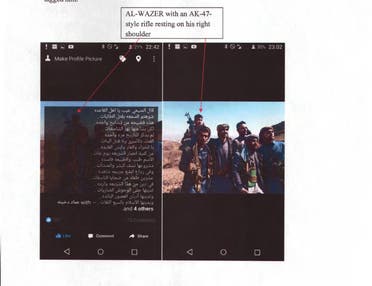 According to the criminal complaint filed by US Homeland Security Investigations agent David Bottalico, al-Wazer also attempted to recruit an individual into the group online.
The Iran-backed Houthi militia is designated as a terrorist organization by Saudi Arabia and the UAE. Its militia ousted the internationally-recognized government of Yemen from the capital Sanaa in 2014 and is fighting the Arab Coalition for control of the country. It has also carried out numerous rocket attacks against the Kingdom. The militia is not designated as a terrorist group in the US, but President Donald Trump's administration has reportedly considered doing so.
Although al-Wazer denied his alleged links to and training with the Houthis when asked by FBI agents, he admitted that he "hates Saudi Arabia." In online posts cited in the affidavit, he accused Saudi Arabia of being "a tool in the hands of the Christians and the Jews" and claimed the US is "responsible for all crimes."
Al-Wazer was a student at Drexel University in Philadelphia when investigations began, but is currently a student at Mount Aloysius College in Cresson, Pennsylvania. Al Arabiya English also saw a now-deleted LinkedIn profile that listed al-Wazer's most recent job as an Uber driver and a CV that said he was a student looking for accounting internships.
He is currently in custody and will face trial in the US District Court for the Eastern District of Pennsylvania.