A month into Lebanon's uprising, Tripolitans are still chanting for the fall of the regime. But for some, the return of ousted Prime Minister Saad Hariri is fast becoming the best option on the table.
Tripoli has been named the "bride" of Lebanon's anti-establishment revolution which broke out on October 17. Exactly one month later, hundreds are still gathering in the city's al-Nour square to listen to revolutionary speeches and music well into the night.
It is impossible to forget why this city, where around half of the population live below the poverty line, has been upheld as an example for other protesters across Lebanon. Painted on an enormous abandoned building overlooking the square is a Lebanese flag some fifty meters across. One recent addition to the vast mural is Alaa Abou Fakher, the first fatality of the protests, known to many as the "martyr of the revolution."
Protesters in Tripoli show no outward signs of relenting in their demands, even after momentum died down in other parts of the country. Sitting with a group of female family members, Hadia, a mother from Tripoli, is confident that the revolutionary spirit is here to stay.
"The number of people are the same - in fact it is growing… we are hoping that [politicians] will see we are staying, and they will agree on fixing the situation we are in," she told Al Arabiya English.
As for protesters' demands, "nothing has changed. We have said we want the fall of the regime - from the top of the pyramid to the smallest employee they have. They are all corrupt," Hadia continued.
The optimism is echoed by many protesters, including Abd al-Rahman, a 25 year-old resident of Tripoli. "The demands are the same. Actually, we are adding more demands. The financial situation has become harder. Now if you go into a house you wouldn't find even LBP 1,000. Tripoli is an area of poverty," he said.
Unemployment and economic deprivation have been driving factors for protesters in Tripoli - many, including Abd al-Rahman feel there is little reason to return to their jobs.
"Tripoli is an area of poverty. When people talk about Tripoli they think we are all extremists and members of ISIS. But when they come here and see us, they realize we are just normal people," he continued.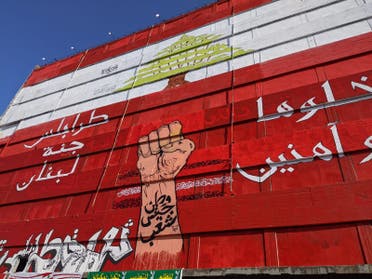 However, as Lebanon ends its third week without a government, some protesters view the return of caretaker Prime Minister Saad Hariri as the best option for a country in political gridlock. Hariri resigned on October 29 under pressure from nationwide street protests, automatically causing the resignation of his 30-member Cabinet. Until now, attempts to form a government have foundered due to disagreements between Hariri's Future Movement and the Free Patriotic Movement, led by Foreign Minister Gebran Bassil.
The stalemate intensified on Saturday when former minister Mohammad Safadi, a candidate backed by all the main parties, withdrew his candidacy after wide scale outrage from protesters.
"If Prime Minister Saad Hariri returned, it wouldn't matter. We are not going to find someone better than him, to be honest," Hadia told Al Arabiya English. "But of course we wouldn't allow them to appoint ministers or MPs from the political class or political parties, as [Hariri] is saying," she continued.
For Abd al-Rahman, the best candidate for premiership would be someone with no links to the ruling class - "someone from the people."
"But the best politician would be Saad Hariri," he added. "Mohammad Safadi, or anyone else - they are all the same. But Hariri is better than the rest. He knows how the game works," Abd al-Rahman told Al Arabiya English.
Shop-keeper Munzir al-Maamari trusts Hariri because of the former prime minister's philanthropic investments in Tripoli. "It's not that I like Hariri. But I find Saad Hariri the most respectable politician ... I don't know how much money he has poured into Tripoli. He used to help, open universities and helped the people of Tripoli a lot. I feel I can trust him because he's not like the others."
"We want the country to be fixed. Whether it is Hariri or not Hariri, it doesn't matter. Today people are asking for the most basic rights, such as roads, free education, hospitals. In short, people are simply asking to live with dignity in their country," Maamari continued.
One mother, who requested to remain unnamed, told Al Arabiya that she would be happy to see Hariri reinstated as Prime Minister - providing that he carried out meaningful reforms to see the end of corruption.
"Not all of them are corrupt and we should give a chance to reform, this is my opinion. Even Hariri, if he carries out reforms, why not. Him or anyone else. They need to repair what was broken. We will give them a chance," she told Al Arabiya English, before adding: "This will be the last chance."