On Wednesday US President Donald Trump announced additional "powerful" sanctions on Iran to be in effect until the regime changes its behavior. Trump called Iran's actions in the Middle East "destructive and destabilizing."
Here is a timeline of recent escalations by Iran in the Middle East:
May 12, 2019: Four ships, two of them Saudi Arabian, are attacked with explosives while traveling off the coast of the UAE, within oil shipping routes. The US said in an official assessment it was "highly likely" Iran was behind the attacks. Tehran denies responsibility.
June 19, 2019: Iran shoots down a US military drone in international airspace over the Strait of Hormuz using a surface-to-air missile. Iran said the US aircraft was flying over Iranian territory; the US military's Central Command said the claim was false.
July 19, 2019: Iran's Islamic Revolutionary Guard Corps (IRGC) seize the British-flagged tanker Stena Impero for alleged marine violations near the Strait of Hormuz and hold it for more than two months. The seizure came two weeks after the UK detained an Iranian tanker, believed to be breaching European Union sanctions by carrying a shipment of Iranian crude oil to Syria.
September 14, 2019: Two Saudi Arabian oil facilities are attacked by 25 drones and cruise missiles from the north. The US points the finger at Iran. Saudi Arabia's Minister of State for Foreign Affairs Adel al-Jubeir says the attacks were "undertaken with Iranian weapons, and for this reason we hold Iran accountable for them." The Iran-backed Houthi militia initially take responsibility, but it is later reported that Houthi leaders said they covered for Iran.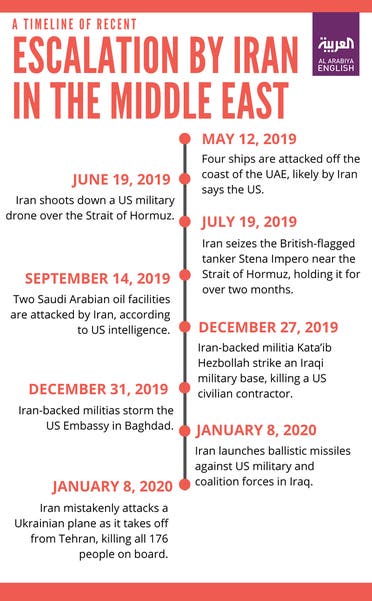 October 2019: Iran's IRGC - Quds Force commander General Qassem Soleimani instructs his Shia militia allies in Iraq to step up attacks on US targets in the country using sophisticated weapons provided by Iran, according to Reuters.
December 27, 2019: Iran-backed militia Kata'ib Hezbollah conduct a deadly strike on an Iraqi military base near Kirkuk using rockets. US civilian contractor Nawres Waleed Hamid of Sacramento, California, is killed.
December 31, 2019: Iran-backed militias storm the US Embassy in Baghdad, torching parts of the compound, smashing security cameras, and hurling stones. The siege was in response to US airstrikes that killed 25 militia fighters in retaliation for the killing of a US civilian contractor in Iraq.
January 8, 2020: Iran launches more than a dozen ballistic missiles against US military and coalition forces in Iraq in what is reported to be called Operation Martyr Soleimani, in response to the US-ordered drone strike that killed Soleimani on January 3. Iran's attack causes no casualties.
January 8, 2020: Hours after Operation Martyr Soleimani, a Ukraine International Airlines flight crashes shortly after takeoff from Tehran's Imam Khomeini International Airport. All 176 people on board are killed. After initially denying responsibility for the crash, Iran admits four days later that its military "unintentionally" shot down the plane, alleging it mistook for a "hostile target."
January 9, 2020: Iran-backed militias strike Baghdad's heavily fortified Green Zone with two Katyusha rockets, landing near the US embassy in the city.