Muslim Republican al-Aqidi challenges 'anti-American' Ilhan Omar for House seat
Last year Iraqi American journalist Dalia al-Aqidi requested an interview with Democratic Congresswoman Ilhan Omar, after a photo surfaced of a private meeting between Omar and Turkish President Recep Tayipp Erdogan. Al-Aqidi wanted to know the reason for the meeting.
Omar never granted an interview to al-Aqidi, a veteran journalist who was the only Iraqi to cover the 2004 US presidential campaign as a member of the traveling White House press corps, and has worked as Al Arabiya's Washington correspondent.
Now al-Aqidi, a Republican, has entered the field of politics to challenge Omar for her Minnesota congressional seat. She still has questions about the Congresswoman's relationship with Erdogan - and hopes to ask them on the debate stage.
While both women share a similar background as refugees from Arab League countries who received asylum in the US - al-Aqidi arriving in 1988 from Iraq and Omar in 1995 from Somalia - they are polar opposites politically.
Al-Aqidi supports US President Donald Trump - his "maximum pressure" campaign on Iran and policies in the Middle East - while Omar opposes the Trump administration and its policies.
The juxtaposition of the two politicians shows the diversity of political views in the Muslim Arab American community, despite the mainstream media and Democratic party's "attempts to make it seem that if you are an Arab, you could never be a Republican," said al-Aqidi in an interview with Al Arabiya English.
"The Democrats truly feel Omar is beyond reproach because she is an immigrant, a Muslim, and a woman of color. But these tactics they are using - accusing people who disagree with Omar of being anti-immigrant or anti-Muslim - they don't work with me," said al-Aqidi, a Muslim American born in Baghdad.
Questioning Omar's support for Turkey's Erdogan
In March 2019 a photo surfaced from Turkish media outlet Andalou that showed Erdogan meeting with Omar, when she was a relatively unknown Minnesotan state representative in September 2017. The hour-long meeting reportedly ended with the Turkish president asking Omar to voice her support for Turkey, according to the American news outlet Conservative Review.
"Why would Turkish President Erdogan meet with a little known state representative from the Midwest? No one has been giving me an answer so far and I've been asking for a year," said al-Aqidi, adding that it is a "well-known fact" that Erdogan is considered the "modern godfather" of the Muslim Brotherhood. Egypt, Saudi Arabia and other countries have designated the Muslim Brotherhood as a terrorist organization.
If elected, al-Aqidi said she will fight for American values, in contrast to Omar, who she alleges uses "anti-American" rhetoric and is against America's allies.
"Omar attacks America's allies: Egypt, Saudi Arabia, and the United Arab Emirates. Instead she supports Iran, Turkey, and Qatar. Why? Because they support the Muslim Brotherhood," said al-Aqidi, adding Omar's congressional voting is proof of allegiance to Turkey's Erdogan.
Omar, who sits on the House Foreign Affairs Committee, recently came under fire for two alleged pro-Turkey votes. She first voted against a bill calling for sanctions and other restrictions on Turkey over its offensive in northern Syria. She was the only Democrat in the House to vote against the bill, which passed with overwhelmingly support.
Then Omar refused to vote in favor of a bill recognizing the mass killings of Armenians at the hands of Ottoman Turks more than a century ago as a genocide. Erdogan called the House vote politically motivated and the bill "worthless" and the "biggest insult" to the Turkish people.
"Omar refused to recognize the Turkish genocide against the Armenians. If you look at everything she's been saying and doing, comparing to Erdogan's statements, it is like a copy and paste," said Al-Aqidi.
Turkish expert Aykan Erdemier said Omar's decisions on the bills may indicate allegiance to Erdogan and the Muslim Brotherhood, which Erdogan supports.
"It is difficult to explain how Omar, a member of the Congressional Progressive Caucus, can sympathize with the Turkish strongman...This unusual track record begs the question whether this is only a reflection of Omar's sympathies for Erdogan as a leader or also extends to his Muslim Brotherhood ideology," said Erdemir, a former member of Turkish parliament who now works as a fellow at the Washington-based thinktank Foundation for Defense of Democracies.
Turkish NBA player and political activist Enes Kanter said it seems Omar and Erdogan have "a mutually beneficial relationship."
"Whatever her reasons to side with Erdogan, she shouldn't be advocating a foreign country's rights over her own. I believe [these two congressional votes] explain whose favor she works for," said Kanter in an interview with Al Arabiya English.
Al-Aqidi said she will fight for the people of the fifth district of Minnesota, not foreign powers.
"I'm running for every resident of the fifth district of Minnesota, regardless of faith or political affiliation. I will fight for every resident here, to take the district away from Omar's agenda," she said.
Al-Aqidi faces a district with a solid history of voting Democratic. The last time a Republican served as a representative for Minnesota's fifth district was in 1962.
This year al-Aqidi will try to get Minnesotans to vote Republican, and against Omar.
"Omar has spent her entire time in Washington sowing seeds of division. I believe in the politics of addition. Americans, regardless of faith and ethnicity, are not as divided as the Democrats want us to believe. I'm obliged as an American to expose these agendas and tactics," said Al-Aqidi.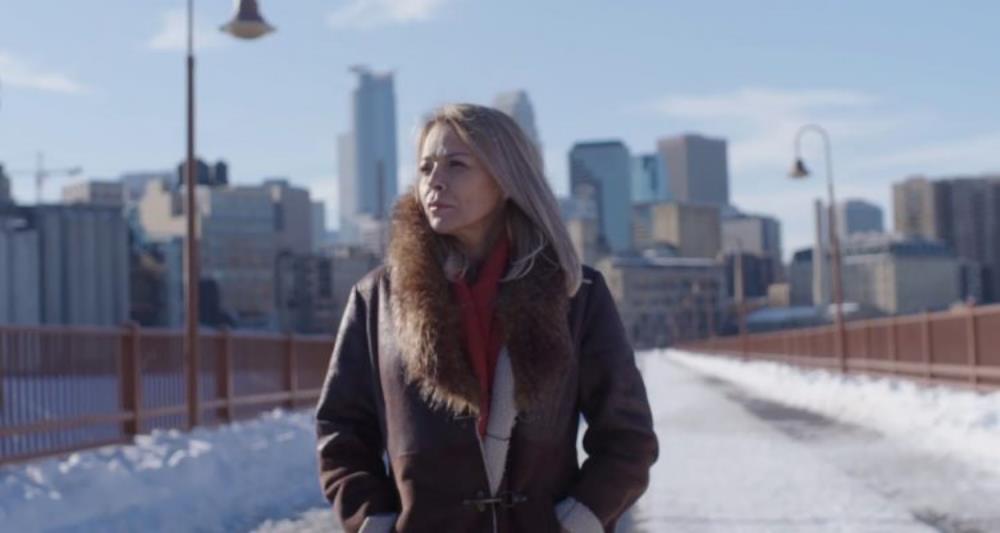 Illustration by Steven Castelluccia