Syrian refugees in Lebanon struggle under hostile government, brutal weather
After the Lebanese government forced Syrian refugees to demolish houses they had built and replace them with tents, the winter storm that blew through the Arsal camp this month added biting cold to the list of sufferings of its inhabitants.
In Arsal, a remote outpost on Lebanon's eastern border with Syria, nearly 50,000 refugees live in informal settlements, a small fraction of the total population of Syrian refugees in Lebanon, estimated by some sources as high as 1.5 million, or a quarter of the Lebanese population.
They have been on the receiving end of harsh treatment ever since they started arriving in large numbers eight years ago: the government restricted their job opportunities and, in some cases, forcibly deported those without legal residency status. Last April the Higher Defense Council issued an order calling for the dismantling of all "semi-permanent" structures, so many families in the sprawling Arsal community froze.
"Even the water tanks outside froze. We stayed two days without water – we would bring snow from outside and put it on the sobia [a diesel-burning heater] to melt it and use it to cook or drink tea," said Hassan Ali Ayfir, a community leader of a small camp on the outskirts of Arsal.
"There was a lot of moisture, and it was very cold," Ayfir told Al Arabiya English. "It's just tarps on the roof, and the snow on top was 50 centimeters or 20 centimeters. The children got sick – everyone in Arsal got sick. There was a wave of the flu."
Humanitarian and human rights groups, which had decried the demolitions at the time, said the recent storm confirmed their fears.
The new structures are far less resistant to wind and moisture, and this year's winter storm was especially painful.
Storm Karim brought temperatures below minus 10 degrees Celsius and snow drifts blocked the roads in and out of many of the camps in Arsal, meaning that many residents were cut off from supplies like heating fuel, drinking water and food for several days.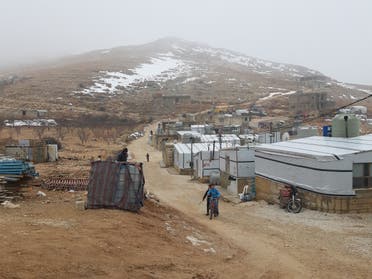 Forced demolitions
While the concrete houses were in violation of building codes, refugees in Arsal said that when they arrived and began to set up camps – most of them on vacant agricultural land that they rented from landowners – no one had told them that building with concrete was an issue.
Last June, thousands of refugees living in homes with concrete walls and roofs were required to demolish the structures and replace them with tents made of wood and tarp. They were allowed to leave concrete walls up to one meter high.
When the demolition order came, NGOs helped with the dismantling of the old houses and with hauling away the debris, but were not able to provide all the needed supplies for building new wooden ones.
Some incurred debt when they were forced to rebuild. When he fled from Syria's Qalamoun to Arsal four years ago, Omar Rahal said his family borrowed money to build the house in Arsal and had been paying it back in installments ever since.
"We had made the last payment from building with the concrete a month before the demolition," he said.
Rahal said he had incurred about $800 in debt to rebuild his home. Before the demolition order, Rahal and his wife and two-year-old daughter shared a two-story concrete building with extended family members.
In the old house, Rahal said, "Water didn't come down on us inside, and the cold was less severe. And the wind is very strong here. Before, we didn't feel it. Now when a gust of wind comes, we feel that the house is going to fly out of its place."
The demolition order came in tandem with an increased push by Lebanese authorities for the refugees to return to Syria, including a separate order by the Higher Defense Council authorizing forcible deportation of any Syrians who entered Lebanon illegally after April 24, 2019. Government officials, in defending the decision, maintained that most of Syria is now safe for returns.
Children at risk
Save the Children's Country Director in Lebanon Allison Zelkowitz said in a statement that the group "had warned that [the government's] measures would put up to 9,000 children at risk as their shelters become more prone to harsh weather. Now with the heavy snow, many tents have caved in under blankets of snow."
"Arsal is a stark reminder of how the humanitarian situation can deteriorate quickly," Zelkowitz said. "Unfortunately, vulnerable children and their families are always the most impacted."
The camp that Ayfir oversees in Arsal was set up to be a haven for widows and is inhabited mainly by women and children. Of 15 families living there only two are headed by men, Ayfir said.
Videos posted on social media from various camps in Arsal showed icicles hanging from roofs of tents and camp residents desperately trying to shovel walkways in the snow.
"We need bread ...we need bread" Syrian refugees pleading for help as sub zero temperatures hit Arsal camp in Lebanon.

Tents made of aluminum sheets can barely store heat. -10c/ 14F today: pic.twitter.com/LYpLCL8Pp2

— Joyce Karam (@Joyce_Karam) February 8, 2020
Because of the mountainous terrain, harsh weather is an annual fact of life in Arsal. Every year, residents struggle with the expense of buying heating fuel, said Nabil Khalouf, head of operations in Arsal for the NGO Edinburgh Direct Aid, who is also a refugee from Syria.
Refugees noted that the cost of fuel is particularly burdensome amid the current economic crisis in Lebanon, with inflation driving up prices while work is scarce.
Residents of the camps Al Arabiya English visited said that UN High Commissioner for Refugees (UNHCR) staff had not come to the camps during or after the storm. UNHCR said in a statement that partner NGOs in the area had responded by clearing snow from the access roads leading to the camps and had distributed shelter kits, blankets, food parcels, and fuel to some families.