When ISIS took over the Nineveh plains in northern Iraq in 2014, terrorized Christian residents fled in fear of their lives.
Six years later, despite liberation from ISIS, many Christians have not returned home and are leaving Iraq altogether - prompting concern that Christianity's 2,000 year presence in the country could be under threat.
A 1987 government census listed 1.4 million Christians in Iraq, but following the outbreak of war, ISIS, and continuing political instability in the country, Christians now number around 200,000, according to the Center for the Study of Global Christianity.
As numbers decrease "rapidly," Iraqi Christian Maryam Binyamen said she feels hopeless.
"We are facing a total extinction, I assume. Not the church nor the government can do anything about it. No opportunities, no jobs, security issues...this is sad," Binyamen said in an interview with Al Arabiya English.
Given the over 85 percent decrease in the population since 1987, Iraqi Christian Archbishop Bashar Warda says if "nothing changes in the current trajectory" there is a "real possibility" of extinction.
"The [Catholic] Church will never abandon Iraq, but the people can only take so much. They need to be able to see a future for their children," said Warda, the Chaldean Catholic Archbishop of Erbil, in an interview with Al Arabiya English.
Warda is a leader among Iraq's Chaldeans, the country's largest Christian sect, who recognize the authority of the pope. The community traces their roots back to the first century AD.
"My fear lies in losing our ancient church identity, our language, and our uniqueness," Matti Sogheetha, a Chaldean Christian in Iraq, told Al Arabiya English. Chaldeans and other denominations in Iraq, like Syriac Christian and Assyrian Christian, speak languages similar to Aramaic, the language Jesus spoke.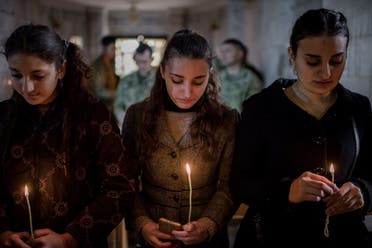 Christian exodus
Christians are just one of Iraq's religious minorities who have emigrated as a result of unrest and persecution by extremists.
Most Iraqi Christian refugees settled in the United States, Australia, New Zealand, and European countries.
"We can pray that in some future time these people or their descendants may choose to come back and be involved in Iraq in some form or another, but for now this seems very far away," said Archbishop Warda.
Iraq has been undergoing political upheaval and uncertainty following the 2003 toppling of dictator Saddam Hussein. The country's political system has been fragile, with outside powers like Iran "slowly insinuating itself into the Iraqi government over the past decade," according to former US Ambassador to Iraq Douglas Silliman.
This political instability has put religious minorities at risk and provided the circumstances that enabled ISIS to take over one third of the country, including some Christian areas in 2014.
Threatened with death, Christians sought refuge in other parts of the country not controlled by ISIS, as well as Syria, Lebanon, and Jordan.
Many of the Christians still in Iraq today are unable to return to their homes in towns and cities that were destroyed by fighting - and are likely to remain so, given the ongoing volatility in the country.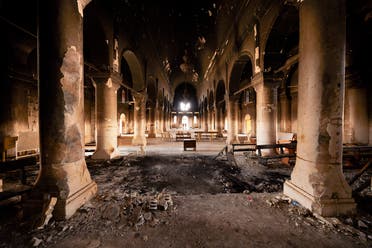 Possible ISIS resurgence
The resurgence of ISIS is a worry expressed by many Christians in the country.
In recent months "ISIS has been able to regroup, resurge, and stage attacks against Iraqi government security forces," according to Sarhang Hamaseed, Middle East Director at the US Institute for Peace, who said that there are an estimated 10,000-12,000 ISIS fighters still at large.
But an ISIS resurgence can be prevented if peace is reached in Iraq, according to Hamasaeed.
"If Iraq goes down the path of stability, then religious minorities will have a higher chance to go home. But if more violence breaks out and if there is a failed state, then the chances of the minorities leaving will increase," he said.
Future is dependent on Iraq protests
The majority of recent violence in Iraq has been directed at protesters staging nationwide anti-government demonstrations since November, demanding a change to a political system that they accuse of being corrupt and mismanaged.
Security forces and Iran-backed militias have responded to protests with a violent crackdown. The protests have received support from a variety of local religious leaders including Christians.
Archbishop Warda, one of the leading supporters of the protesters, has condemned the violence used against them and said the conflict distracts from the battle against ISIS, and provides them room to regroup.
In the meantime, many Iraqi Christians are in the city of Erbil, where they are relatively safe, according to Edward Clancy, outreach director of Aid to the Church in Need, a non-profit organization that helps Christians in Iraq.
"The situation is very stable in Erbil, there is a sense of security and there seems to be a possibility for growth for Christians," said Clancy in an interview, adding that Christians do not have their own militia or police force, so they remain vulnerable.
Rami Edward, a Christian living in Erbil, said he hopes the future will bring security, peace, stability, and work in the country.
"Not only for Christians, but all Iraqi people," said Edward.