Coronavirus outbreak in Iran higher than government reported numbers: Experts
The coronavirus outbreak in Iran has become a source of controversy, following the disclosure by an Iranian parliament member that 50 people have died from the virus solely in the city of Qom.
Iran's health ministry insisted on Monday that only 12 people have died from the virus in the entire country, and that up to 61 had been infected.
However professor of epidemiology at Yale University's School of Public Health Dr. Kaveh Khoshnood estimates the number of people infected with coronavirus in Iran is "likely in the hundreds," given the confirmed number of 12 dead, but said it is hard to tell "since the exact number of COVID-19 cases in Iran has not been reported."
Iranian parliament member Ahmad Amirabadi Farhani said on Monday the coronavirus had killed around 50 people in Qom, the city he represents.
"Up until last night, around 50 people died from coronavirus. The health minister is to blame," Farhani said on Monday, according to the semi-official ILNA news agency.
Iran's health ministry rejected the number. Iran's Deputy Health Minister Iraj Harirchi said 12 people had died and up to 61 had been infected in Iran.
Expert on Iran Behnam Taleblu said there is reason to doubt the official government numbers provided by the health ministry.
"Like any other statistics put out by the Islamic Republic, there is reason to be skeptical of the numbers reported for people killed or infected by the virus in Iran," said Taleblu in an interview with Al Arabiya English.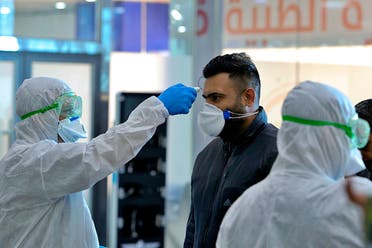 Taleblu said Iran has a record of lacking transparency on other recent matters, such as the killing of protesters in November and the shooting down of a Ukrainian civilian airliner in January.
Reuters reported about 1,500 people were killed during protests in Iran in November, citing three interior ministry officials. Iran did not provide an official death toll and rejected figures by outside organizations as "speculative," according to Reuters.
In January, when a Ukrainian International Airlines plane crashed on the outskirts of Tehran, killing all 176 people on board, Iranian officials initially said the crash was caused by a technical problem and invited countries that lost citizens to help investigate. Three days later, Iran admitted responsibility, after Western leaders said there was strong evidence the plane was hit by a surface-to-air missile.
Like economic or social issues, "health crises can become political flashpoints in Iran. There is a sense of fear given the lack of transparency by the government," Taleblu said, adding that it appears the government is unprepared to deal with the consequences of the coronavirus.
The deaths from the coronavirus in Iran are the first in the Middle East and the country's toll is the highest outside mainland China, the center of the epidemic.
Kuwait, Bahrain, Oman and Iraq on Monday recorded their first new coronavirus cases - all people who had been in Iran.
Five of Iran's seven neighbors - Iraq, Turkey, Afghanistan, Pakistan, and Armenia - have closed their borders with Iran.