Love in the time of Corona: Newlywed S. Korean doctor in 'lonely' self-isolation
Just two months after getting married, a South Korean doctor has been forced into self-isolation after contact with coronavirus, and is now communicating with his new wife only by phone and through the window.
Dr. Hwanhee Lee, 30, is just one example of many individuals who have had to make personal sacrifices because of the virus outbreak in South Korea, which has killed 51 people and infected 7,478, according to the Korea Centers for Disease Control and Prevention.
After being classified as one of 50 people who came into "close contact" with an official infected with the virus, Dr. Lee is under mandatory self-isolation for two weeks in Daegu, the city hit hardest by the coronavirus in the country.
"I am separated from my wife who I just married two months ago, as well as the rest of my family for three weeks," said Dr. Lee in an interview with Al Arabiya English.
"We talk over the phone and if I need necessary goods, my wife and family leave these items in front of my door and see my face through the window," he added. "It's lonely and frustrating, but it should be followed as a measure for protecting people around me."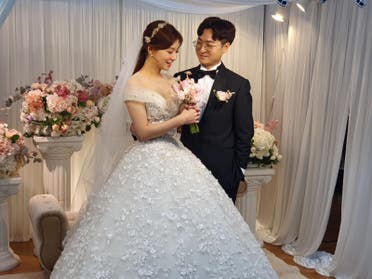 When Dr. Lee first received the order to go to Daegu to treat coronavirus patients, he had a hard time telling his new spouse. Up to 75 percent of South Korea's reported coronavirus cases are in Daegu, the country's fourth-largest city.
"I felt very sorry for my wife. She felt depressed and angry when she heard about the order for me to go to Daegu," he said, adding that he consoled her by sharing research about coronavirus, technically known as COVID-19, as well as the health authority guidelines.
Now under quarantine, Dr. Lee is constantly monitoring his body temperature and other symptoms, which he reports to the authorities twice a day. If he breaks the quarantine, he will be fined $3,000.
Dr. Lee said he fears contracting the virus in the "battleground" of the country. Daegu has been declared a "special care zone" by the South Korean government, which is sending extra medical supplies and staff to the area and deploying soldiers to disinfect the streets.
Dr. Lee said he tries to focus on scientific principle, in knowing that he is fighting a possible contagion with protective measures and his own immunity.
"To reinforce my immunity I am making sure to sleep sufficiently, focus on nutrition, and work out at home," he said.
When Dr. Lee is cleared and released, he will return to the city of Miryang, where he was previously working as a public health doctor.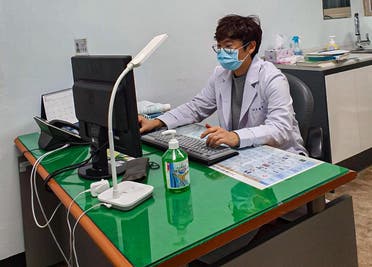 Meanwhile 237 kilometers away in the South Korean capital city of Seoul, Donga Kwon, 29, says the virus has put her international business career "on hold" and halted her social life.
"We cannot make business trips so we try to keep in contact through conference calls and video chat. Remote work is a must now," Kwon said in an interview with Al Arabiya English.
"I haven't been to a shopping mall nor other crowded places since the outbreak. Basically my friends and I gather at another friend's house. We have food delivered," added Kwon.
Kwon said that given her young age, she is certain if she were to catch the virus, her immune system would overcome it.
"But I'm not sure for my parents and I wouldn't want to affect my colleagues as well. The virus is striking hard on elderly people," said Kwon.
The most at-risk for the virus are those with weaker immune systems, especially the elderly, children, and those with pre-existing medical conditions, according to the Centers for Disease Control and Prevention.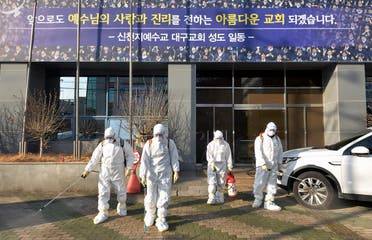 South Korea, one of the most severely affected countries outside mainland China, announced on Monday the increase of new infections in the country fell to its lowest level in 11 days.
South Korean President Moon Jae-in said the downward trend in new infections could lead to a phase of stability.
"We must maintain this trend," he told a meeting of senior aides on Monday. "But it's too early to be optimistic."