The UK government has responded to the global coronavirus pandemic in a different way to most other countries.
Rather than rush to contain the virus by promptly closing schools and banning mass gatherings, Prime Minister Boris Johnson instead announced less stringent measures, following advice from the government's chief scientific adviser that the UK would be better off allowing a significant part of the population to get coronavirus to build immunity against it in the long-run.
While supported by some medical professionals, the government's response sparked criticism – with some noting that allowing the covid-19 virus to spread could lead to 300,000 Brits being killed, even at a low mortality rate.
But with the pandemic yet to peak, the debate over how best to contain it in the UK is still ongoing. Here is an explainer of how the UK has reacted so far, what measures might be expected in the future – and what risks are involved.
For more coronavirus news, visit our dedicated page.
How does coronavirus spread, and how deadly is it?
Coronavirus, known as COVID-19, is a virus from the coronavirus family that also includes the SARS and MERS diseases, which killed 774 and 886 people in 2003 and 2012 respectively.
The virus first emerged in the Chinese city of Wuhan in January, 2020, potentially transmitted from a bat to a human. It has since exploded into a worldwide pandemic, with over 15,000 people infected and over 5,800 dead as of Sunday March 15, 2020.
Outside of China, Italy, Iran, South Korea and Japan have been the worst hit. The virus has caused major disruption to the global economy as countries scramble to contain it, with borders shut and flights canceled.
Symptoms include a dry cough, fever, and aching muscles. However, the virus is currently thought to have an incubation period of up to 14 days, meaning a person could be infected for up to two weeks and spreading the virus to others without experiencing any symptoms.
The mortality rate for the virus – how many people who die from contracting it – varies based on age and gender. While it is a relatively low 0.2 percent for people aged 10-39, it rockets to almost 15 percent for above 80 year olds.
No vaccine has yet been developed, although scientists are working on several prototypes.
In the UK, a total of 1,140 cases had been reported as of Sunday, with 21 dead.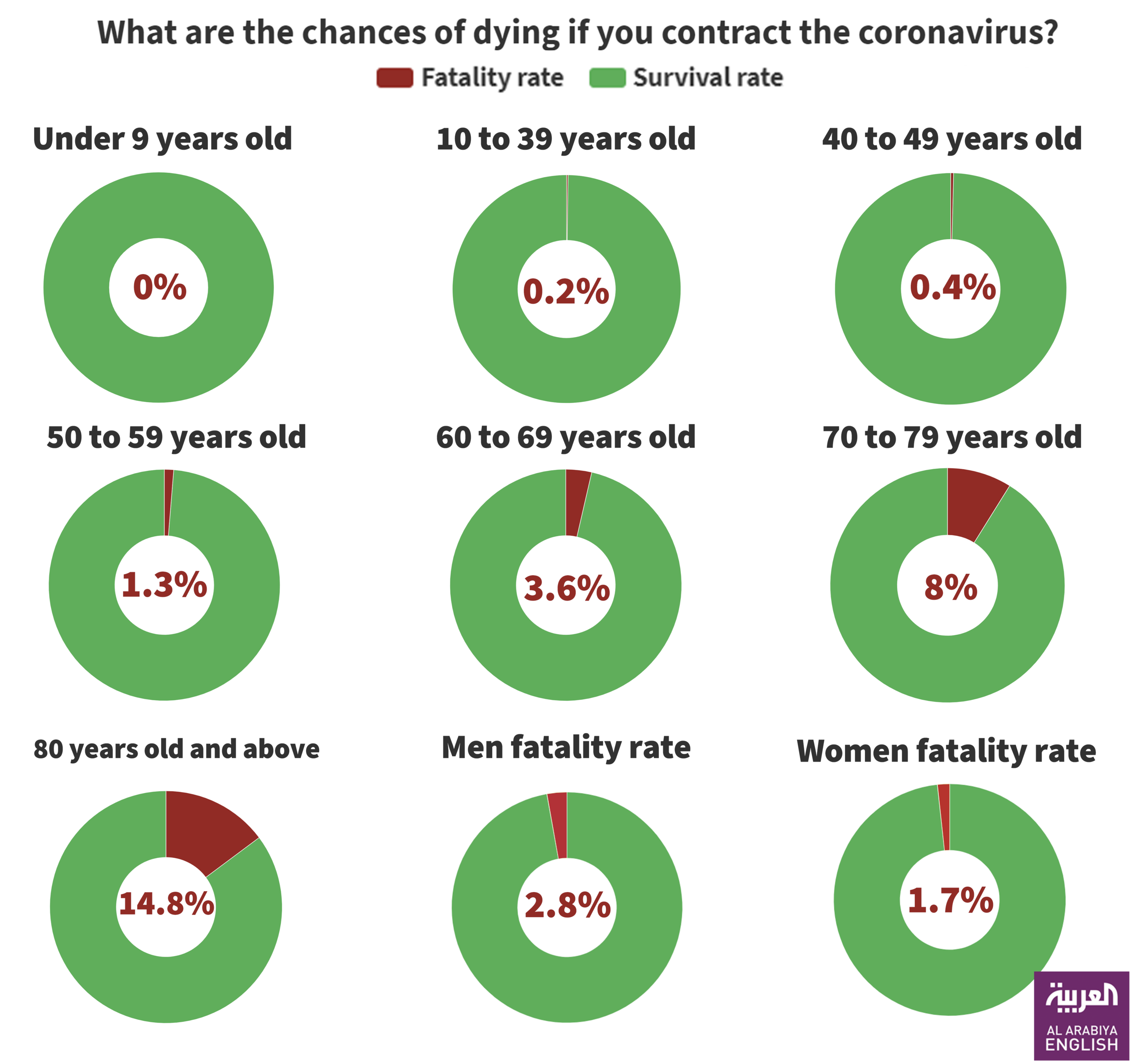 How has the UK government responded to coronavirus?
The UK government's response to coronavirus has been widely seen as different to other countries.
Following China, most countries have rushed to contain the virus by taking a range of measures to limit its transmission, including shutting down schools, closing borders, and quarantining whole towns or cities.
The UK has taken some measures toward containment.
On Friday, the English Premier League announced it was suspending all games until April 4, preventing mass gatherings of supporters in stadiums. The London Marathon has been rescheduled to October, and local and mayoral elections in England have been postponed for a year to May 2021.
However, the UK has not followed other countries and rushed to contain the virus using all means necessary. Schools remain open, and public gatherings permitted.
Speaking on Thursday, Prime Minister Johnson acknowledged that coronavirus was "the worst public health crisis for a generation" and that "more families are going to lose loved ones before their time," but only advised that people with symptoms stay at home for 7 days – a limited response known as the "delay phase."
Read more: Seven insights from a Yale epidemiologist
Following Johnson's comments, Sir Patrick Vallance, the Chief Scientific Adviser to the government, told Sky News that the UK's strategy was currently to "suppress" the virus rather than completely "get rid of it" – a long-term strategy in which a certain amount of the population is allowed to contract the disease once to build immunity to it a second time.
"It is the case, of course, that if you completely locked down absolutely everything, probably for a period of four months or more, then you would suppress this virus. All of the evidence from previous epidemics suggests that when you do that and then you release it – it all comes back again," said Vallance.
"So we want to suppress it, not get rid of it completely, which you can't do anyway, not suppress it so you get the second peak, and also allow enough of us who are going to get mild illness, to become immune to this to help with the sort of whole population response which would protect everybody," he explained.
There is little chance of a usable vaccine being developed this year. Our approach reflects the need to do all we can to stop our NHS getting overwhelmed in the absence of a vaccine. - PV https://t.co/zivrKdYviE

— Sir Patrick Vallance (@uksciencechief) March 13, 2020
What is herd immunity?
The strategy outlined by Vallance is known as building "herd immunity."
Human bodies fight infectious diseases through their immune systems, which often retain a immunological memory of a disease once they recover from it, allowing it to better fight off the disease when coming into contact with it again in the future.
Herd immunity refers to the state in which the majority of the population – the herd – has contracted and survived a disease, and is therefore immune to contracting and spreading it a second time.
While new diseases such as covid-19 spread quickly because they have not been contracted before, people with immunity to diseases will not spread them – meaning that in the long run, it can benefit the country as a whole for a significant number of the population to contract the disease first time round.
According to Vallance, in order to achieve herd immunity, around 60 percent of the UK population would need to contract coronavirus – around 40 million people.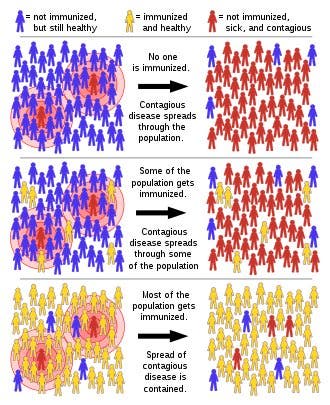 What are the risks of herd immunity?
The major problem with trying to achieve herd immunity is that tolerating the spread of the disease will inevitably infect and kill a significant part of the population, which could potentially be avoided by containing the disease.
Of the 40 million people that Vallance said would need to contract the disease for the UK to achieve herd immunity, around 80 percent or 32 million are expected to experience only mild symptoms. However, this still leaves the remaining 8 million with severe symptoms.
While mortality rates vary based on age, even a low estimate could lead to at least 300,000 deaths – a massive number for any country to endure. Tolerating the spread of the virus to so many people could also put strain on the UK's National Health Service, which might struggle to provide enough beds and treatment for patients at once. Coronavirus patients might also take up valuable emergency services for those suffering from other illnesses and emergencies.
Read more: What kills more people? The coronavirus or the economic recession it's causing
The other great unknown is whether the population is capable of developing herd immunity.
The strategy of herd immunity is usually based on vaccination, giving people a safe amount of a disease via an injection so that they are immune to contracting it again. But there is currently no vaccine for coronavirus, meaning there is an element of uncontrolled risk which relies on the disease spreading naturally through the population. There is also the risk that covid-19 could mutate into a different strain, meaning it would be able to overcome the built up immune defenses.
Although trying to achieve herd immunity comes with significant risks, some commentators have pointed out it might be the best solution for the long-term to prevent a second spike of the disease – and potentially unavoidable anyway.
"For me, herd immunity has never been the outright aim, it's been a tragic consequence of having a virus that - based on current evidence - is unlikely to be fully controllable in long term in the UK," wrote epidemiologist Adam Kucharski on Twitter.
For me, herd immunity has never been the outright aim, it's been a tragic consequence of having a virus that - based on current evidence - is unlikely to be fully controllable in long term in the UK. 2/

— Adam Kucharski (@AdamJKucharski) March 14, 2020
Read more: Western world braces for explosion of infections as deaths rise
Calls for more stringent steps
In response to the risks of the UK's strategy, experts have called for more stringent measures to be implemented.
On Saturday night, over 295 academics published an open letter criticizing the UK's strategy of delaying restrictions and calling for immediate "social distancing measures" to slow the spread of the virus.
"By putting in place social distancing measures now, the growth can be slowed down dramatically, and thousands of lives can be spared," read the letter.
"We consider the social distancing measures taken as of today as insufficient, and we believe that additional and more restrictive measures should be taken immediately, as it is already happening in other countries across the world," it adds.
Since Johnson's speech on Thursday, the government has shown signs it is preparing to change policy.
On Friday, British media reported that the government would likely announce a ban on mass gatherings soon, following unilateral action by sporting events, though it did not name an exact date for the plan. Parliament will be discussing emergency legislation next week.
And over the weekend, British newspapers said that the government is preparing to introduce a blanket ban on over 70s from leaving their houses, aimed at containing the most at-risk section of the population.
When pressed on whether he would advise the government to change course if the data suggested it should, Vallance was adamant that he would. "My job as chief scientific adviser is to speak scientific truth to power and say it as it is, and that is exactly what I will do," he said.