Arab countries continue to take measures to impose travel controls and shut down large-scale public events to combat the coronavirus pandemic. Many people have canceled or rearranged travel plans as the regional airlines have responded to the outbreak with mass cancelations.
Below are the travel restrictions in place at some of the countries in the region:
Saudi Arabia
Saudi Arabia confirmed on Saturday that it was suspending all international flights for two weeks starting from March 15 in a drive against the spread of the global coronavirus.
"The Kingdom's government has decided to suspend international flights for travelers – excluding exceptional cases – for a period of two weeks," the Saudi Press Agency (SPA) reported on Saturday the ministry as saying.
Since last week Saudi Arabia has closed its borders to air and sea travel from 14 countries affected by coronavirus. Growing concerns over coronavirus led the kingdom to cut off travel with Bahrain, Egypt, France, Germany, Iraq, Italy, Kuwait, Lebanon, Oman, Spain, South Korea, Syria, Turkey and the United Arab Emirates. The kingdom had earlier closed off its land borders.
Saudi Arabia banned the travel of its citizens and residents to 39 countries including: European Union states as part of the Kingdom's efforts to contain the spread of the coronavirus, state news agency SPA reported on Thursday citing a ministry of interior source.
"The Kingdom's government decided to temporarily suspend the travel of citizens and residents, and to suspend flights to the European Union countries, Switzerland, India, Pakistan, Sri Lanka, Philippines, Sudan, Ethiopia, South Sudan, Eritrea, Kenya, Djibouti, and Somalia," said the source.
Read more:
Saudi Arabia detects 24 cases of coronavirus, total rises to 86
Saudi Arabia suspending 2020 general census counting amid coronavirus outbreak
Coronavirus: Saudi Arabia suspends events in wedding halls, rest houses, hotels
UAE
The United Arab Emirates on Saturday suspended the issuance of all entry visas except for those holders of diplomatic passports. The move was taken as a precautionary measure being initiated by the country to contain the spread of coronavirus and is in response to the World Health Organisation declaring the coronavirus outbreak as a pandemic, the Federal Authority for Identity and Citizenship said in a statement.
As an additional preventative measure, the UAE Civil Aviation Authority announced that all scheduled passenger flights to and from the following countries have been temporarily suspended until further notice: Bahrain, Iraq (effective as of March 17), Iran, Italy (except for Rome), Saudi Arabia, Kuwait, Lebanon (effective as of March 17), China (except for Beijing), Syria (effective as of March 17), Turkey (effective as of March 17).

UAE Crown Prince: Food, medicine supply 'infinite' amid coronavirus
Qatar
Qatar said it would ban non-Qatari passengers from entering the country for two weeks starting on Wednesday. Qatar's Emir Sheikh Tamim bin Hamad al-Thani ordered the stopping of all incoming flights to Doha, with the exception of air cargo and transit flights.
All public transport journeys were suspended beginning from Sunday night. Qataris and foreign residents in the country are advised against travel. The country has cut off travel to 15 nations including, China, Egypt, Iran, Italy, South Korea, and Syria.
Oman
The Sultanate of Oman will be suspending tourist visas for travelers from all countries in an effort to combat coronavirus, the Oman News Agency (ONA) reported on Thursday.
There would be a ban on entry of all non-Omanis to the Sultanate's territories via all of the Sultanate's airports, except for the GCC citizens and passengers who hold resident visas, according to a statement by Salim Hamed Said Al Husaini, the Director of Air Transport at the Public Authority for Civil Aviation (PACA).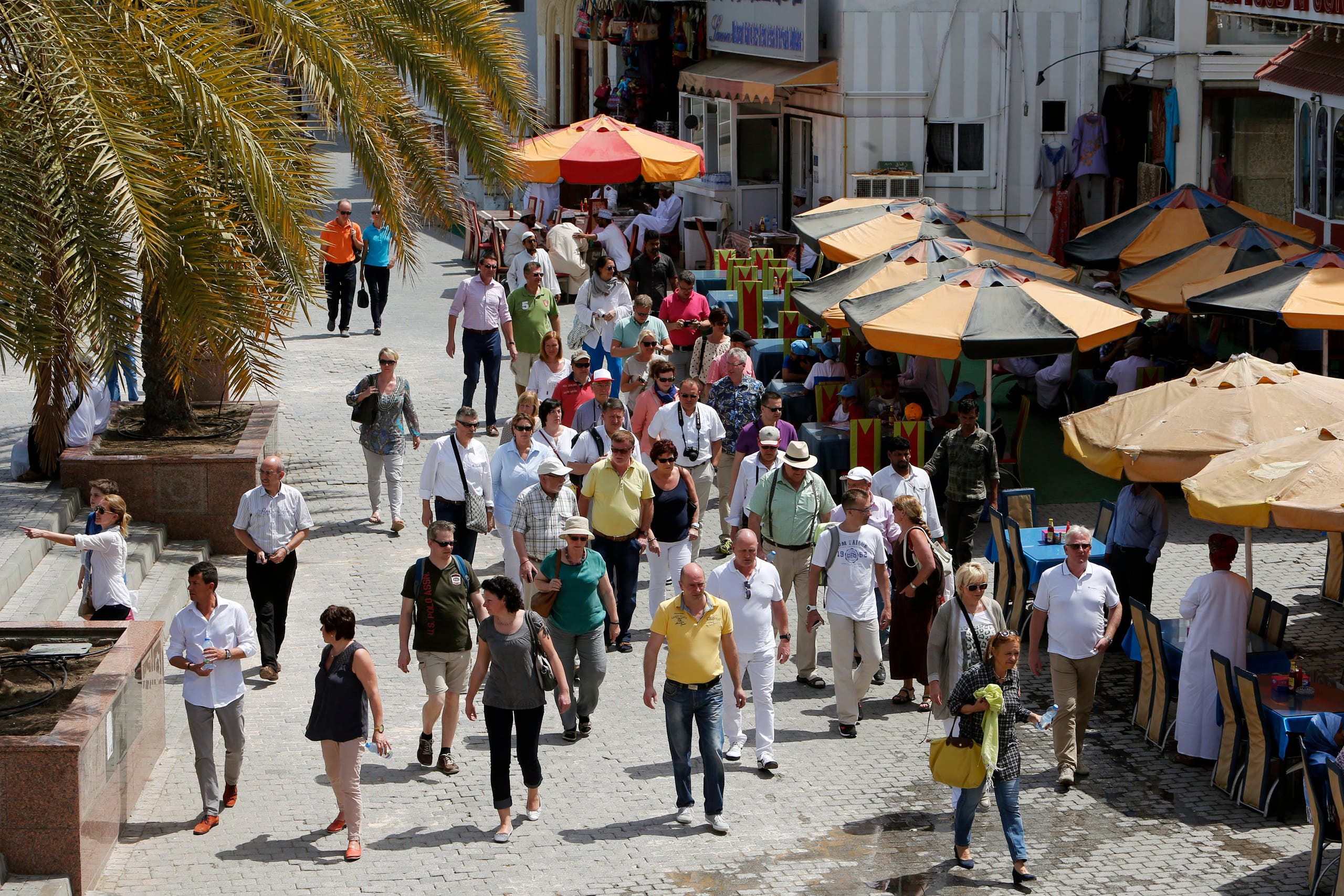 All travelers entering the Sultanate from all points of entry including Omanis will be quarantined from March 17, 2020, said Oman's Ministry of Health (MOH).
Oman Air will be suspending all flights to and from Bahrain and Egypt as of March 19, the airlines announced on their official Twitter page.
Read more:
Coronavirus: Oman bans non-GCC citizens entry, Friday prayers, public gatherings
Kuwait
Kuwait International Airport was the first airport in the region to close fully starting from Friday to contain the spread of coronavirus. Kuwait suspended all commercial flights to and from Kuwait International Airport from Friday until further notice, state news agency KUNA reported.
"Flight arrivals are restricted to Kuwaitis and their first-degree relatives, with the exception of cargo planes," KUNA said in a tweet.
All flights will be suspended from mid-Friday and operational regulation and evacuation plans will be issued later," Kuwait Interior Minister Anas al-Saleh said.
Read more:
Kuwait donates $40 mln to World Health Organization to combat coronavirus
Bahrain
Bahrain's Gulf Air suspended flights to and from several destinations across its network effective from March 18, until the end of the month. Gulf Air flights that will continue to operate to and from Bahrain International Airport are Abu Dhabi, Dubai, Muscat, London, Paris, Frankfurt, Istanbul, Cairo, Mumbai, Delhi, Cochin, Karachi and Manila.
Earlier the kingdom had suspended all flights to and from Saudi Arabia until further notice, the airline announced on its official Twitter page on Monday.

Read more:
Coronavirus: Bahrain enforces strict measures after first death in GCC recorded

Yemen
Yemen's internationally recognized government suspended all flights coming into and out of all airports in the country for two weeks and closed all land ports of entry until further notice, the ministry of foreign affairs said on Tuesday. Humanitarian flights, commercial cargo and humanitarian cargo are allowed into the country.
Lebanon
Lebanon said last week that it would halt all travel to and from Italy, South Korea, China, and Iran to curb coronavirus and gave nationals four days to return from other virus-hit countries before a more sweeping shutdown of flights would take effect.
Prime Minister Hassan Diab said Lebanon was also banning entry of passengers from France, Egypt, Syria, Iraq, Spain, Britain, and Germany.

Read more:
Coronavirus: Lebanon declares state of emergency, orders two-week lockdown

Jordan
Jordan last week closed off air travel to Lebanon and Syria and sea travel to Egypt, as part of its precautions to minimize its citizens' contacts with coronavirus-affected countries. Jordan's army will be deployed at entrances and exits to main cities in the kingdom to help prevent the spread of coronavirus, according to a statement quoted by Reuters.
The Hashemite Kingdom is also considering closing its common borders with the West Bank as the number of Palestinians affected by the coronavirus continues to climb.
The Jordanian government also announced the temporary suspension of travel by land to Iraq, and allowed air travel through Arbil and Baghdad airports only. It banned travel from and to France, Spain and Germany, while reducing the number of flights from Egypt to half.
Iraq
Iraq has suspended all flights to and from Baghdad airport as of March 17 until March 24 and imposed a curfew in Baghdad over the same period. At least 110 cases of coronavirus have been confirmed so far in Iraq, and 10 people have died.

Morocco
Morocco said on Sunday it had decided to suspend all international commercial flights until further notice, extending a ban that had previously been applied to around 30 nations, including Italy, France and Spain.
Meanwhile, the local media reported that thousands of Moroccans had found themselves stranded abroad, awaiting repatriation at airports, especially in France.