Lebanon's military and security forces deployed across the country Sunday after the government announced a clampdown on those not complying with orders aimed at slowing the spread of the novel coronavirus.
Army helicopters toured the skies, calling on residents through loudspeakers not to venture out "in the interests of your own safety," while soldiers set up roadblocks and carried out foot patrols on the streets.
The Internal Security Forces said its members had begun taking "stricter measures" to ensure the public was following government orders to stay in their homes except in cases of "extreme necessity."
Those who fail to do so could be met with a fine and imprisonment of up to 3 years.
Read more: Coronavirus-infected mother, new-born quarantined at Lebanese hospital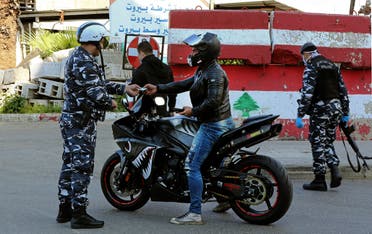 Moving beyond containment
The ramping up of military and security presence to curb the COVID-19 coronavirus came in response to failure to heed official orders to stay inside, Interior Minister Mohamad Fahmi said.
There were 248 confirmed cases of the COVID-19 coronavirus as of Sunday afternoon, according to the Health Ministry. Four people have died from the virus.
"The number of people infected with the virus has increased dramatically, and we have moved beyond the stage of containment," Fahmi said in a televised speech, in which he detailed the measures first announced by Prime Minister Hassan Diab a day earlier.
"Any violation that poses a threat to public safety will be suppressed," Fahmi added. All of the country's security agencies will coordinate together with municipal authorities to ensure compliance with the rules.