Governments are neglecting a second coronavirus test that is just as important as the current test being carried out across the world, medical experts have warned.
While health officials from various countries have been testing thousands of people for active infections, they have not been using an antibody test - which indicates if someone has had an infection in the past.
If you were previously infected with coronavirus and have recovered, you develop a serum antibody, which can be measured, according to Dr. Peter Hotez, co-director of Texas Children's Hospital Center for Vaccine Development.
"When you get infected with any virus, you develop an antibody response to the virus within one or two weeks and that is usually what clears the infection," said Dr. Hotez, who is also the dean of the National School of Tropical Medicine at Baylor College of Medicine, in an interview with Al Arabiya English.
A blood test can measure those antibodies as a marker to see if someone has been exposed to the virus, technically known as SARS-CoV-2.
Though antibody testing is not a routine test, it should be, medical experts say, as it provides many benefits including helping the critically ill recover.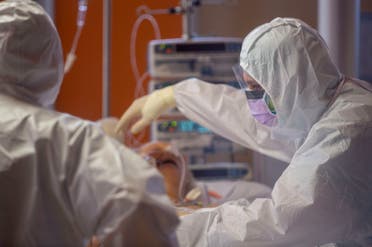 Benefits of coronavirus antibody testing
Antibody tests could help critically ill COVID-19 patients recuperate. The test would identify recovered patients, who could then donate their antibody-rich serum to the ailing, according to Dr. Kaveh Khoshnood, a professor of epidemiology at Yale University's School of Public Health.
It would also help health care workers "find out whether they have been infected and recovered and are now safe to go back to work," said Dr. Khoshnood in an interview with Al Arabiya English.
Antibody tests for COVID-19 are an important public health tool that "help demonstrate the true scale of the pandemic," according to Dr. Khoshnood.
"Large-scale antibody testing can provide essential data to model the trajectory of the pandemic," he said.
The coronavirus test you know: Nasal swab
Last week the World Health Organization (WHO) called on all countries to ramp up their testing programs as the best way to slow the advance of the pandemic.
"We have a simple message to all countries - test, test, test," said WHO Director General Tedros Adhanom Ghebreyesus, in reference to the coronavirus nasal swab test - not the antibody test.
The test that "everyone is talking about now is the nasal swab that looks for the presence of the virus to see if you have an active infection," according to Dr. Hotez.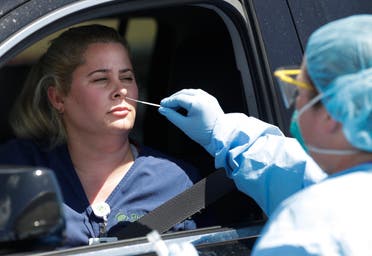 Disease experts say testing people to see if they have an active COVID-19 contagion will identify where the virus is spreading most rapidly and could help contain the outbreak by isolating those diagnosed and treating them.
But some of the nasal swab test kits in the US have been flawed, with technicians reporting inconclusive results, which the CDC said could be due to the test looking for signs of generic coronaviruses, instead of the specific COVID-19.
In contrast, the antibody test for COVID-19 to see if someone had a past infection, is accurate and does not cause false-positives.
Preliminary data from recent studies show that "antibodies to other coronaviruses do not seem to cross-react and cause false-positive antibody tests for SARS-CoV-2," according to Dr. Khoshnood.
It will take at least a year for a coronavirus vaccine to be available, according to Dr. Khoshnood and Dr. Hotez. In the meantime, both coronavirus tests should be utilized as resources to deal with the current pandemic.