With more than 300 confirmed cases of coronavirus in Lebanon and the country's residents under orders to quarantine themselves at home, no cases have been confirmed in the country's Syrian refugee camps so far.
But officials and refugees alike are fearful that a spread of the virus in the crowded camps is only a matter of time – and will come with potentially devastating consequences for the hundreds of thousands of Syrian refugees in the country.
"Of course we're afraid [of the virus]," Salah, a refugee from Aleppo living in a camp of about 400 people near Bar Elias in the Beqaa valley, told Al Arabiya English. "We're living on top of each other, so if there were one case, maybe after a week the whole camp would have it."
Read more: Coronavirus puts spotlight on Lebanon's ailing public healthcare system
UNHCR preparing isolation units
The UN refugee agency (UNHCR) has begun preparing to set up isolation units within the camps if they become needed, said Josep Zapater, head of UNHCR's operations in the Bekaa valley, where there is a large concentration of refugee camps.
"If the virus appears in refugee settlements, those are overcrowded areas in which it's difficult to isolate," Zapater told Al Arabiya English. "So, we have a contingency plan to build isolation units of different kinds in informal settlements for the refugees."
Municipalities in the Bekaa are also identifying sites outside of camps that could be used as isolation units for either Lebanese or Syria residents. And while UNHCR is not conducting coronavirus screenings itself, the agency is providing resources to the health ministry and will cover the full cost of testing and treatment of coronavirus for refugees, Zapater said.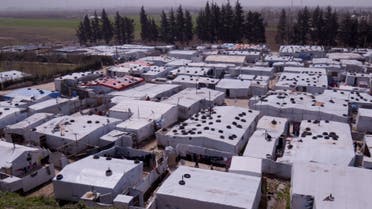 Read more: Coronavirus: Palestinian refugees in Lebanon pool resources to protect against virus
Prevention difficult in cramped conditions
In the meantime, officials and refugees said prevention is key – but it may be easier said than done.
"We're trying to have each person stay in his house and quarantine himself and not come out except for urgent matters," explained Salah.
But unlike families with more means – or storage area – who can buy a week or a month's worth of supplies in one trip, the camp residents generally have to shop daily, Salah said. He noted that the camp only had a limited supply of cleaning and sanitation materials, and that they had not received sanitation supplies from the UN or other NGOs.
In the area surrounding the camp, there appeared to be little enforcement of the lockdown order. While residents had set up makeshift roadblocks or checkpoints in some areas to prevent outsiders from bringing in the virus, many stores remained open, and both Syrian and Lebanese residents were out on the street, most of them not wearing gloves or face masks.
While a lack of preventive measures could have disastrous consequences, a lockdown also has risks for refugees by denying work to people already in poverty.
Some Lebanese officials have called for a stricter lockdown on refugees. Lebanese Forces leader Samir Geagea, for instance, called for residents of Syrian and Palestinian camps to be prevented from leaving the camps altogether because of the coronavirus crisis.
While a stricter lockdown has not been implemented, refugees in some areas have received WhatsApp messages threatening them with deportation should they leave their camps.
NGOs have also reported difficulties delivering supplies to the camps. Zapater said that UNHCR has been advocating for them to have increased access, and also making the case that refugees should not be put under more stringent restrictions than the rest of the country.
"There is no additional risk because you're a refugee – it doesn't mean you have an additional risk to be sick or to transmit the sickness to somebody else – so we are requesting some flexibility from the authorities and for measures that are applied in the same way to everybody," he said.
At the same time, he asked refugees to comply with authorities and follow the law to prevent the spread of the virus.
Read more: Syrian refugees in Lebanon face coronavirus threat without soap or sanitizer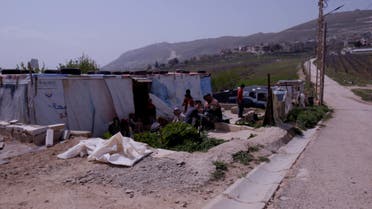 No work, less food
At a small camp surrounded by fruit orchards in a remote area next to the village of Ayn Kafr Zabd close to the Syrian border, camp leader Manal Salameh told Al Arabiya Engish that during the past 20 days camp residents have only been allowed to go into town to get food or go to the pharmacy.
"Things like bread, sugar, tea, the basic things, we're able to get them," he said. "But vegetables, for instance, we can't get. The vegetable shops are closed. Other things, all the stores are closed."
Meanwhile, he said, "The economic situation is zero – there is nothing, no work."
On top of work stopping since the quarantine began, refugees who get UN cash assistance may not be able to access it, with banks and the UN office now closed. Some small store owners who previously allowed refugees to buy on credit are now facing their own financial issues and in some cases have stopped giving credit, said Zapater.
"The situation of poverty and hunger is actually increasing quite rapidly," he added.
Faced by the looming health crisis on top of the economic malaise, Salameh shrugged.
"What can we do? There's no strength or power except from God."
Read more: Coronavirus traps migrant workers in Lebanon as economy fails