Coronavirus: Sweden takes different approach to tackling the outbreak as numbers rise
Sweden has taken a business-as-usual approach to tackling the coronavirus pandemic, which is coming in for growing criticism as the death toll rises, according to reports.
Read the latest updates in our dedicated coronavirus section.

The country has not implemented any social-distancing measures or curfews as other countries have to help slow the spread. Neither has it closed "non-essential" businesses such as restaurants and other entertainment hot spots. Schools and borders remain open as well.

According to recent data released by Google, recreational outings in Sweden have decreased by only 24 percent, while the same numbers dropped by nearly 94 percent in Italy and Spain.
However, the Scandinavian country has been criticized as the number of infections and death toll continue to rise. Sweden had a total of 6,131 cases as of Saturday. The death toll reached 358 so far, rising at about 25-30 a day, according to the Swedish Health Agency, Reuters reported.

"We don't have a choice, we have to close Stockholm right now," Cecilia Soderberg-Naucler, Professor of Microbial Pathogenesis at the Karolinska Institute, told Reuters.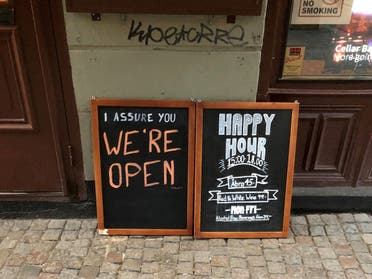 She is one of around 2,300 academics who signed an open letter to the government at the end of last month calling for tougher measures to protect the healthcare system, according to Reuters.

"We must establish control over the situation, we cannot head into a situation where we get complete chaos. No one has tried this route, so why should we test it first in Sweden, without informed consent?" she added.

Twitter user Deanthebard shared a video of bustling areas in Sweden.

"Meanwhile in Sweden, it's life as usual," he captioned the video on the social media platform. "Not sure how I'm feeling [about] all of this when the rest of Europe is in isolation."


However, Sweden's Public Health Agency's lead epidemiologist, and a member of the country's coronavirus national response team, shared a different perspective.

"My view is that basically all European countries are trying to do the same thing — we're trying to slow down the spread as much as possible to keep healthcare and society working ... and we have shown some different methods to slow down the spread," Anders Tegnell said during an interview with CNBC last week.

He also said the health agency introduced "voluntary measures" and explained to the population the importance of social distancing, CNBC reported.

"So far, it's been working reasonably well," he said.

- With Reuters
Read more:
Google data shines light on whether lockdowns worldwide are working