How much you are exposed to the coronavirus affects disease severity: Experts
All exposures to the coronavirus are not equal, according to medical experts, who warn that people in close proximity with, or who have frequent exposure, to the virus have a higher risk of severe disease.
Scientific understanding of the coronavirus is still in its infancy, but in at least one other viral infection, measles, there is epidemiological evidence that a higher dose of the virus is associated with a more severe illness.
"It is plausible that some types of exposures are more likely to transmit a higher versus a lower dose of the coronavirus," Dr. Arthur Reingold, division head of epidemiology and biostatistics at the University of California Berkeley School of Public Health, said in an interview with Al Arabiya English.
An example of a lower risk exposure would be walking quickly past someone outdoors who is infected, but not showing symptoms, according to Dr. Reingold. In this case the situation does not pose a high risk for the infection to lead to critical illness.
An example of a high-risk exposure is to be in the same small room with someone who is infected, and showing symptoms like sneezing and coughing, for several hours. The latter is more probable to result in a severe case of COVID-19, the novel coronavirus disease.
Doctors Joshua Rabinowitz and Caroline Bartman recommend taking specific care against high-dose exposures, which are "most likely to occur in close in-person interactions…[and] are more dangerous in enclosed spaces and at short distances, with dose escalating with exposure time," in a New York Times op-ed.
There is also evidence from animal studies that a higher dose of virus is associated with a more severe illness.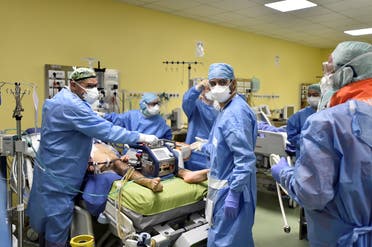 Doctors at risk for high-risk exposures
The World Health Organization (WHO) has designated groups of people most at-risk for a severe illness if they do contract the virus, like the elderly and those with preconditions.
The WHO also warned that health care workers are at risk of infection due to hazards including pathogen exposure and long working hours, but fell short of warning about the risk of a high level dose, in the WHO report "Coronavirus disease outbreak: rights, roles, and responsibilities of health workers" published on March 18.
Amid the coronavirus pandemic, healthcare workers have both more exposures and more high-risk exposures, according to Dr. Reingold.
"Medical personnel face an extreme risk, since they deal with the sickest, highest-viral-load patients," according to Rabinowitz and Bartman.
There have been reports of physicians in their twenties and thirties dying after treating coronavirus patients in China and Pakistan, and at least 61 doctors in Italy have died while caring for COVID-19 patients, with the majority in the hard-hit Lombardy region, according to the Italian Association of Doctors.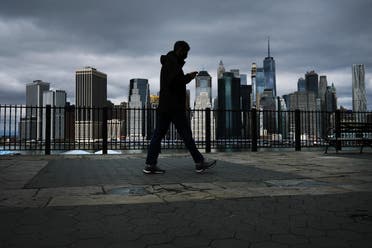 Preventing high-dose infections
Subjection to elevated amounts of the virus can go undetected considering someone who is asymptomatic can spread COVID-19 "with high efficiency," according to the WHO.
COVID-19 can spread via cough or respiratory droplets, contact with bodily fluids, or from contaminated surfaces.
Rabinowitz and Bartman recommend prioritizing protective gear for medical workers, as well as the preventative measures of social distancing, face masks, and good hygiene for all people "since these practices not only decrease infectious spread but also tend to decrease dose and thus the lethalness of infections that do occur."
"While preventing viral spread is a societal good, avoiding high-dose infections is a personal imperative, even for young healthy people," write Rabinowitz and Bartman.
For all the latest coronavirus news visit our dedicated page.