In Lebanon, coronavirus presents a political lifeline for the sectarian-based elite
Branded facemasks and bars of soap plastered with the logos of political parties, bottles of disinfectant neatly laid out in shrines to prominent leaders, drones delivering party broadcasts amid the country's lockdown.
Despite their absurdity, these images have increasingly become the norm in Lebanon as the country's political elite seize the window of opportunity presented by the coronavirus outbreak and attempt to reconsolidate what support they lost during months of nationwide protests.
Since October 17th, Lebanese citizens have taken to the streets en masse to reject what many see as a corrupt and sectarian-based political establishment insensitive to the realities of its people, ushering in a new government but worsening an already crippling economic crisis in the process.
Inadequate masks that are not just useless but dangerous, because they provide a false sense of security, produced en masse by parties that are not just...

(Photo credit: @Patrick_Baz) pic.twitter.com/ZtljT9KziB

— Peter Harling (@PeterHarling) April 5, 2020
However, with this new government of technocrats struggling to inspire confidence even before the virus outbreak began, it is the same old sectarian-based political parties who have now stepped up to take the reins – ramping up their clientelistic practices under the guise of efforts to support the ailing Lebanese state.
"Fear drives certain political behaviours and undermines people's ability to question authority," said Imad Salamey, Associate Professor of Political Science and International Affairs at the Lebanese American University, speaking to Al Arabiya English. "When people feel threatened, they tend to pay allegiance to whoever is there to protect them."
As the economic crisis continues to deteriorate, many have been forced to rely yet again on these parties' patronage networks to support them during the pandemic.
"By presenting themselves as saviours, Lebanon's political parties are exploiting people's fear in an attempt to make a comeback from the country's protest movement and regain some of the legitimacy they lost among the rank and file," said Salamey.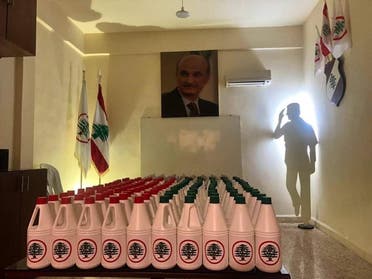 Read more: The coronavirus outbreak proves Lebanon's Diab cabinet has no idea how to govern
Competing to sterilize streets
In Koura, in Lebanon's north, video posted by the Christian-based Lebanese Forces' party showed members disinfecting streets and churches in branded jumpsuits, set against an ominous and dramatic soundtrack.
However, the Lebanese Forces' were not alone. Their political rivals in the area, the Syrian Social Nationalist Party – who advocate for the establishment of a pan-Syrian state that spans much of the Middle East – also posted images of their own members donning similarly-branded overalls and sterilizing streets in Koura.
A few miles south, President Michel Aoun's Free Patriotic Movement members embarked on identical campaigns dressed in their distinct orange party colours – appearing in large convoys with loudspeakers to disinfect neighbourhoods under their control and deliver party-branded aid packages to residents.
However, despite such campaigns, many Lebanese nonetheless see them as publicity stunts – with the country's public health officials and doctor's syndicates warning about the ineffectiveness of such street-level disinfection measures.
"It seems to me that it's more of a show-off than anything else. The virus is not widespread and does not survive long on inert surfaces, so cleaning the streets like this does not make sense," said Salim Adib, a professor of epidemiology and public health at the American University of Beirut.
"At the beginning they got out whatever they had, which happened to be pesticides. Eventually, they ran out so now they are now resorting to a mixture of water and soap," Adib told Al Arabiya English. "It's nothing more than grand gesturing to show they are doing what needs to be done."
Read more: Lebanon's sectarian system leaves country ill-equipped to deal with coronavirus
Hezbollah's coronavirus campaign dwarfs political rivals
Perhaps the largest of all the political parties' responses has been that of Hezbollah, which aside from orchestrating public disinfecting campaigns of its own has also mobilized upwards of 25,000 frontline medics and volunteers in their fight against the virus.
Founded by Iran's Revolutionary Guards in 1982, Hezbollah is a Shia political party and militant group that has fought for years in Syria in support of President Bashar al-Assad – part of a wider regional military alliance backed by Tehran.
During a media tour given by Hezbollah officials in Beirut on Tuesday, the group showcased one of two new testing centres and an entire repurposed Beirut hospital it owns now dedicated to treating coronavirus patients.
Hezbollah's Islamic Health Unit out disinfecting #Beirut's southern suburbs today (not my video but shared with owner permission). Other municipalities doing similarly in #Lebanon, but not sure what they're spraying & if this sort of campaign effective against #coronavirus ? pic.twitter.com/YNyQA4XBgh

— Lizzie Porterلِيزي بورتر (@lcmporter) March 24, 2020
Read more: Hezbollah's coronavirus public relations act won't save Lebanon
It has also set up its own quarantine centers across the country, part of a campaign amongst a number of Lebanon's political parties that has seen them establish or finance at least 84 of these facilities to quarantine their supporters, according to local television station LBCI.
"It is a real war that we must confront with the mindset of a warrior," said Sayyed Hashem Safieddine, the head of Hezbollah's executive council, whilst presenting the group's response plan on its Al-Manar TV – adding that their role "was to complement the government apparatus and not to stand in its place."
Despite the organization presenting itself as working to "complement the government apparatus," the current Minister for Health is himself a Hezbollah affiliate in the technocratic government.
Lebanon announced tougher restrictions on movement Sunday to prevent the virus' spread, which has so far infected 527 people and killed eighteen. On March 15th, the government announced a "general mobilization" which has seen wide-reaching lockdown measures enforced under threat of arrest by state security forces.
Read more:
Lebanese financial appointments delayed over sectarian squabble
Activists, journalist arrested in Lebanon after defying coronavirus lockdown
Coronavirus: Syrian refugees in Lebanon fear outbreak in crowded camps