Sri Lanka's fading Muslim minorities hark back to seafaring traders and soldiers
Sri Lanka's diverse Muslim minorities are under rising threat from growing Buddhist nationalism and resentment over terrorist attacks, which only add to long-standing issues of immigration, poverty, and a decline in their unique language and culture.
Among Sri Lanka's Muslim communities are the Malays who travelled to the island over centuries from different parts of the Indonesian archipelago.
There are only around 40,000 Malays in Sri Lanka comprising less than half a percent of the total population. Yet many of the country's colonial-period mosques, including the central mosque in the country's capital Colombo, were built by the minority community.
One of their oldest settlements is in Hambantota. The name is said to derive from the Malay word "sampans," meaning boat. Today, the harbor and fishing market are a sleepy backwater, surrounded by rice paddies and incomplete urban development projects.
But the construction of a Chinese-backed mega port in Hambantota has altered the local landscape, displacing many within the population and threatening their age-old fisheries. Elsewhere, Malay fishing hamlets have clashed with nearby Buddhist temples over land ownership.
Their language, Sri Lankan Malay, is also in decline.
"It is no longer taught in schools, and younger Malays do not speak it," said Tuan Zameer Careem, a Malay historian and activist from Colombo. Those who marry outside of the community tend to lose their customs and practices.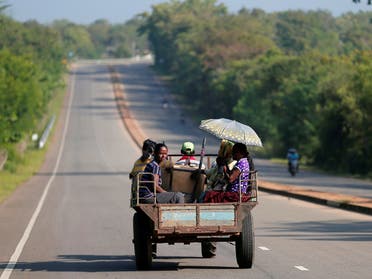 In some communities, more orthodox forms of Islam have replaced the syncretic approach to the religion.
"The first Malays in Sri Lanka were Buddhists, but they eventually assimilated with later colonies of Muslim Malays," said Careem. Their religion, he adds, contained elements of Hinduism and Buddism present in the Indonesian archipelago.
"Traditionally, Malays prayed with their hands closed, and they refused to wear leather because they venerated cows," said Careem. "Today there are more debates about what it means to be a Muslim. Many give their children Muslim names instead of the traditional Malay names."
The tiny community could soon vanish from the island, Careem fears.
"We need to involve the younger members of the community and make them understand our pride of having come to the island and served the country. This is how we can retain our language and culture," he said.
Ancient Indian ocean trade
"The first Malays on the island in the 6th century were nomadic traders or sea gypsies," said Careem. "Later, they came to the island as military chiefs serving Sri Lankan monarchs."
"Then, under European colonial rule, Malays played an important role in the colonial bureaucracy and occupied important military positions," Careem added. "They were known as a jovial, happy-go-lucky bunch who were not too religious. They drank and didn't fast during Ramadan."
When Malay traders settled in Hambantota in the 6th century, it was known as Magampura, and it was the major port of a wealthy Buddhist kingdom that attracted merchants from across the Indian Ocean.
As the spice trade grew in the western parts of the island, the British converted the district of Hambantota into a military outpost. Malays who came to Sri Lanka with the British as soldiers and mercenaries were also settled in the district, and later given land to cultivate rice and salt.
The port was part of a flourishing maritime trade network that connected coastlines from East Africa and the Arabian Gulf to China. Upstream, through thick jungle, excavations uncovered evidence of ancient steel productions, which are believed to have been used as material for the famed Damascus swords produced in the Middle East.
Read more: Coronavirus: Muslims in Sri Lanka forced to cremate dead, stigmatized under lockdown
It is through such trade networks that Buddhism and Islam spread across the Indian Ocean. Osmund Bopearachchi, a US-based Sri Lankan historian, highlights the role of religion in trade.
"They developed good relationships with the Buddhist monarchs on the island because they understood the culture," he said.