US supports Israel 'self-defense' following reports of raids in Syria: Official
The US supports Israel's "efforts to secure its self-defense," American official James Jeffrey said Saturday, following reports of Israeli raids on Iranian targets in Syria.
"Israel is facing an existential threat from Iran…the Iranians are in Syria in large numbers. Israel has the right to take whatever action it needs, being careful about Syrian casualties," said Ambassador James Jeffrey, the US special envoy for Syria and the coalition against ISIS, in an interview with Asharq Al-Awsat newspaper.
On Friday Israeli helicopters fired rockets on targets inside southern Syria, according to Syrian state media.
The same day the UK-based Syrian Observatory for Human Rights reported Israeli strikes targeted a Syrian military base on a road run by Lebanese Hezbollah, an Iranian proxy group.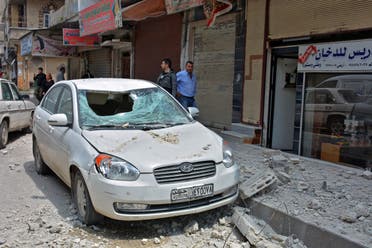 The Syrian defense ministry said the explosions were not the result of Israel, but instead due to "human error" while moving ammunition at the base - an explanation considered credible by former Israeli Defense Forces Colonel Miri Eisin.
"I actually do think it is human error. Usually the defense ministry doesn't comment at all. And when they do comment they don't say they made a mistake," said Eisin, who served in the Israeli intelligence community and was a former adviser to Israeli Prime Minister Ehud Olmert, in an interview with Al Arabiya English.
Iran in Syria
Jeffrey said that large numbers of Iranians are in Syria "passing on long-range weapon systems to Hezbollah that threaten Israel."
While he said Tehran has "very established footholds" in the Syrian government and society, Eisin disagreed with the assertion that Iran is embedded in the society.
"The Iranian relationship is with Syrian leadership, with Bashar al-Assad. It is not something that pervades all aspects of society," said Eisin.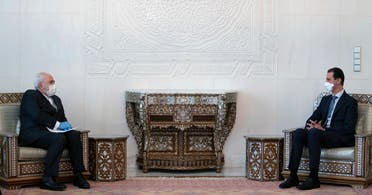 Despite Iranian efforts to export into Syria, Eisin said she doesn't think Iran's influence in the country is growing, especially considering the death of Iranian military commander Qassem Soleimani in January, followed by a severe coronavirus epidemic.
Iran, which has so far recorded 97,424 coronavirus cases and 6,203 related deaths, likely initiated the spread of the virus in Syria's regime-controlled areas, according to Jeffrey.
"We think [Iranians] spread it initially in regime areas," he said. "We think that there's a considerable amount of cases [in the regime areas], but we can't measure it."
Syria has officially reported 44 coronavirus cases and 3 deaths. The World Health Organization (WHO) said on Friday it was seeing a worrying increase of COVID-19 cases in the country.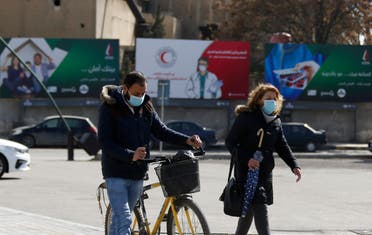 Both Iranian and Syrian government officials have recently called for the lifting of US sanctions, which they say affect the abilities of their countries to secure humanitarian imports during the coronavirus pandemic.
Jeffrey said the US sanctions do not include humanitarian or medical goods.
"Those items can flow freely," he said. "Economic sanctions make the situation worse for the circle of people very close to the head of the regime, and this is what we are always trying to reach."