Coronavirus: Pope Francis calls for fasting during day in Ramadan for end of COVID-19
Pope Francis has called on "believers of all faiths" to unite next Thursday in a day of fasting and prayer to ask "God to help humankind overcome the coronavirus pandemic."
Top-level interreligious group, the Higher Committee of Human Fraternity, organized the day of worldwide prayer scheduled for May 14, which falls during the Islamic holy month of Ramadan when Muslims fast from dawn to sunset.
Egypt's Grand Imam Ahmad al-Tayeb has also welcomed the initiative. He invited people around the world to pray and do charitable works "for the sake of Allah Almighty, in order to lift this pandemic off us and the entire world," in a post on Facebook.
The day will be historic moment, according to Pope Francis' aide Monsignor Yoannis Lahzi Gaid, a priest from Egypt and a member of the Higher Committee of Human Fraternity.
"It will be the first time that all humanity has united for a single goal: to pray together, each according to their faith, giving proof that faith unites, not divides," said Gaid in an interview with Al Arabiya English.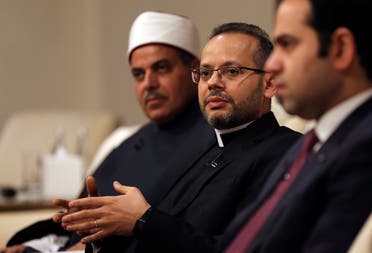 The pandemic has crossed borders and cultures indiscriminately, affecting people's lives regardless of their religion and background.
"The virus has made us understand our fragility and the need to unite as brothers. We can't come out of this separately," said Gaid.
"COVID-19 has brought us all to our knees. But kneeling is the best position to pray," he added.
The Committee, which was established last year with the support of the United Arab Emirates, is also calling for people to pray for scientists to find a vaccine as soon as possible.
Though the areas of modern science and traditional faith are often perceived as incompatible, Gaid said there is no contradiction between the two, as demonstrated by the pandemic.
"There is a complementary. Science without faith remains without horizon and faith without science remains without support. This is a great lesson of COVID-19," said Gaid.
This is not the first time the Committee's diverse set of international religious leaders and scholars have emphasized science.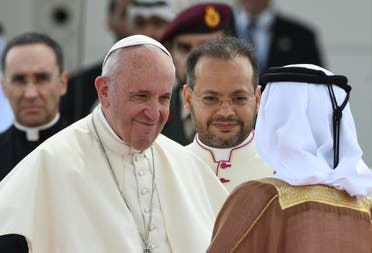 Reflecting on scientific and technical progress was a focus of the Committee's interfaith meetings that led to last year's signing of a landmark "Document on Human Fraternity," by Pope Francis and Dr. al-Tayeb.
Other world leaders have also endorsed the May 14 call for prayer, including Abu Dhabi Crown Prince Sheikh Mohamed bin Zayed Al Nahyan, Lebanese President Michel Aoun, UN Secretary-General Antonio Guterres, and the Ecumenical Patriarch of Constantinople Bartholomew.
On May 14, people everywhere will collectively join together in prayer for an end to coronavirus. Responding to the Higher Committee of Human Fraternity's call, they will be united against this challenge. However our efforts play out, we need God's grace and mercy.

— محمد بن زايد (@MohamedBinZayed) May 4, 2020
Read more:
Inspiring interfaith moments during the coronavirus pandemic
Abu Dhabi marks interfaith effort a year after Pope's visit
Meet Pope Francis' top Arab aide, Egyptian priest Yoannis Lahzi Gaid