Hong Kong legislature to push ahead with China anthem bill after chaotic scuffles
Hong Kong's legislature plunged into chaotic scuffles for a second time this month on Monday (May 18), as pro-Beijing lawmakers took control of a key committee, paving the way for a debate on a bill that would criminalize abuse of China's national anthem.
Pro-democracy legislators charged at security guards surrounding pro-establishment lawmaker Chan Kin-Por, who had taken the chairman's seat in the meeting against procedural objections by the opposition. Guards hauled several legislators out of the chamber, some kicking and shouting.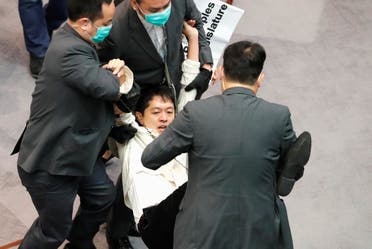 It was the second time in 10 days that have legislators pushed and shoved each other over the procedures of electing a chairperson. Last May, scuffles broke out in the legislature over a proposed extradition bill that if passed could have seen people stand trial in courts in mainland China. The bill sparked often-violent protests in the Hong Kong and was later scrapped.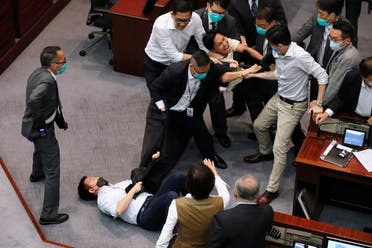 "The reality in Hong Kong today is that whenever Beijing, whenever Carrie Lam and the pro-establishment don't like something, they will do whatever it takes, including breaking the system that we have, the rules that we have.," said Democratic lawmaker Dennis Kwok.
The house committee's role is to scrutinize bills before a second reading in the legislative council and has built up a backlog after failing to elect a chairperson since late last year.
The backlog includes the China national anthem bill, which is expected to be given a second reading on May 27 despite the procedural chaos. Protesters have been calling on social media for city-wide demonstrations on that day.
Read more:
Pompeo warns China over alleged harassment of American journalists in Hong Kong
First Hong Kong protester to plead guilty gets four years in jail