Problem in Iraq is that Iraqi forces unwilling to go after pro-Iran militias: Expert
The problem with pro-Iran militias in Iraq is that Iraqi security forces are unwilling to go after them, says military expert with the Hudson Institute Michael Pregent, adding that new Prime Minister Mustafa al-Kadhimi must show more force.
"It's only the special forces that are doing it again, Kadhimi arrested 14 members of Kata'ib Hezbollah for a rocket attack about 10 days ago, and within 48 hours they were released. Abu Fadak of Kata'eb Hezbollah and Esmail Ghaani, the Revolutionary Guard Corps commander, the Quds Force Commander, have more power in Iraq than the Prime Minister has. And that needs to change," Pregent said in an interview with Al Arabiya.
For all the latest headlines follow our Google News channel online or via the app.
Pregent was referring to the incident late last month when Iraq's Joint Operations Command arrested 14 fighters with the Kata'ib Hezbollah in southern Baghdad following a raid on their headquarters. They were released within two days and photos of the detained burning American and Israeli flags while still dressed in their prison garbs went viral on social media.
The military expert said the main problem with the pro-Iranian militias is not only centered around the firing of rockets.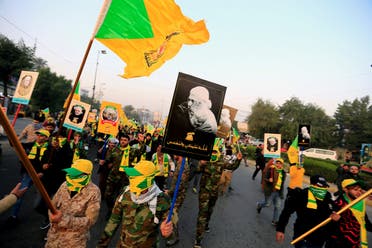 "The militias are not only firing rockets, they vote. The majority position inside of the Council of Representatives is from these militia groups, the Fatah party, Assyrian, state of law, and they form the Bana'a party," he said.
"They decide and they are more loyal to Iran than they are to Iraqis and Iraqis are demanding new elections. If new elections happen, these militias will lose power," Pregent added.
A spokesman for the #Iran-backed Kata'ib Hezbollah militia says that they will file a lawsuit against #Iraq's Prime Minister Mustafa al-Kadhimi for their "abduction."https://t.co/oUQXlRSTgY

— Al Arabiya English (@AlArabiya_Eng) June 30, 2020
Earlier on Tuesday, mourners gathered in the Iraqi city of Najaf for the funeral of a well-known former government advisor and political analyst who was shot dead a day previously. They chanted anti- Kata'ib Hezbollah slogans during the funeral march for slain researcher Hisham al-Hashemi who was assassinated a day earlier.
Activists and protesters said al-Hashemi had received death threats from Kata'ib Hezbollah about a month prior to his assassination.
Read more:
Detained Kata'ib Hezbollah fighters burn US, Israeli flags upon release
Iran's missiles can reach around Gulf, US defenses are 'not sufficient': Kimmitt
Assassinated researcher al-Hashemi received death threats from Hezbollah: Activist