Iran could use road-mobile missiles to target Saudi Arabia amid escalation: Report
While considered non-negotiable and a "red line" by Tehran, Iran's ballistic missile program is viewed as a source of destabilization and a threat to its neighbors in the region, especially Saudi Arabia.
Iran's most recent use of ballistic missiles goes back to January, when the Islamic Revolutionary Guard Corps (IRGC) launched more than a dozen ballistic missiles against military bases in Iraq hosting US military and coalition personnel in response to the US drone strike that killed IRGC commander Qassem Soleimani earlier the same month.
For all the latest headlines follow our Google News channel online or via the app.
Iran, which has a long history of arming and funding its network of proxies in the Middle East to further its influence in the region, has also supplied the Lebanese Hezbollah and the Houthi militia in Yemen with ballistic missiles and rockets.
A UN report released in late June endorsed long-standing claims that weapons "of Iranian origin" were used in several attacks against Saudi Arabia last year and have been exported to the Houthi militia in Yemen.
The report provides evidence for US officials in their case to extend the UN arms embargo on Iran and further calls into question Tehran's public commitments to dialogue and the nuclear deal.
The US has been pushing to extend the arms embargo on Iran before it expires on October 18.
Iran's ballistic missiles
Iran possesses the largest ballistic and cruise missile force in the Middle East, capable of hitting targets as far as 2,500 kilometers from its borders, according to a report published by the Centre of Strategic and International Studies (CSIS) in August 2019.
Iran's ballistic missiles, which have been aided by China, Russia, and North Korea, pose a serious threat to Saudi Arabia and other Gulf states, the CSIS report said.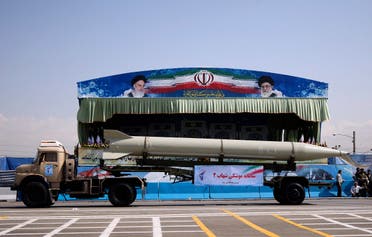 Iran possesses liquid-fuelled propellant missiles, such as the Shahab missiles, which are based on former Soviet Scud technology, according to the report.
The Shahab missiles, with ranges of 300 to 2,000 kilometers, are the core of Iran's missile program, according to the report.
The Shahab missiles have variants such as the Qiam-1, Ghadr-1, and Emad missiles, which feature "improved navigation and guidance components, lethality, and range," the report said.
Iran has also produced homegrown solid-propellant missiles, namely the Fateh series, which is based on Chinese technology and can hit targets from 200 to 2,000 kilometers away.
Iran also possesses land-attack cruise missiles such as the Soumar and the Meshkat, with a range of approximately 2,500 km, according to the report.
Threats to Saudi Arabia; directly and through proxies
Iran possesses various missiles capable of hitting important sites in Saudi Arabia.
Missiles such as the Fateh-110 with a range of 300 kilometers, Zolfaghar with 700 kilometers, and Emad with 2,500 kilometers, are all capable of reaching critical infrastructure in the Kingdom, the CSIS report said.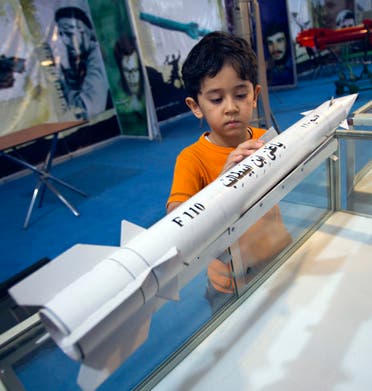 Saudi sites such as the port of Ras Tamura, Ras al-Khair power and desalination plant, and the Abqaiq processing and stabilization plant exist within range of these Iranian missiles, according to the report.
Targets further from Iran's borders, such as the refinery at Yanbu, located along the Red Sea, are also within range of Iran's medium-range ballistic missiles, the report added.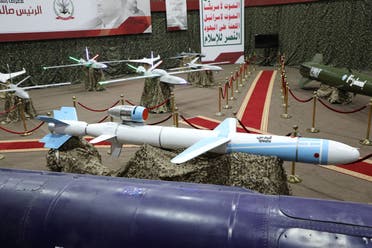 Since 2015, Iran has provided the Houthi militia with increasingly advanced ballistic and cruise missiles, as well as long-range unmanned aerial vehicles, according to CSIS.
The CSIS said it identified over 250 missiles, unmanned aerial vehicles, and other attacks against critical infrastructure and other targets in Saudi Arabia between 2016 and 2019 by the Iran-backed Houthis.
"These numbers are likely low because there may be other attacks that are unreported in the press," the report said.
"Among the attacks we were able to confirm, the attacks have included, direct fire, explosives (including from unmanned aerial vehicles), guided missiles, and indirect fire (including mortars, rockets, ballistic missiles, and unidentified projectiles)," added the report.
Iran has also provided the Houthis with weapons or technology for anti-tank guided missiles, sea mines, aerial drones, ballistic missiles like the Borkan-2H, and unmanned explosive boats, according to the report.
The Houthis have targeted Saudi Arabia using these systems on several occasions.
The Houthis have also used Borkan-2H mobile, short-range ballistic missiles to attack the capital Riyadh and other parts of Saudi Arabia.
Iran has also helped another one of its proxy groups – the Lebanese Hezbollah – improve its missile and other capabilities, according to CSIS.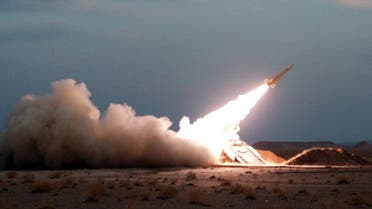 While Hezbollah's primary focus may be Israel, the group's missile arsenal could be utilized to attack Saudi Arabia, the report said.
Thanks to Iran, Hezbollah has amassed a range of weapons and systems, such as the Fateh-110/M-600 short-range ballistic missile, Shahab-1, and Shahab-2 short-range ballistic missiles, Karrar unmanned combat aerial vehicles, and Katyusha rocket launchers, the report said.
Hezbollah has also provided training and other assistance to the Houthis, including their missile and drone programs, according to the report.